Golden milk, a super nutritious and healthy drink, made with milk and turmeric, among other ingredients. It's ready in just 5 minutes and tastes amazing!

golden milk
My turmeric latte is one of the most popular drinks on the blog, so I've made a new version, which is even better, and I've called it golden milk this time (both are pretty much the same, though).
To make this beverage even healthier and more nutritious, I've added some ground ginger and black pepper (which enhances curcumin absorption by up to 2,000%!). As everything tastes better with vanilla extract, I've also included it in this recipe, but it's totally optional.
Ground ginger, black pepper and vanilla extract are optional ingredients, but I always add them to my golden milk. You can omit one or all of them if you want, though.
Turmeric is a food we all should include in our diet because of its health benefits. It's loaded with antioxidants, may improve memory and brain function, may lower blood sugar levels, may boost your immune system, reduces inflammation and joint pain, may protect against heart disease and cancer, etc.
Enjoy this amazing drink before going to bed or at any other time (for breakfast or even as a snack). It's so warm, comforting and also good for your body due to its awesome health benefits. Besides, it also requires one pot!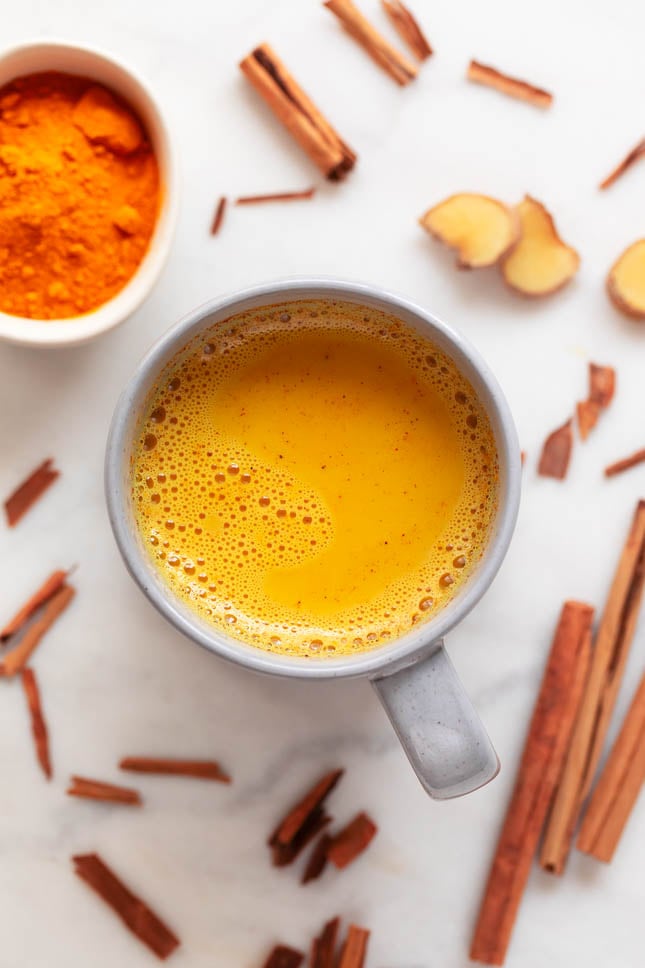 what ingredients do you need to make golden milk?
Milk – I used unsweetened soy milk. Feel free to use any other unsweetened plant milk you want.
Maple syrup – Any type of sweetener is okay.
Ground turmeric – Fresh turmeric root is great, but I find ground turmeric more convenient.
Ground cinnamon – You could also use a cinnamon stick instead. Just remove it before serving.
Vanilla extract – This ingredient is optional. However, if you have some vanilla extract on hand, please use it because your golden milk will taste even better.
Ground ginger – Fresh ginger is also a good choice, but I find ground ginger more convenient.
Ground black pepper – Fresh ground black pepper tastes best. However, I find store-bought ground black pepper more convenient and also easier to measure with a teaspoon.
tips for making golden milk
Try to make your own vanilla extract at home. It's more affordable, so easy to make and tastes amazing.
Turmeric has an intense flavor, so if it's your first time trying golden milk and you're not used to turmeric flavor, I would add 1/4-1/2 tsp of ground turmeric. Try the beverage and add more if needed.
Some recipes call for coconut oil, but I think it's not necessary and this version is healthier and also lower in fat.
Best when fresh, you can make it the day before, reheat it in the stovetop or microwave until hot, and enjoy your golden milk in just a minute.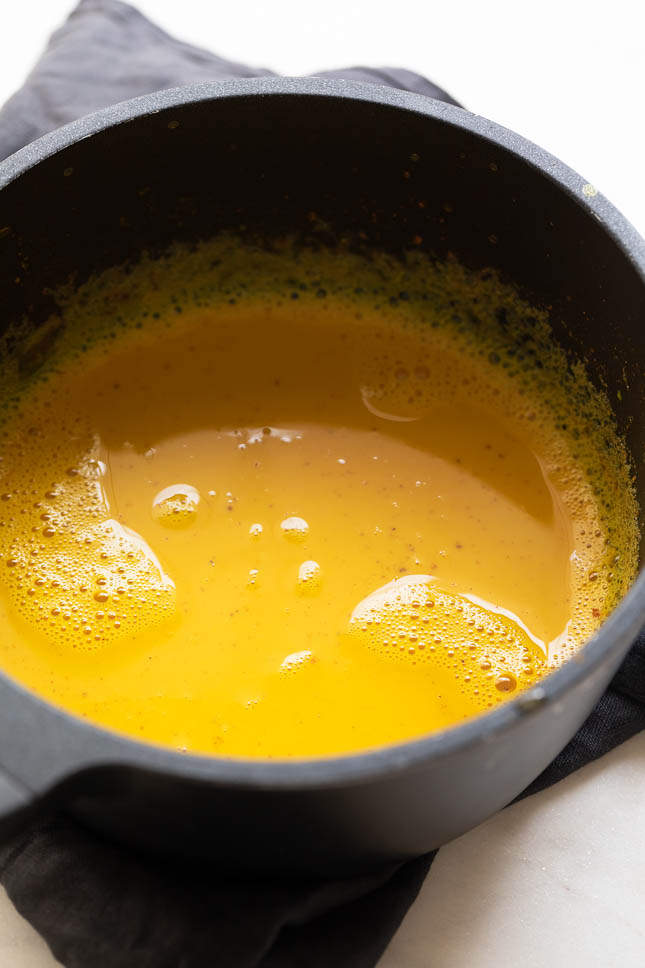 looking for more drink recipes?
did you make this golden milk recipe?
Please leave a comment below, share it, rate it or tag a picture @simpleveganblog on Instagram and hashtag it #simpleveganblog. We'd love to see what you cook!
Print
Golden Milk
Author: Iosune
Cook Time: 5 minutes
Total Time: 5 minutes
Yield: 2 1x
Category: Drinks
Cuisine: Asian
Diet: Vegan
Golden milk, a super nutritious and healthy drink, made with 5 ingredients in just 5 minutes. It's so comforting, soothing and tastes amazing!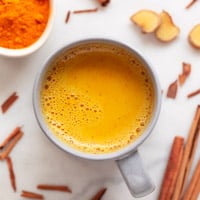 Ingredients
2 cups plant milk of your choice (500 ml), I used unsweetened soy milk
2 tbsp maple syrup
1 tsp ground turmeric 
1/2 tsp ground cinnamon
1/2 tsp vanilla extract (optional)
1/4 tsp ground ginger (optional)
A dash of ground black pepper
Instructions
Add all the ingredients to a saucepan, stir until well combined and cook over medium heat until hot (about 3-5 minutes). Stir occasionally.
Serve immediately or keep the leftovers in an airtight container for 3-4 days. Reheat on the stovetop or microwave until warm enough.
Notes
You can make this recipe with almond milk, oat milk, cashew milk or even coconut milk instead of soy milk.
Although sweetener is optional and you don't have to incorporate it to your golden milk, it will taste better if you do.
Feel free to use any kind of sweetener.
Ground black pepper enhances turmeric's properties and absorption, but you can omit it if you don't like how it tastes.
Incorporate, change or replace all the spices you want.
I'd recommend you make your own vanilla extract at home, as it's healthier and more affordable.
I used ground cinnamon, although you could also use a cinnamon stick instead. Just remember to remove it before serving.
Nutrition
Serving Size: 1/2 of the recipe
Calories: 161
Sugar: 14.3 g
Sodium: 19 mg
Fat: 5.1 g
Saturated Fat: 0.6 g
Carbohydrates: 19.3 g
Fiber: 2.8 g
Protein: 10.1 g