If you're vegan and miss the Caesar salad, don't worry! I want to share with you my vegan Caesar salad recipe, it's EPIC!!! If you're not a vegan, you should try it too, it has less fat and is cholesterol-free.
I know it's not the healthiest salad in the world, but it's just perfect for special occasions or when you're craving for a super creamy and tasty salad. You need 50 minutes to make it, but it's totally worth it, I promise! You won't regret when you make this amazing recipe.
I've used chickpea croutons instead of bread croutons because they're gluten-free, healthier and I love how they taste. I've also substituted the cheese for vegan Parmesan cheese, but you can also use nutritional yeast or brewer's yeast instead.
I love tofu so much! I could eat it at every single meal, but I try to limit soy products in my diet and I only use them one or twice a week, excluding soy sauce (I consume it more often).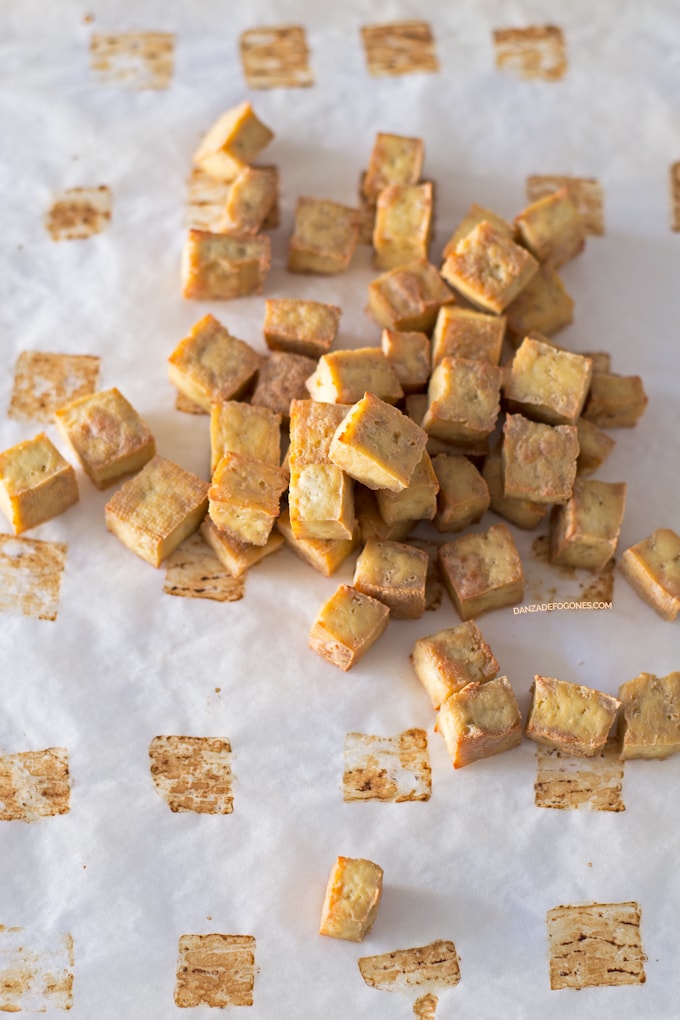 I usually bake tofu (15 minutes each side), but you can also fry it, it's ready in 5 minutes, but is less healthy and high in fat because of the oil.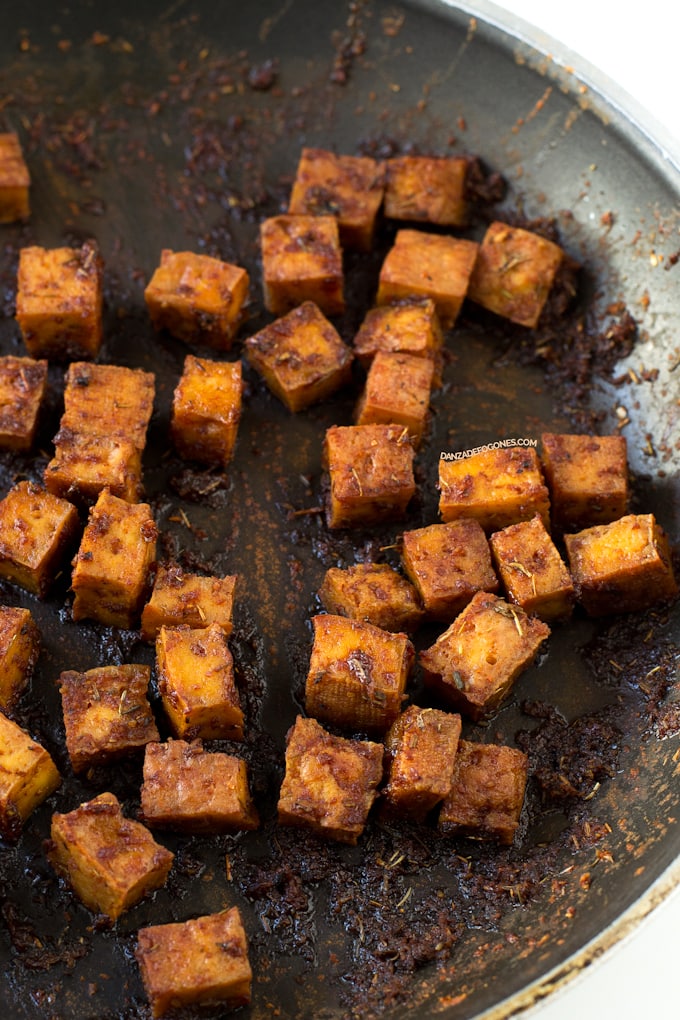 When the tofu is cooked, you only need to sauté it with soy sauce. I've also added water and an improvised homemade chicken seasoning to make the tofu taste like chicken.
Feel free to use another chicken seasoning or your favorite herbs and spices. I've used thyme, sweet paprika, cumin, black pepper and garlic and onion powder. You can add salt too, but as the soy sauce is salty, it's not necessary.
Use any sort of lettuce or even other leafy greens (I love spinach and kale), but try to avoid iceberg lettuce because has less flavor and nutrients. I prefer to use romaine lettuce, but it's up to you.
If you don't want to spend much time in the kitchen you can use store bought bread croutons, roasted chickpeas or nuts, use nutritional yeast or brewer's yeast instead of the homemade vegan Parmesan cheese and fry the tofu instead of bake it, the salad will be delicious too, but if you have time, I recommend you to try my recipe.
If you make this vegan Caesar salad recipe, please leave a comment or tag a picture #simpleveganblog on Instagram or any other social network. We love to see your pictures and comments, it makes us very happy!
Print
Vegan Caesar Salad
Author:
Prep Time: 15 mins
Cook Time: 35 mins
Total Time: 50 minutes
Yield: 4
Category: Salad
Cuisine: Vegan, Gluten-free
This vegan Caesar salad is EPIC! You should try it because it has less fat, is cholesterol-free and tastes so amazing.
Instructions
Preheat the oven at 200ºc or 390ºF.
Dice the tofu and bake it on a baking sheet with baking paper for about 30 minutes (15 minutes each side). You can also cook the tofu in a fryer or a pan with oil until golden brown.
Meanwhile, mix the soy sauce, water, thyme, sweet paprika, cumin, garlic powder, onion powder and black pepper in a bowl. Toss the tofu with the mixture and cook for about 5 minutes. Let the tofu cool down.
In a big bowl, add the chopped lettuce, chickpea croutons, vegan Parmesan, tofu and vegan Caesar dressing. Mix and serve.