Vegan bread pudding, a delicious dessert, so easy to make and only requires 7 simple ingredients. It's perfect served with sugar glaze or ice cream.
vegan bread pudding
I'm totally in love with this dessert. It's so delightful and the recipe is extremely simple. Besides, it only requires 7 easy to get ingredients, so it's an epic win!
Making a vegan version of the classic bread pudding is so easy. I used flax seeds instead of eggs, unsweetened plant milk instead of cow's milk (some recipes also call for cream or other dairy products, but plant milk works just fine) and coconut oil instead of butter.
Bread pudding is a great way to use up leftover or stale bread. I know it's usually eaten as a dessert, but I like it so much, I also enjoy it for breakfast once in a while (I usually have oatmeal or a smoothie on a daily basis).
This pudding is so soft and fluffy. You can enjoy it just by itself, but I think bread puddings are always better with something on top. I added my
brown sugar glaze, which is made with just 3 ingredients, in less than 5 minutes and it's my favorite topping for this amazing dessert.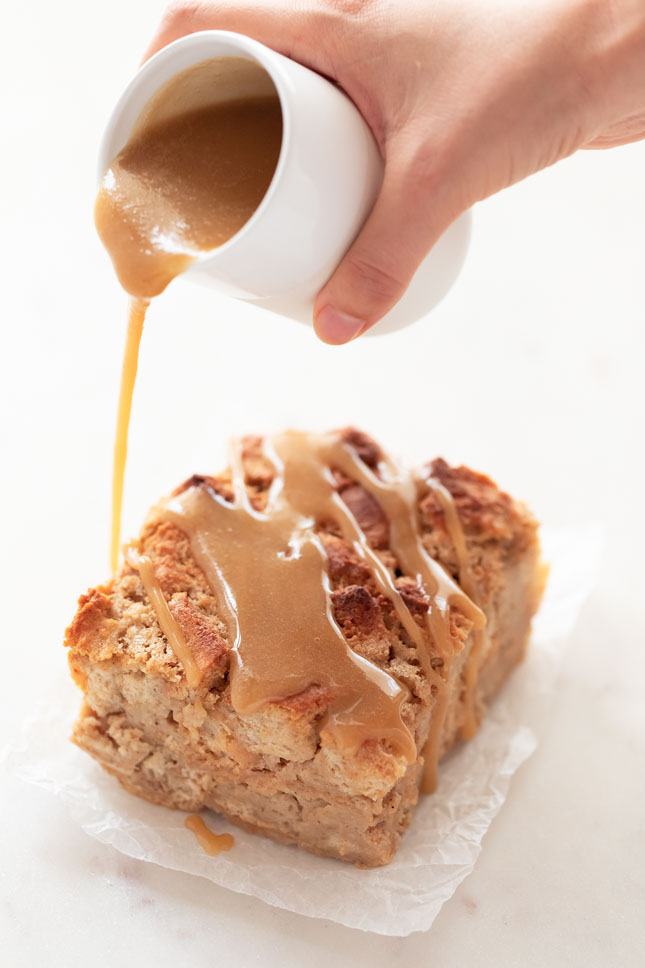 vegan bread pudding ingredients
Stale vegan bread – Many traditional recipes call for some type of eggy bread, like challah or brioche, but I used spelt bread because it was what I had on hand. Feel free to use any type of bread you want or like, but keep in mind depending on the type of bread you're using, you'll maybe need to add more or less milk.
Unsweetened plant milk – Any type of unsweetened plant-based milk is okay, but soy milk is my favorite one.
Brown sugar – Feel free to use other types of sugar, like cane, coconut, maple or even date sugar. I've never tried this recipe using other sweeteners, like maple or agave syrup, but if you give it a try and it works, please let me know in the comments.
Flax seeds – I used them to replace the eggs. I've never made this recipe using other seeds or egg replacers, so I'm not sure if it could work.
Coconut oil – I haven't made this recipe using other type of oil myself and I also think coconut oil is the best option, but as long as your oil has a neutral flavor, it should work. I always use extra virgin oils when possible because they're healthier, but it's up to you. If you don't consume oil, just omit this ingredient.
Vanilla extract – This ingredient is optional, but if you have some vanilla extract on hand, please use it because it will make your vegan bread pudding taste even better.
Ground cinnamon – If you don't like cinnamon, just omit it.
tips to make vegan bread pudding
Try to make your own vanilla extract at home. It's more affordable, so easy to make and tastes amazing.
Stale bread works best for this recipe, so try to buy your bread at least the day before. If it's not dry enough, cut it into cubes the night before, that way your bread will be more dry the next day. If your loaf of bread is fresh, cut it into cubes and bake at 350ºF or 180ºC for 5 to 10 minutes, stirring often, until the bread is dried out.
If you're in a hurry, let sit the bread in the mixture for at least 30 minutes (ideally 60 minutes).
Feel free to add other ingredients, like nutmeg or any other spice you like, cocoa powder (you'll probably need to add more sugar though), chopped nuts, raisins, plant-based chocolate chips, etc.
This bread pudding is delicious just by itself, but you should try it with our brown sugar glaze, it tastes even better! You can also serve it with some vegan vanilla ice cream, coconut whipped cream or chocolate syrup.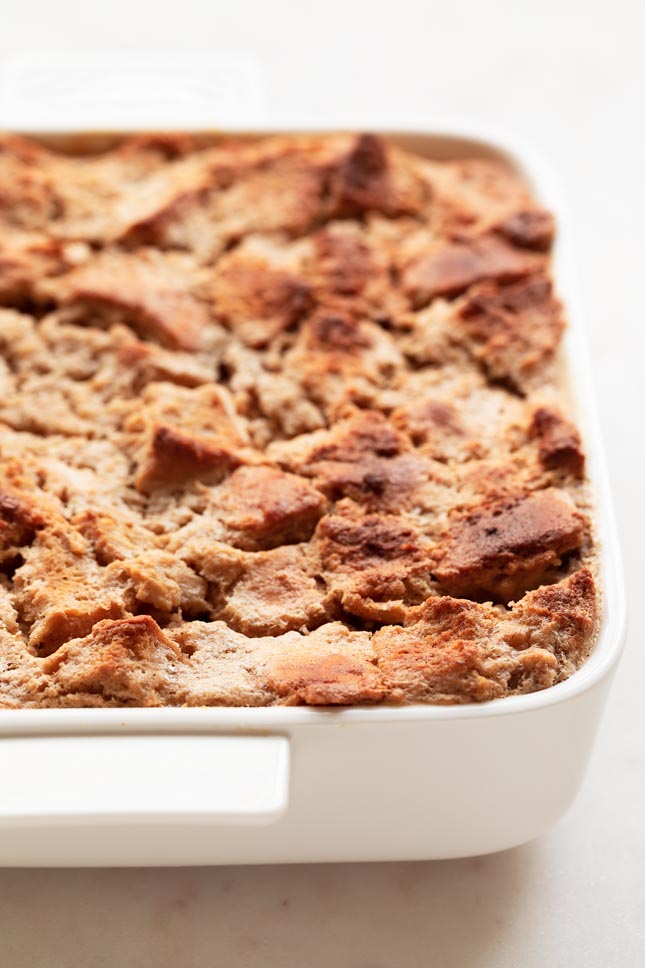 looking for more dessert recipes?
did you make this vegan bread pudding recipe?
Please leave a comment below, share it, rate it or tag a picture @simpleveganblog on Instagram and hashtag it #simpleveganblog. We'd love to see what you cook!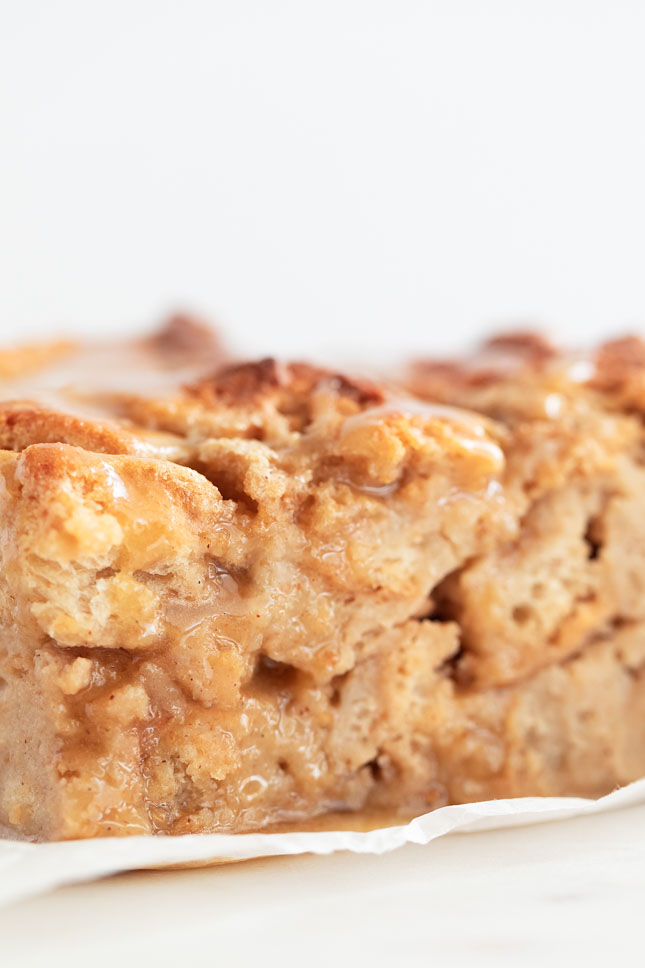 Print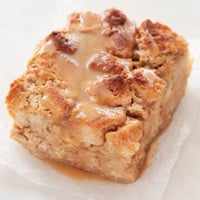 Vegan Bread Pudding
Author: Iosune
Prep: 10 mins
Cook: 70 mins
Total: 1 hour 20 mins
8
Dessert, Breakfast
American
Vegan
Servings 8
Scale Tap or hover over number to scale servings
Vegan bread pudding, a delicious dessert, so easy to make, and only requires 7 simple ingredients. It's perfectly served with sugar glaze!
Ingredients
1 pound stale vegan bread of your choice (450 g), cut into cubes
3 cups unsweetened plant milk (720 ml), I used soy milk
3/4 cup brown sugar (150 g)
1/4 cup ground flaxseed (4 tbsp)
1 tbsp coconut oil (optional)
1 tsp vanilla extract 
1/2 tsp ground cinnamon
Instructions
Place the bread cubes in a large mixing bowl and set aside.
Add all the remaining ingredients to a blender and blend until smooth.
Pour the mixture all over the bread, stir and set aside for about 1 hour at room temperature.
Preheat the oven to 350ºF or 180ºC.
Place the pudding mixture in a 9×9 inch (23×23 cm) baking dish and bake for 60 to 70 minutes or until the bread pudding is golden brown on the outside and cooked on the inside. Baking time may vary depending on your oven, my pudding was ready in 70 minutes. If the pudding is golden brown but uncooked, cover with some aluminum foil and cook until it's ready.
Remove from the oven and allow to cool slightly.
Serve your vegan bread pudding with some brown sugar glaze, nuts, or even fruits.
Store the leftovers in an airtight container in the fridge for 5-7 days, or in the freezer for up 2 months (you will need to freeze it before you add any sauce or toppings). To thaw, place the bread pudding in the fridge until completely defrosted. For best results, reheat in an oven rather than a microwave to maintain the proper texture. It also can be reheated directly from frozen.
Notes
Feel free to customize this vegan bread pudding recipe with other types of sugar, like granulated, coconut, or cane sugar. Make sure the sugar you're using is vegan.
You could also incorporate some spices like cardamom or cloves for a bit more flavor.
Any type of flaxseed or oil will work.
Nutrition
Serving Size: 1/8 of the recipe
Calories: 263
Sugar: 18.3 g
Sodium: 276 mg
Fat: 6.1 g
Saturated Fat: 1.8 g
Carbohydrates: 45.3 g
Fiber: 3.2 g
Protein: 8.6 g