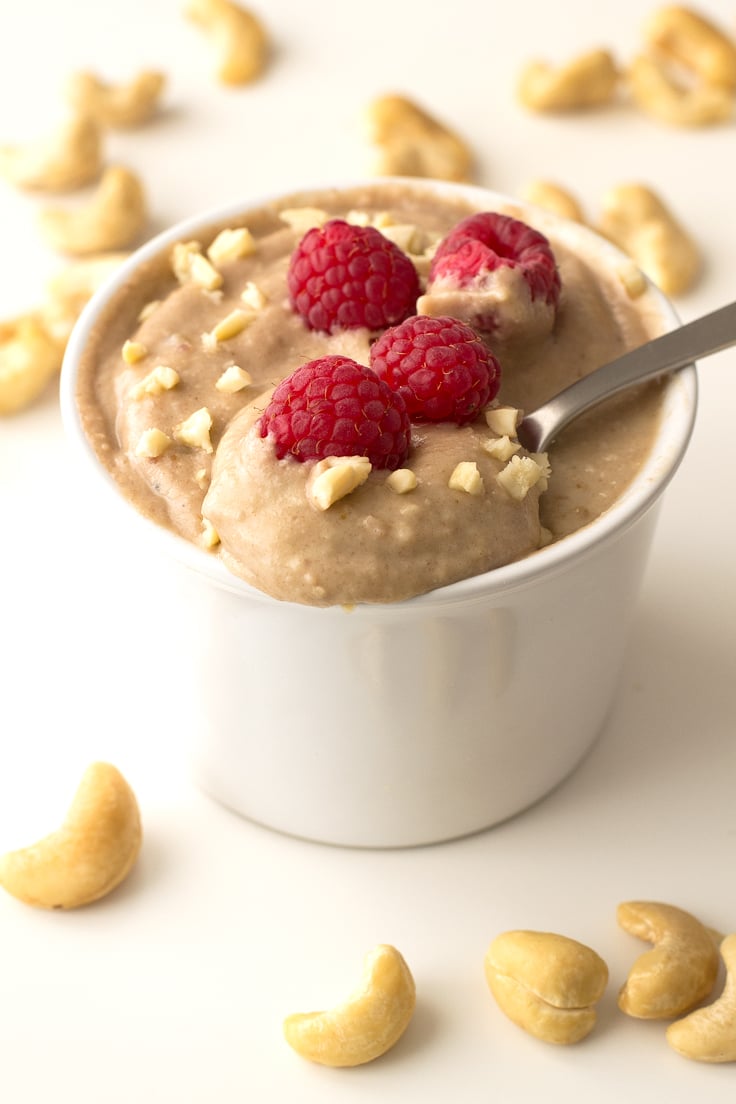 I'm in love with this raw vegan banana pudding, actually it's one of my favorite desserts, especially if I add lots of fresh raspberries on top, it tastes like heaven!  Other fresh or frozen berries also work (I love strawberries too and they're in season).
Since I discovered raw vegan desserts I'm obsessed with them, they're ready in 5 or 10 minutes, are much easier to digest and healthier than traditional desserts and taste SO good, that's why I bought a new food processor. I was using my Vitamix blender to make this kind of recipes, but the food processor works much better.
To make this delectable recipe you only need 4 ingredients: raw cashews, bananas, dates and your favorite plant milk (I used homemade almond milk). Then add your favorite toppings (nuts, seeds, fruit, maple syrup, etc.) and that's all!
If you're a chocoholic like me, you can add some unsweetened cocoa powder (I prefer to use raw cacao) and you'll have a delicious chocolate banana pudding, although maybe you'll need to add more dates….
Hi everyone! I'm back! I've been sick, that's why I couldn't post three times last week, but I'm healthy again! I'm vegan and I try to eat a pretty clean diet on a daily basis with no processed or refined foods, but sometimes it's not easy to find healthy vegan food at restaurants here in Spain….