Vegan meatballs, made with just 8 ingredients and a delicious homemade marinara sauce. They're gluten-free and perfect for pasta, sandwiches, and more.
vegan meatballs
I ate hundreds or even thousands of meatballs when I was a child and I (almost) always order meatballs if I can find them at a vegan restaurant. I'm a meatball lover and I promise you this recipe is a keeper.
It's adapted from my mom's meatballs recipe, but she made a sauce with onions and a lot of extra virgin oil, and I prefer to use my marinara sauce because it's healthier and also lower in fat.
I've already posted two more meatball recipes on the blog, but this one is even simpler and incredibly delicious. Besides, as black beans are great to make prepare alternatives, I wanted to create a meatball recipe using them.
This is a pretty basic way of making vegan meatballs and you can add any veggies, spices, herbs or ingredients you want. If you don't eat oil or are looking for a low-fat recipe, just make the marinara with no oil and bake the meatballs instead of sautéing them. Your meatballs will be super tasty as well!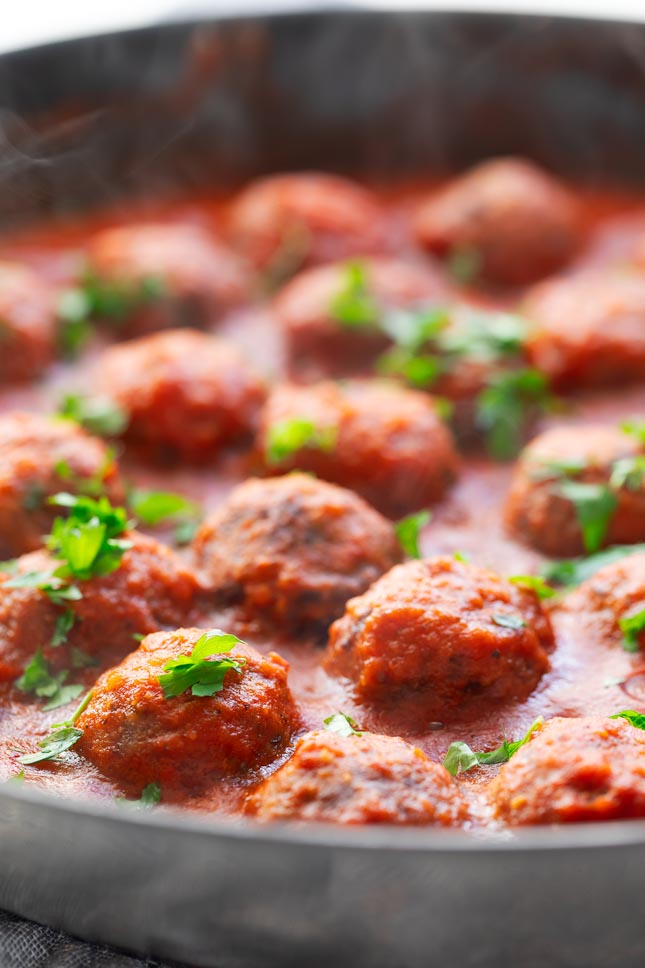 what ingredients do you need to make vegan meatballs?
Oats – Use gluten-free oats if needed. If you can't eat oats, you could use breadcrumbs or almond meal instead, just add more or less if needed.

Black beans – They're my favorite beans to make meat alternatives, but any other type of beans will do.
Nutritional yeast – If you can't eat or find nutritional yeast, use bread crumbs or almond meal instead. You could also add more oats. Add more or less if needed.
Garlic – Fresh garlic is the best choice, but you could omit it or use some garlic powder instead.
Parsley – This is an optional ingredient, omit it if you want. Fresh basil is also a good alternative.
Salt – I always use Himalayan pink salt. Any type of salt is okay though.
Ground black pepper – Fresh ground black pepper tastes best. However, I find store-bought ground black pepper more convenient and also easier to measure with a teaspoon.
Flax egg – I haven't tried this recipe using another egg replacer, but I think it should work.
Marinara sauce – Homemade marinara sauce is more inexpensive, super healthy and so easy to make. Store-bought is a good choice as well though.
Vegetable stock or water – I prefer to use vegetable stock because it enhances the flavor of the sauce. However, water is okay too. Making your own vegetable stock at home is a good idea, but feel free to use store-bought if you want.
tips for making vegan meatballs
Add your favorite herbs (fresh or dried) and spices.
Marinara goes really well with meatballs, but any other sauce will do.
Some people use an ice cream scoop or a regular spoon to make the meatballs, but I prefer to use my hands.
You could only use the marinara sauce, instead a combination of vegetable stock and marinara sauce, but I prefer my sauce not to be too thick, so I'm in love with this combo.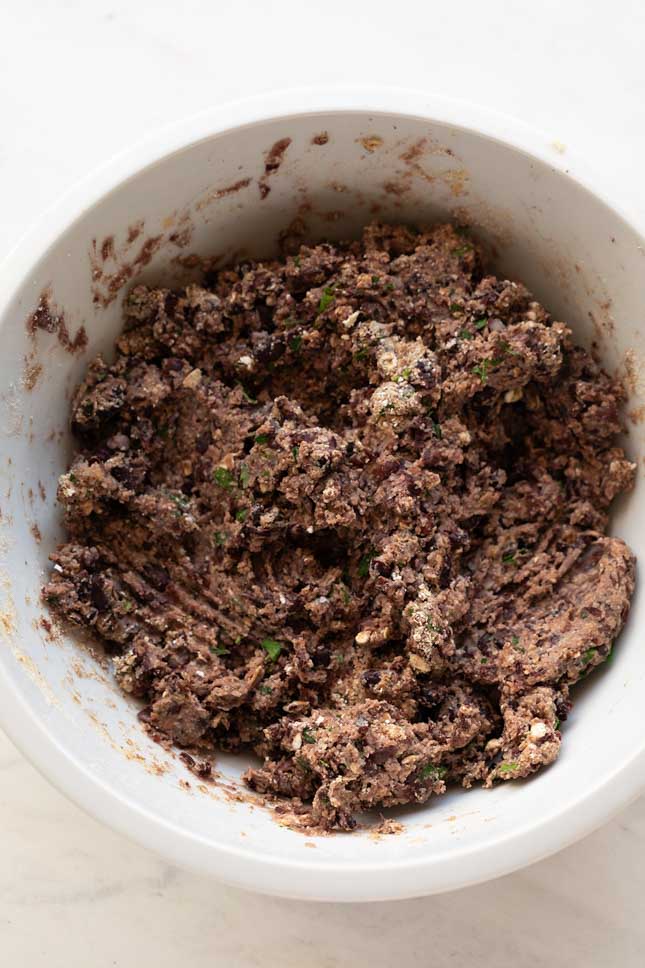 looking for more meat alternatives?
did you make this vegan meatballs recipe?
Please leave a comment below, share it, rate it or tag a picture @simpleveganblog on Instagram and hashtag it #simpleveganblog. We'd love to see what you cook!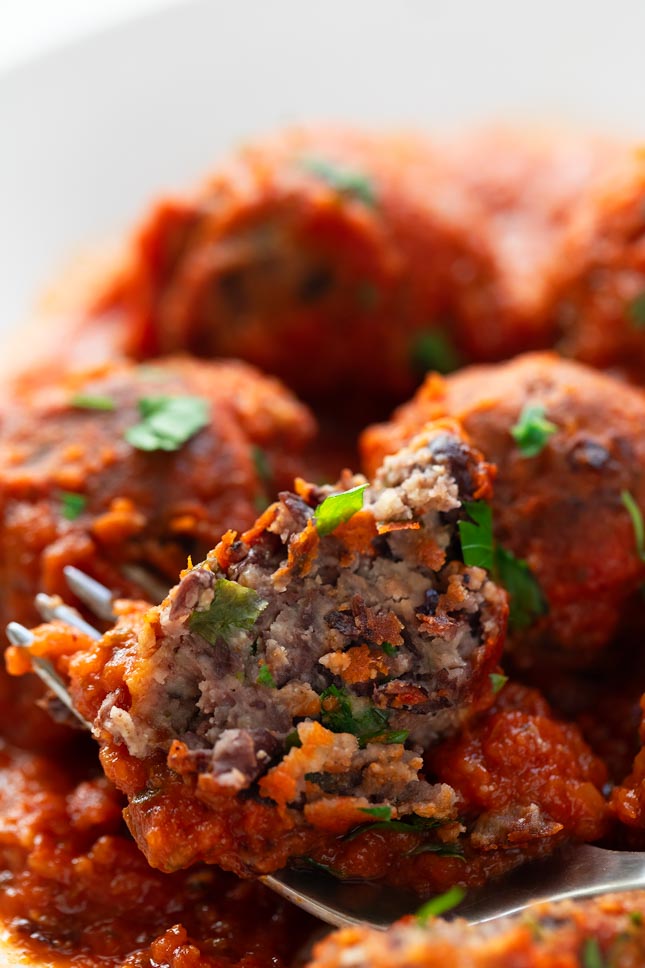 Print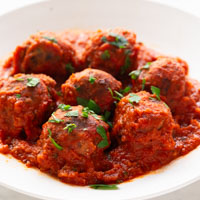 Vegan Meatballs
Author: Iosune
Prep: 30 mins
Cook: 35 mins
Total: 1 hour 5 mins
30 meatballs 1x
Main dish
Vegan
Servings 30 meatballs 1x
Scale Tap or hover over number to scale servings
Vegan meatballs, made with just 8 ingredients and a delicious homemade marinara sauce. They're gluten-free and perfect for pasta, sandwiches, and more.
Ingredients
for the vegan meatballs:
1 cup oats (100 g)
1 and 3/4 cups cooked or canned black beans (500 g)
1/2 cup nutritional yeast (8 tbsp)
2 cloves of garlic, minced 1 tbsp fresh parsley, finely chopped
1/2–1 tsp salt
1/8 tsp ground black pepper
1 flax egg
for the sauce:
Instructions
Add the oats to a blender and pulse until they are ground into a powder-like consistency. Set aside.
Add all the meatball ingredients in a food processor and blend until well combined. If you don't have a food processor, add them to a large mixing bowl and mash with a potato masher, a fork or use an immersion blender.
Make balls with your hands (I made 30). Add to a plate and refrigerate for 15 minutes.
Heat a little bit of oil (I used extra virgin olive oil) in a skillet or frying pan and sautée the meatballs over medium-high heat until golden brown. If you don't eat oil, bake them at 350ºF or 180ºC until golden brown. Set aside.
Add the marinara sauce and the vegetable stock to the skillet or frying pan, stir and bring to a boil.
Cook the meatballs in the sauce over medium-high heat for about 20 minutes, stirring occasionally.
Serve immediately (I added some chopped fresh parsley on top) or keep leftovers in an airtight container in the fridge for 5-7 days.
Notes
The nutritional info has been calculated by using 1 tbsp of extra virgin olive oil to cook the meatballs.
Nutrition
Serving Size: 5 meatballs
Calories: 296
Sugar: 9.2 g
Sodium: 982 mg
Fat: 6.8 g
Saturated Fat: 1.1 g
Carbohydrates: 46.6 g
Fiber: 14.9 g
Protein: 14.2 g