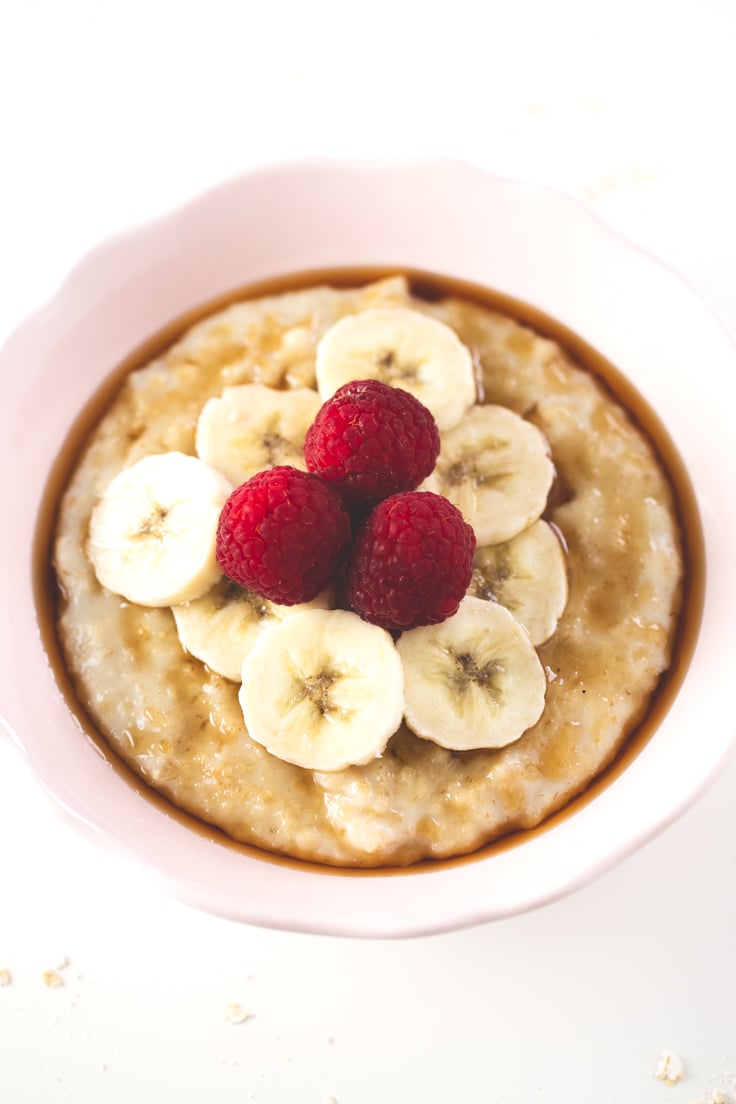 I'm having a bowl of oatmeal almost every day since I came to Germany and this is my favorite recipe. We shared other oatmeal recipes on the blog (easy vegan oatmeal, vegan blueberry peanut butter oats, simple vegan chocolate oatmeal and apple pie baked oatmeal) and another amazing recipe in our Simple Vegan Meals ebook. I LOVE oatmeal, just in case you didn't realize. ?
I usually make my oatmeal with water, but I've used soy milk this time because I feel oatmeal is creamier and tastes better if I use some plant milk. When I make it using water, sometimes I add a splash of some plant milk at the end, but it will also be delicious if you use only water. I think is almost impossible to go wrong with this recipe, it's always delicious and I could eat it every single day.
If you are really busy in the morning, you can make your oatmeal the night before and then reheat it with some water or milk in the morning. It also tastes good cold, but hot is better, especially when it's cold outside.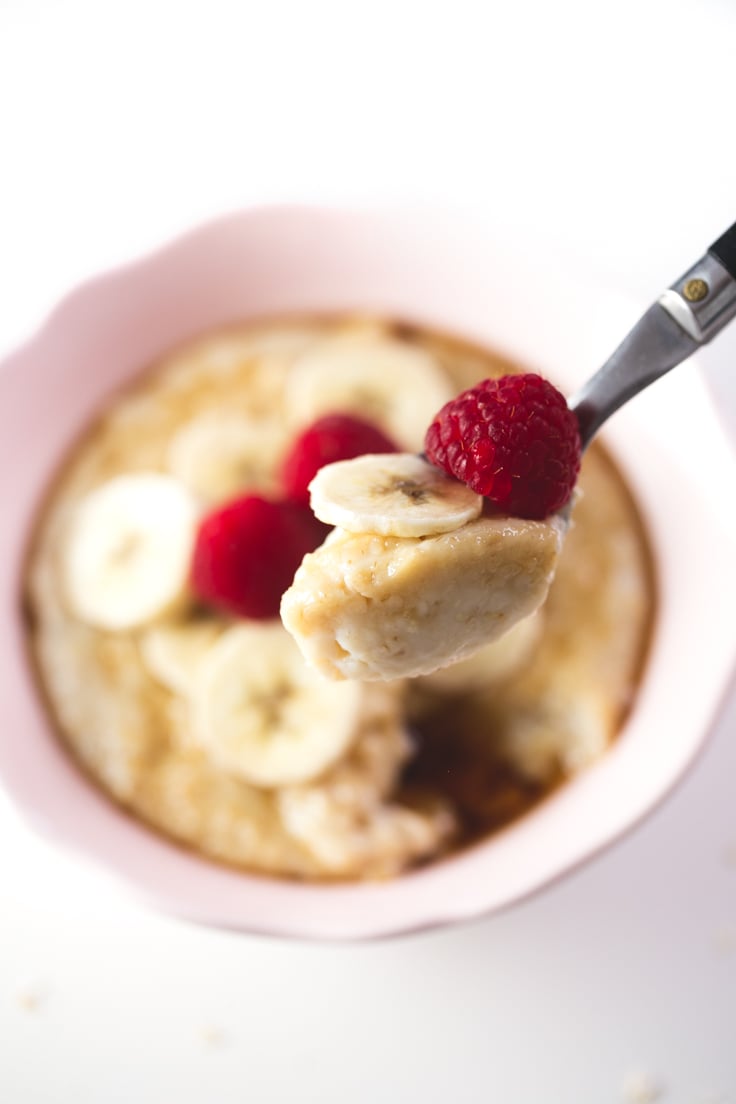 Tips:
You can use any plant milk, sweetener or fruit you want. Don't be afraid to add your favorite ingredients (cocoa powder, superfoods, jam, nut butter, etc.).
If the oatmeal is too thick for you, add more milk or water.
I use frozen raspberries very often because they're cheaper. If you're going to make this recipe using frozen berries, add them to the saucepan when the oats and the milk have been cooking for 5 minutes. You can also defrost them in the fridge or at room temperature overnight and add them at the last minute.
If you can't eat oats, use quinoa, millet or buckwheat instead. We have a vegan breakfast quinoa bowl recipe on the blog, just in case you want to know how to cook your quinoa.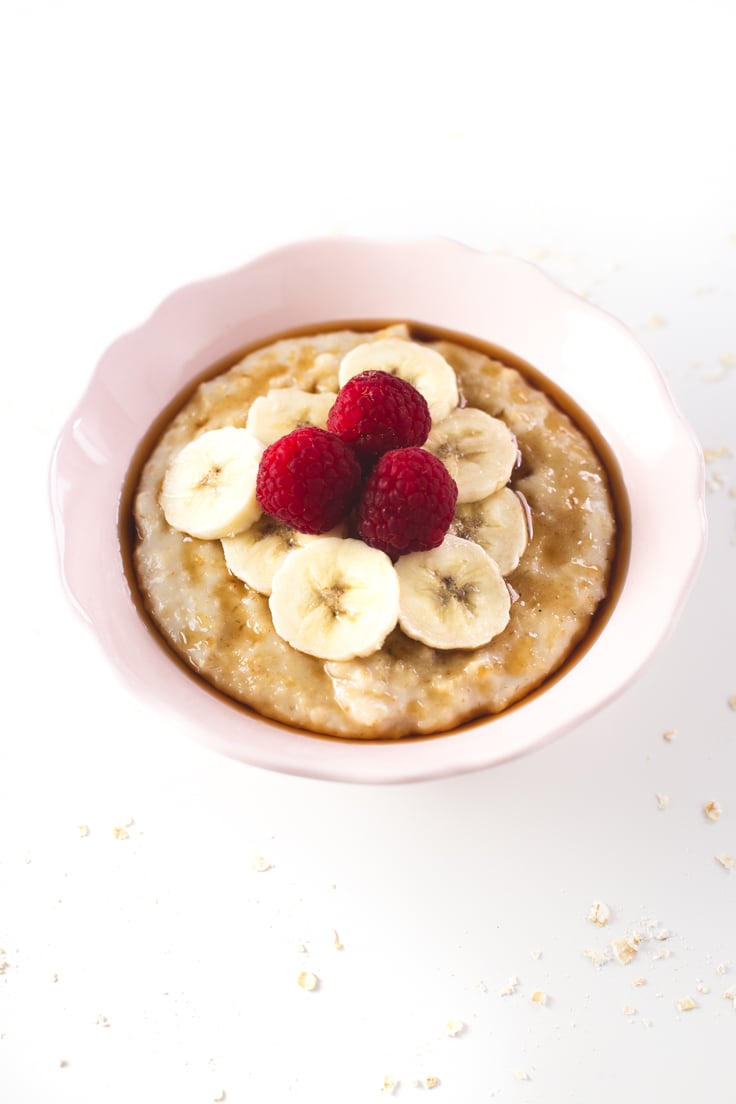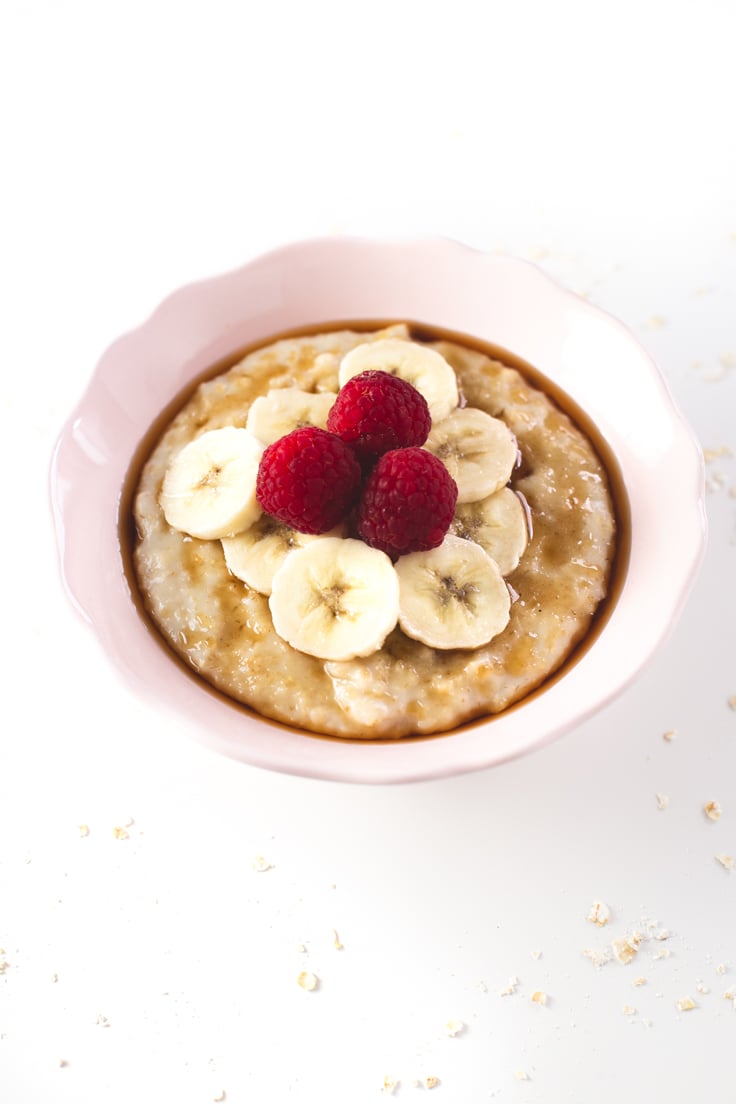 Print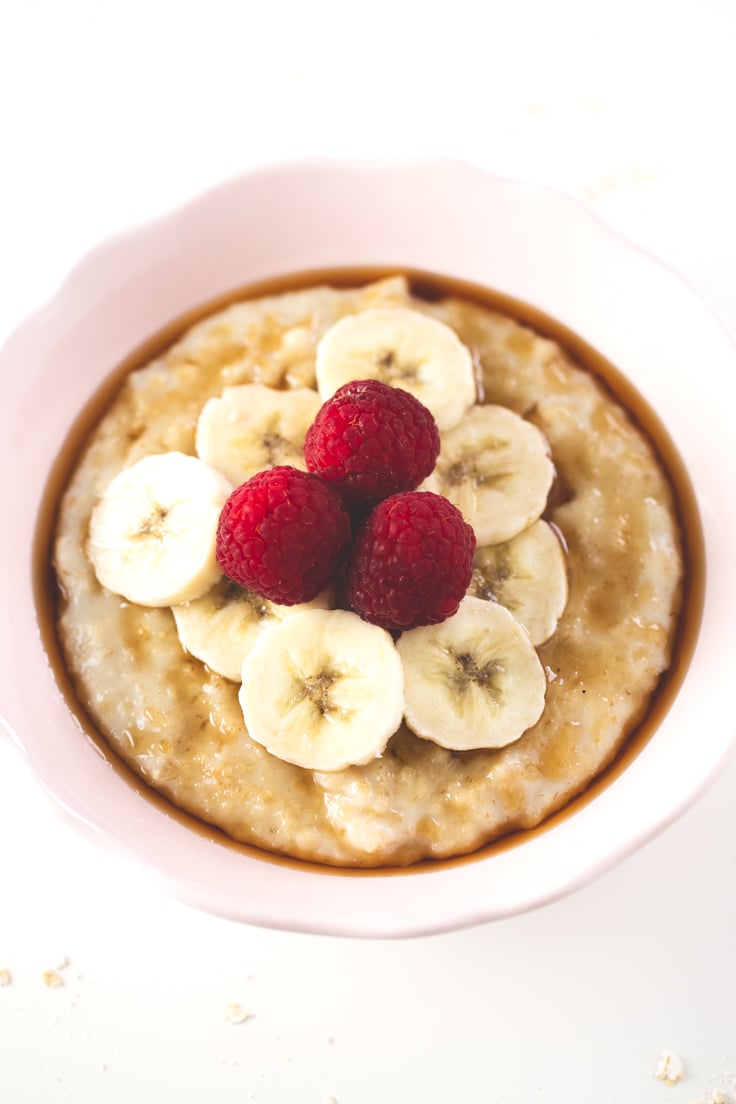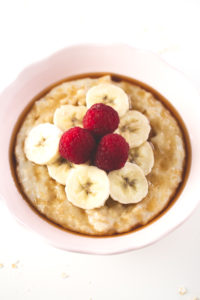 Simple Vegan Oatmeal
Author: Simple Vegan Blog
Prep: 5 mins
Cook: 10 mins
Total: 15 mins
2 1x
Breakfast
Vegan, American
Servings 2 1x
Scale Tap or hover over number to scale servings
This simple vegan oatmeal is my all time favorite breakfast recipe. I could eat it every single day and is so healthy!
Ingredients
½ cup rolled oats (60 g)
1 ½ cups plant milk of your choice (375 ml)
2 tsp coconut or brown sugar
2 bananas
Raspberries
Instructions
Place the oats and the milk in a saucepan and cook over medium heat until the oats are cooked (10 to 15 minutes). Stir occasionally.
Serve the oatmeal in two bowls and add one teaspoon of sugar in each bowl. As the oatmeal is hot, the sugar will melt and it will look like a syrup.
Add one sliced banana in each bowl and raspberries to taste.
Nutrition
Serving Size: 1/2 of the recipe
Calories: 323
Sugar: 34.5g
Sodium: 90mg
Fat: 4g
Saturated Fat: 0.4g
Carbohydrates: 69.1g
Fiber: 10.6g
Protein: 7.7g
DID YOU MAKE THIS RECIPE?
Please leave a comment below or tag a picture #simpleveganblog. We'd love to see what you cook!