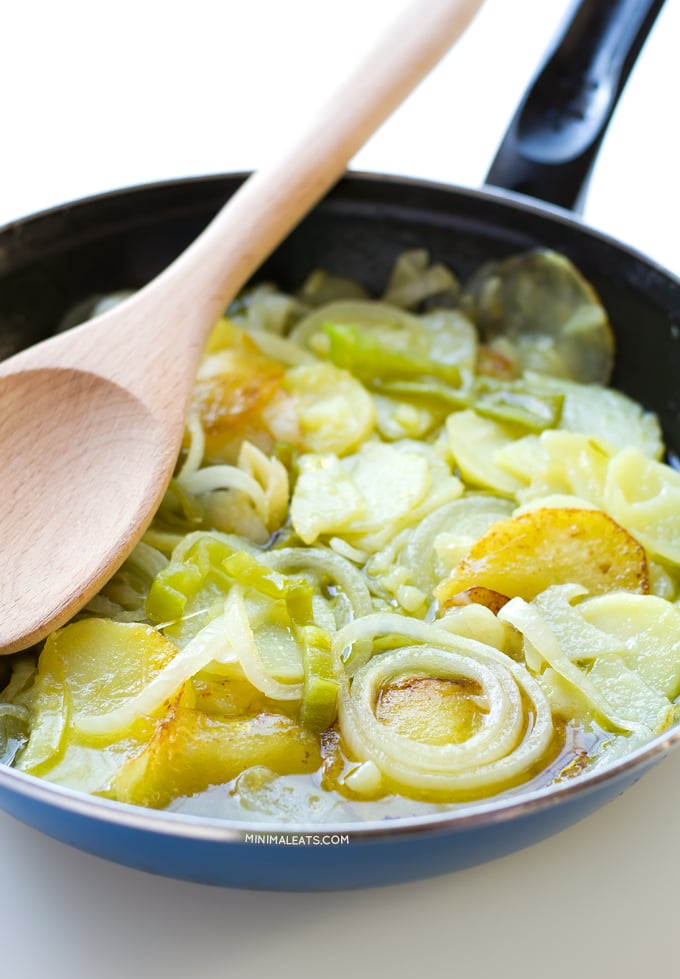 This recipe is not light or healthy at all, but it's one of my favorite Spanish recipes and it's vegan (yay!). You only need 6 ingredients to make patatas a lo pobre (poor man's potatoes): potatoes, green pepper, onion, garlic, extra virgin olive oil and salt. As you can see, it's a really cheap dish.
I usually make a lighter version, it's also delicious and much healthier. You only need to saute the green peppers, onion and garlic with a little bit of olive oil and then add the potatoes and water. Let the potatoes cook for about 15 minutes or until they're soft. I must admit the traditional version is more tasty, but I love both. You can add salt, but it's optional.
Fried food is unhealthy, I know, and in my daily life I hardly ever fry, I prefer to eat raw fruits and vegetables or use other cooking methods, but sometimes I fry and when I do, I always use extra virgin olive oil and a pan, I never use a fryer.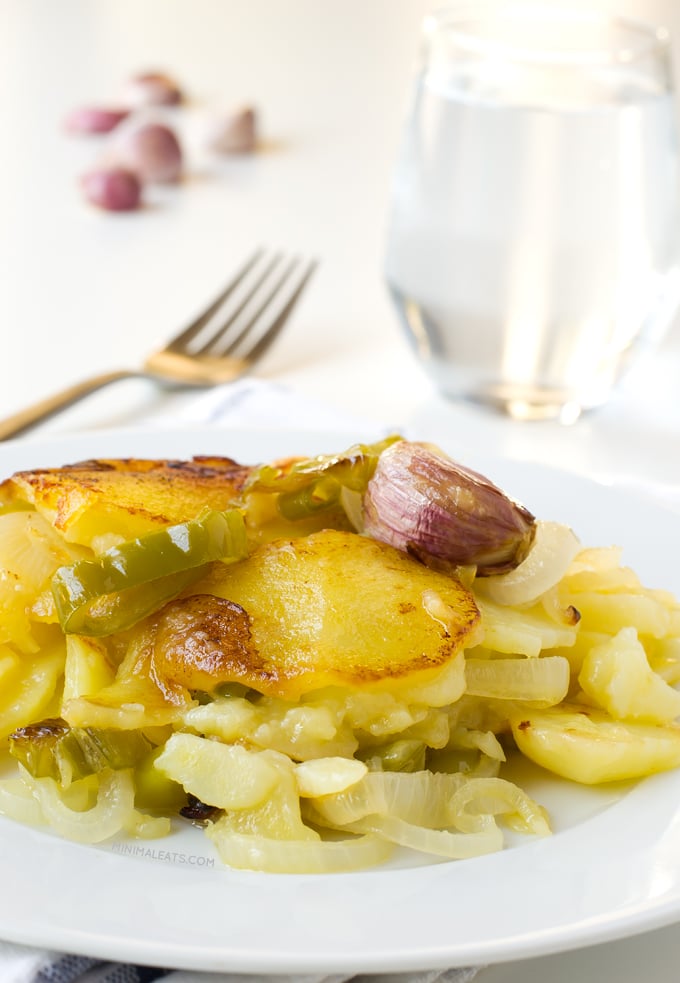 This recipe is super easy, everybody can make patatas a lo pobre. You only need to fry the veggies in hot oil over medium-low heat, that's all! And it's ready in only 15 minutes. You can add more or less veggies, this recipe always works.
It's hard to eat vegan in Spain in some cities, but there are some dishes you can find in many restaurants, like patatas a lo pobre, although sometimes is made with egg too, so be careful! Salmorejo and gazpacho are also vegan Spanish dishes and they are so delectable.
Spanish food is awesome (yeah, I know, I'm Spanish, what can I say), but most of the recipes aren't vegan, although there's not a problem for me, I veganize my favorite dishes, and they taste even better and are much healthier and also cruelty-free. I hope you like patatas a lo pobre, there are super easy to make and taste really amazing.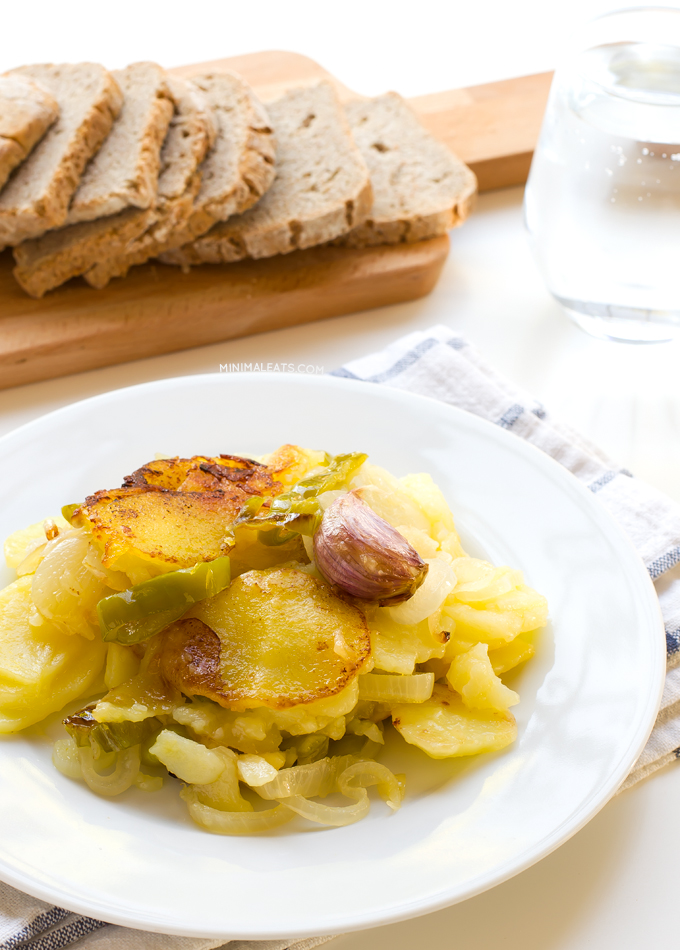 📖 Recipe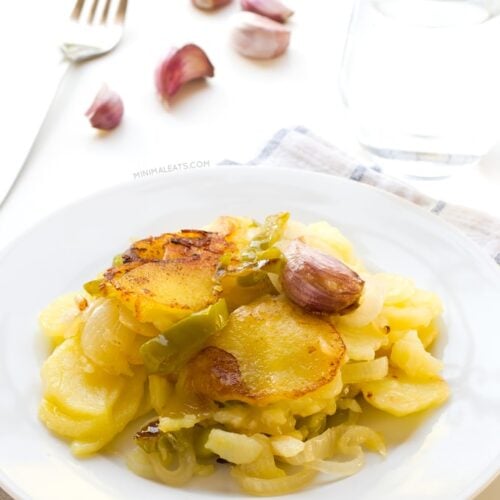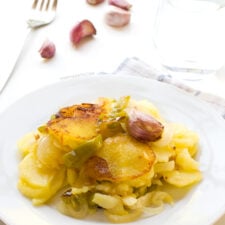 Patatas a lo Pobre (Poor Man's Potatoes)
Patatas a lo pobre (poor man's potatoes) is a typical Spanish recipe and is vegan. You only need 6 ingredients to make this delicious recipe.
PRINT
PIN
RATE
---
Ingredients
1

cup

extra virgin olive oil

2-3

potatoes

1

onion

1-2

green peppers

2

cloves

of garlic

Salt to taste
Instructions
Peel the potatoes and wash them. Cut them in half lengthwise. Then, slice the potatoes in pieces approximately 3 mm or ⅛" thick. Peel the onion and slice them. Julienne the green pepper and crush the garlic, but don't remove the skin.

Add the oil in a pan and when it's hot, you can add the veggies and the salt. Cook them about 15 or 20 minutes or until the potatoes are soft over medium-low heat.

Use the slotted spoon to remove the veggies from the oil and transfer to a plate lined with paper towel to absorb excess cooking oil.
Nutrition
Serving:
1
serving
|
Calories:
305
kcal
|
Carbohydrates:
20.1
g
|
Protein:
2.2
g
|
Fat:
25.4
g
|
Saturated Fat:
3.6
g
|
Sodium:
298
mg
|
Fiber:
3.5
g
|
Sugar:
3.1
g