This 1-pot lentil chili is so nutritious, satiating and spicy so it's perfect for beat the heat or to keep you warm. We serve it with some rice and veggies.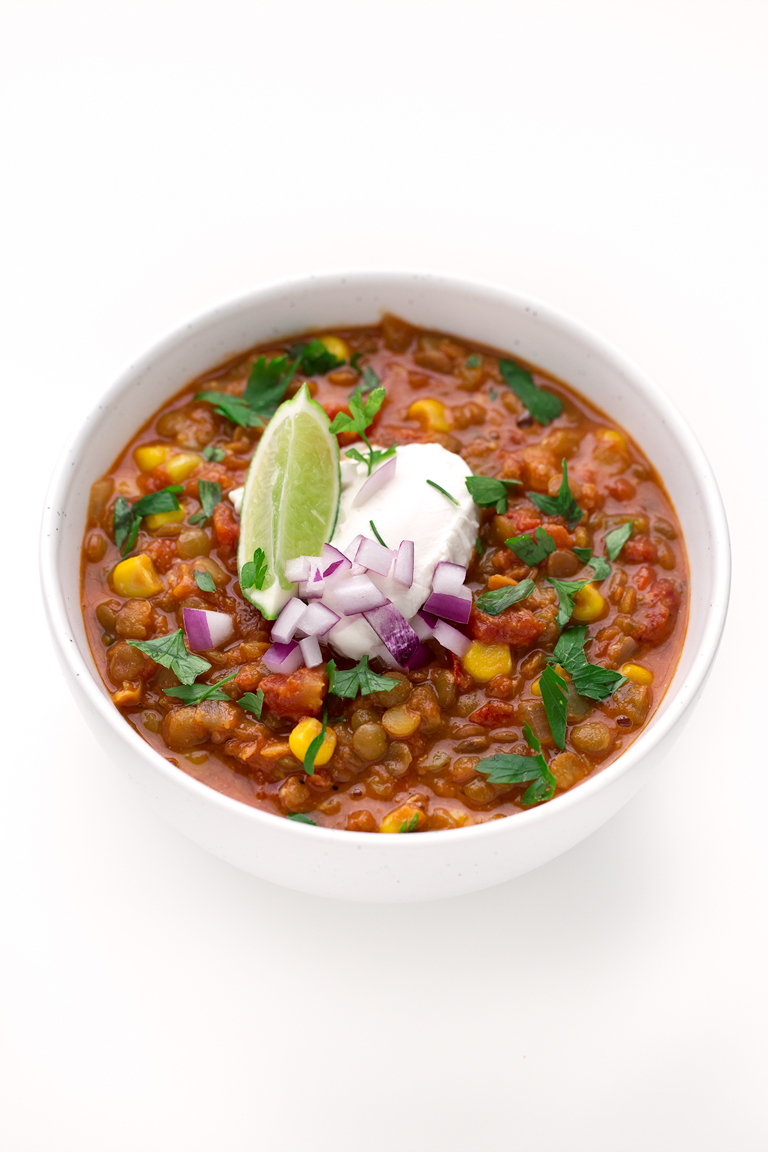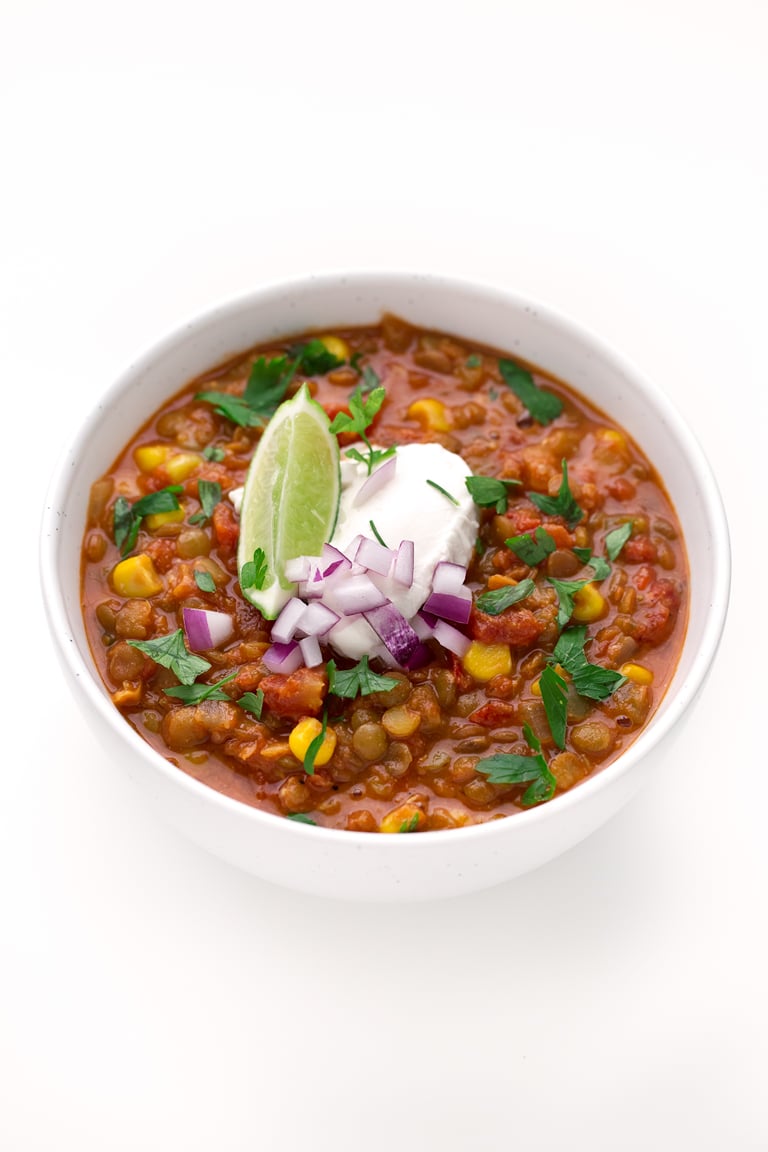 Cities are empty in August in Spain because it's so hot outside and people are enjoying their holidays, but we're here in Seville (which has extreme temperature just in case you don't know) working in August. We're happy though because we're working on a big project, we went on vacation last June to Italy and when we finish what we have on hands (probably next month) we'll be able to travel to some beautiful place and take a break.
We make soups and stews all year long, even during the summer because we love them and also because legumes are so healthy and nutritious. I know we could make legume salads or other cold dishes, but we make both (hot and cold dishes). Besides, spicy food is a great way to beat the heat.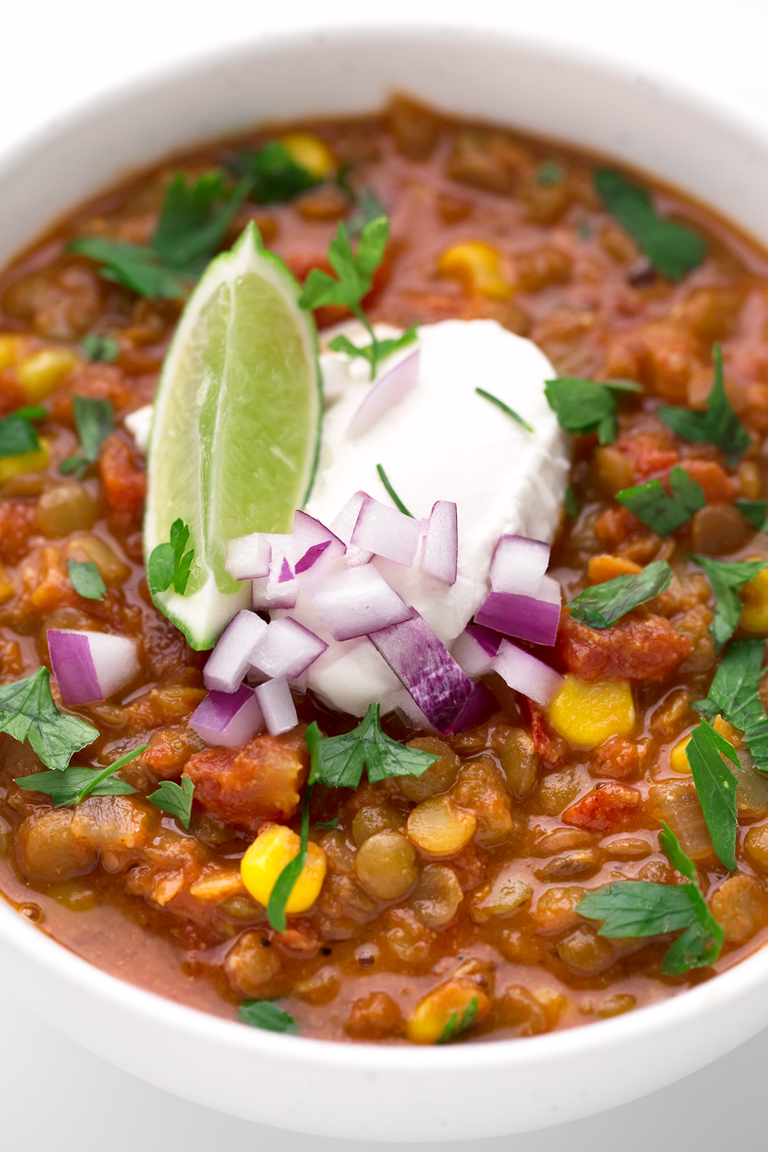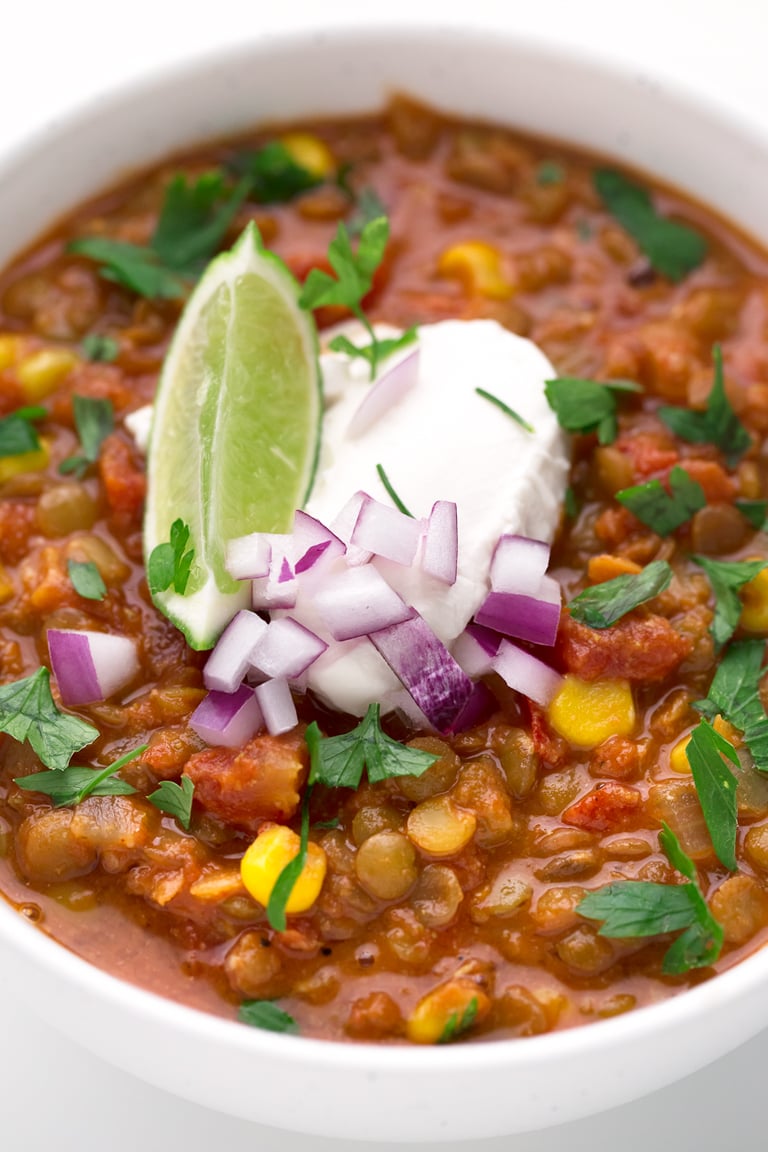 We usually serve the lentil chili with some rice (brown rice is better, but any kind will do) and a salad, a refreshing gazpacho or some steamed, sautéed or roasted veggies.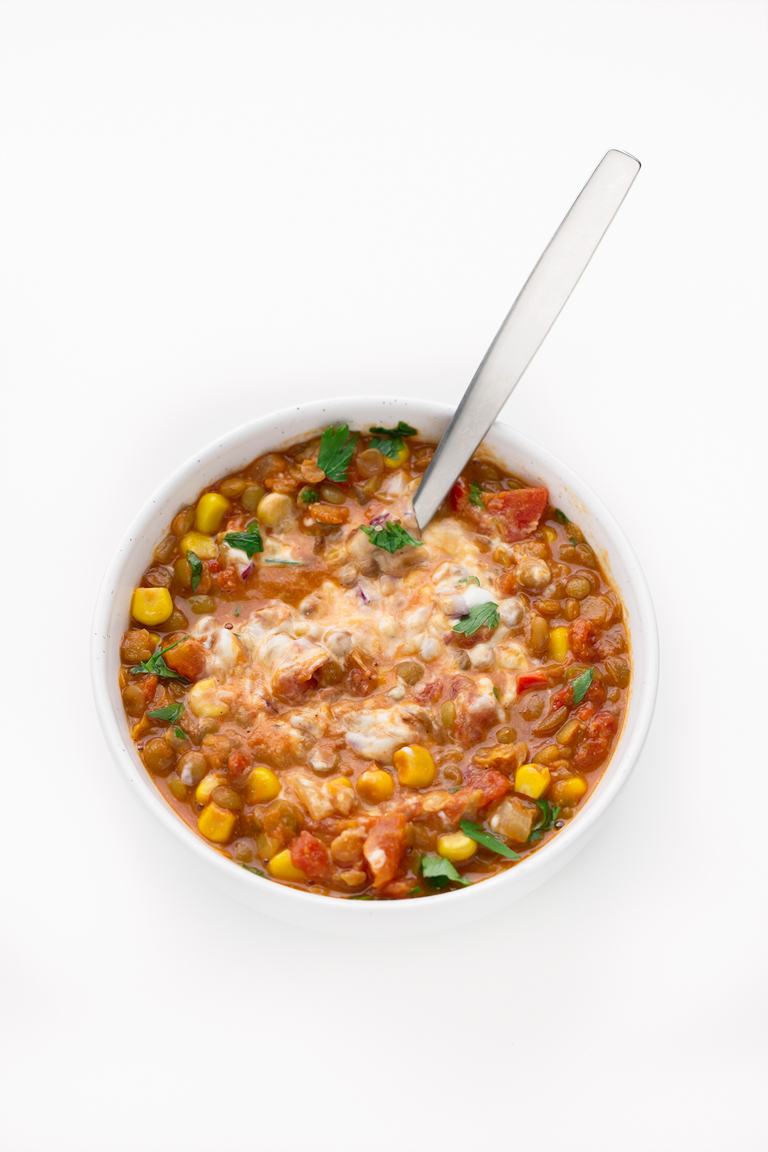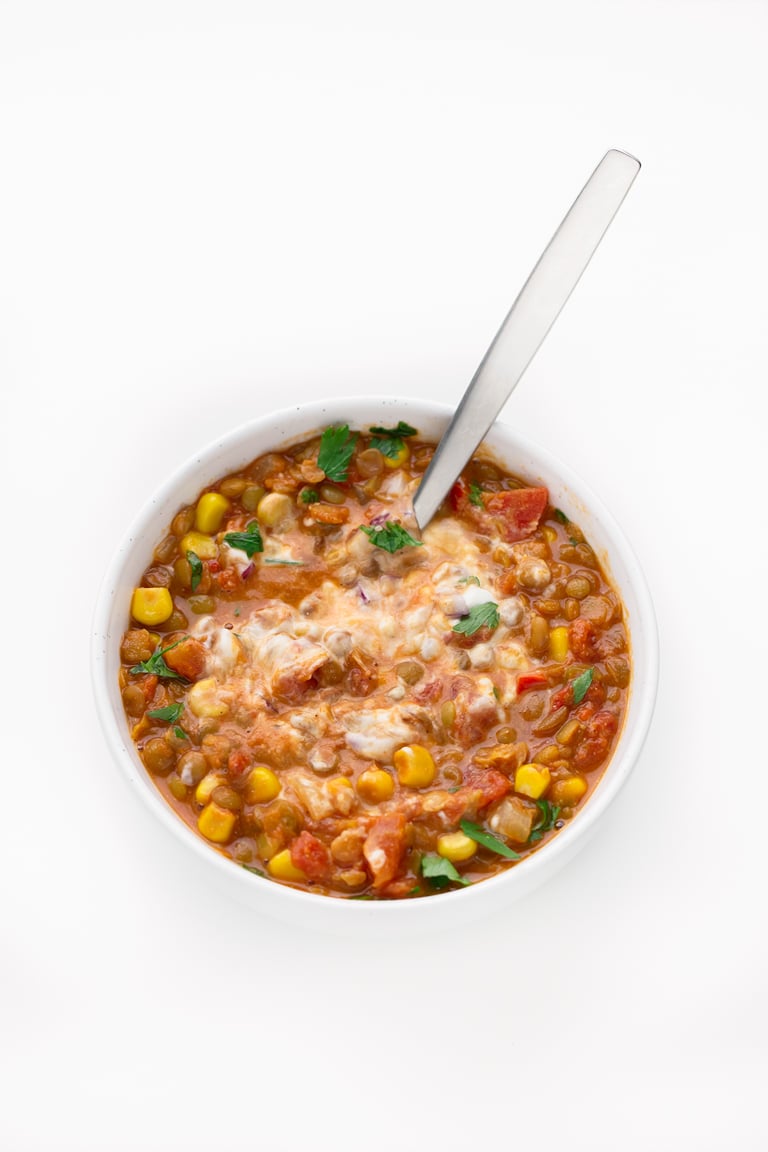 If you like this 1-pot lentil chili, check out these lentil recipes: vegan lentil curry, lentil bolognese, fat-free Spanish lentil stew, lentil salad and vegan sloppy joes.
Did you make this recipe? Please leave a comment below, share it, rate it or tag a picture @simpleveganblog on Instagram and hashtag it #simpleveganblog. We'd love to see what you cook!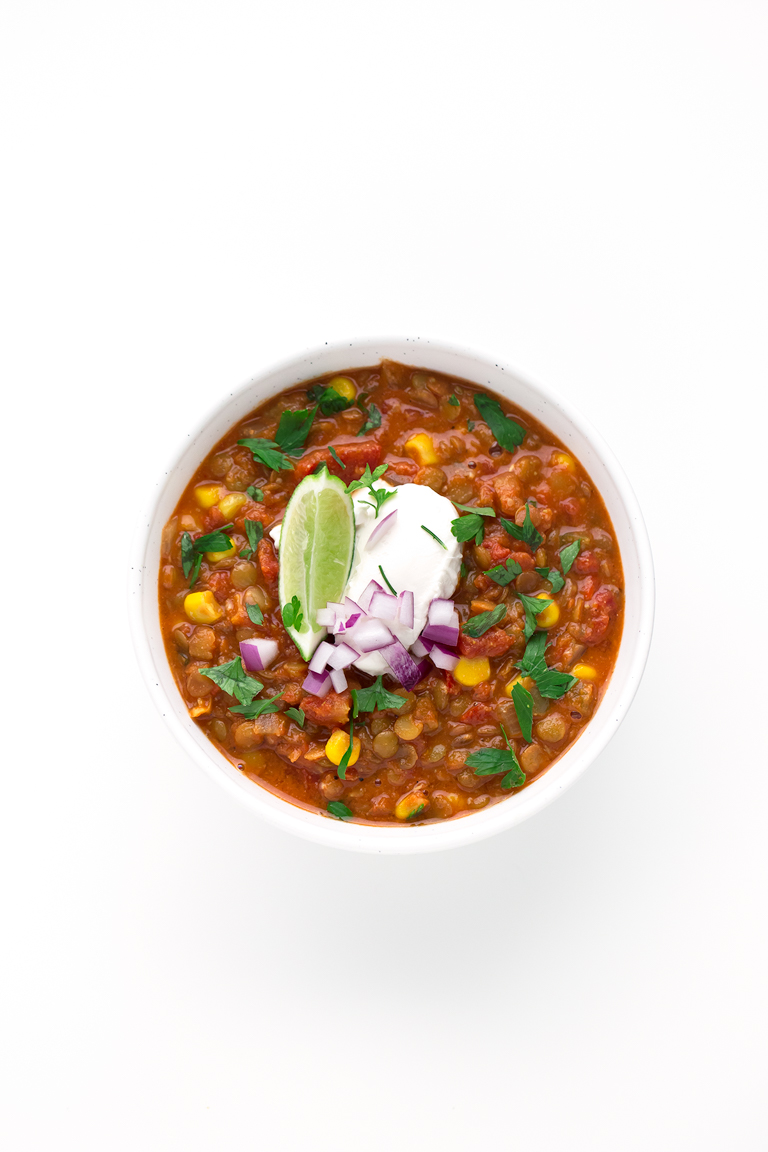 Print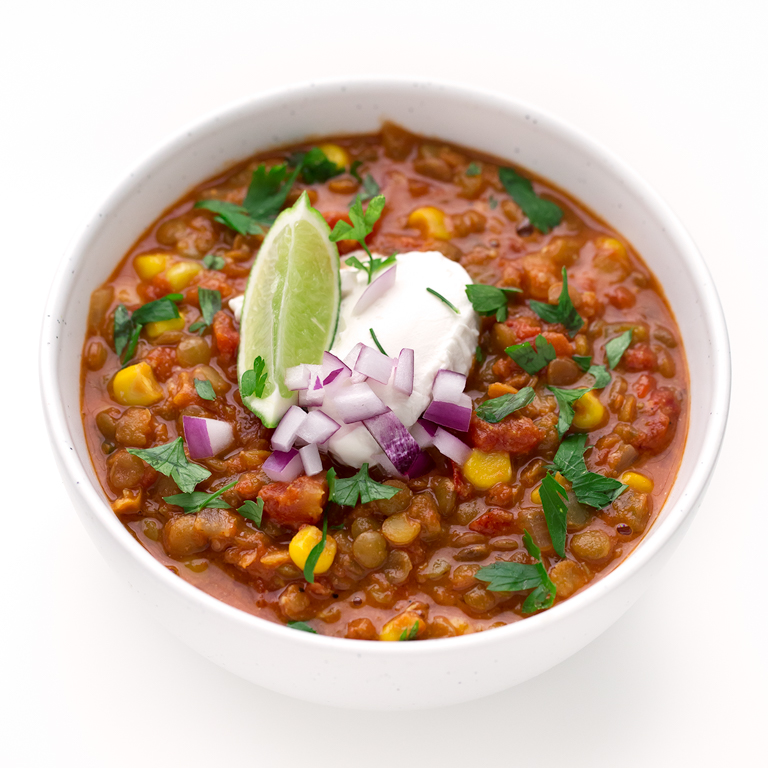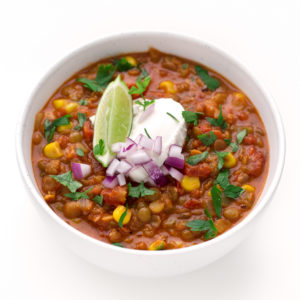 1-Pot Lentil Chili
Author: Simple Vegan Blog
Prep: 5 mins
Cook: 45 mins
Total: 50 mins
4 1x
Main dish
Vegan, Mexican
Servings 4 1x
Scale Tap or hover over number to scale servings
This 1-pot lentil chili is so nutritious, satiating and spicy so it's perfect for beat the heat or to keep you warm. We serve it with some rice and veggies.
Ingredients
2 cloves of garlic
1/2 onion
1/2 red bell pepper
1/2 green bell pepper
2 14-ounce cans chopped tomatoes (800 g)
1 cup dry brown lentils (195 g)
4 cups water or vegetable broth (1 liter)
2 tsp ground cumin
2 tsp paprika
1 tsp sea salt
1/4 tsp cayenne powder
1/4 tsp ground black pepper
1 cup frozen corn kernels (130 g)
2 tbsp tahini (or extra virgin olive oil)
Instructions
Chop the veggies and add them to a large pot. You can sauté them in some oil, but it's not necessary.
Add the chopped tomatoes, lentils and water or broth and bring it to a boil.
Add the spices, stir and cook over medium-high heat for about 35 minutes.
When the lentils are almost cooked, add the corn kernels, stir and cook for another 10 minutes.
Remove from the heat, add the tahini (or the oil) and stir.
We served our chili with some lime, chopped fresh parsley, chopped red onion and some vegan cream cheese.
Store the lentil chili in a sealed container in the fridge for up to 5 days.
Notes
Use your favorite veggies (fresh, frozen or canned) and spices.
Fresh tomatoes are also a great choice and you can use tomato sauce as well.
Depending on the type of lentils you're using the amount of water or broth and the cooking time may vary. Feel free to soak your lentils overnight or use canned lentils to reduce the cooking time or even use other dry or canned legumes.
Nutrition
Serving Size: 1/4 of the recipe
Calories: 319
Sugar: 9.2 g
Sodium: 514 mg
Fat: 5.9 g
Saturated Fat: 0.8 g
Carbohydrates: 53.6 g
Fiber: 10.6 g
Protein: 17 g