You can enjoy a delicious and creamy vegan pasta carbonara in just 25 minutes. This is a gluten-free version, which is also healthier and lower in fat.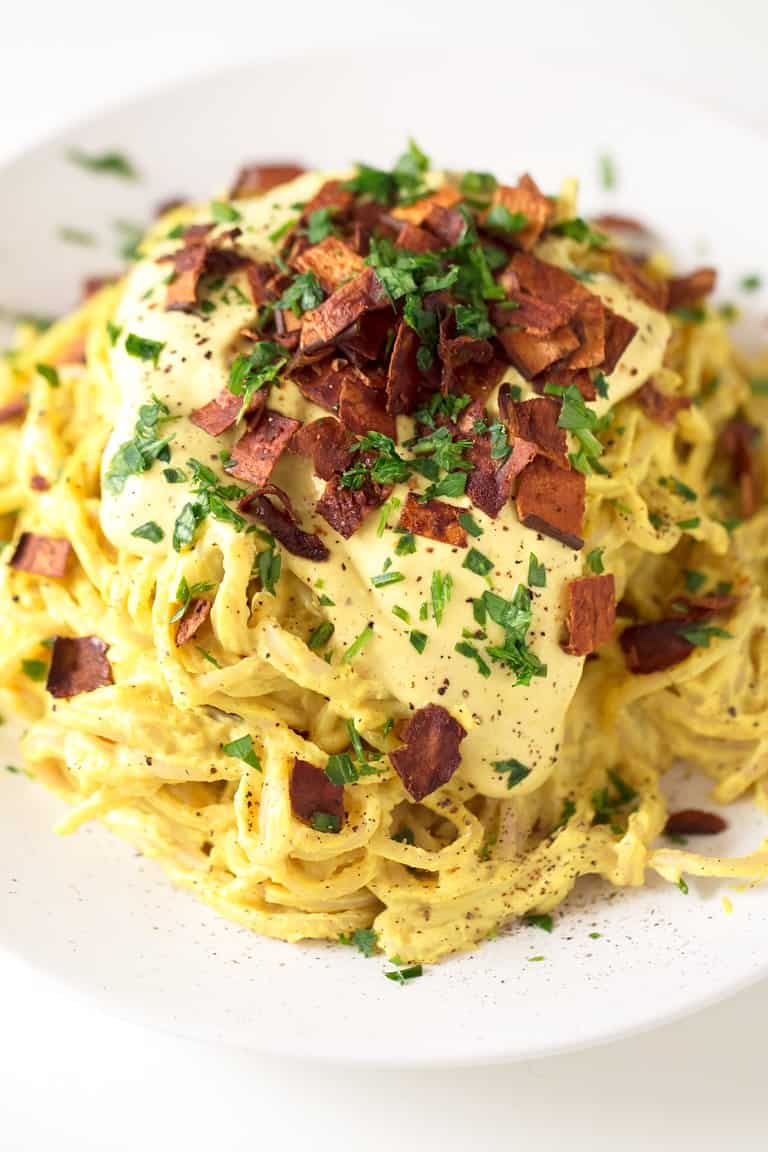 Pasta carbonara is made with egg yolks, parmesan cheese and extra virgin olive oil, but in Spain is usually made with cream, even in some Italian restaurants, I don't know why. When I made the traditional recipe for the first time, I fell in love with it and it was actually one of my favorite pasta recipes.
I hadn't tried this delicious pasta dish since I went vegan, until last April at the best Italian restaurant I've ever been, which is in Edinburgh by the way and also last month at a beautiful restaurant in Rome.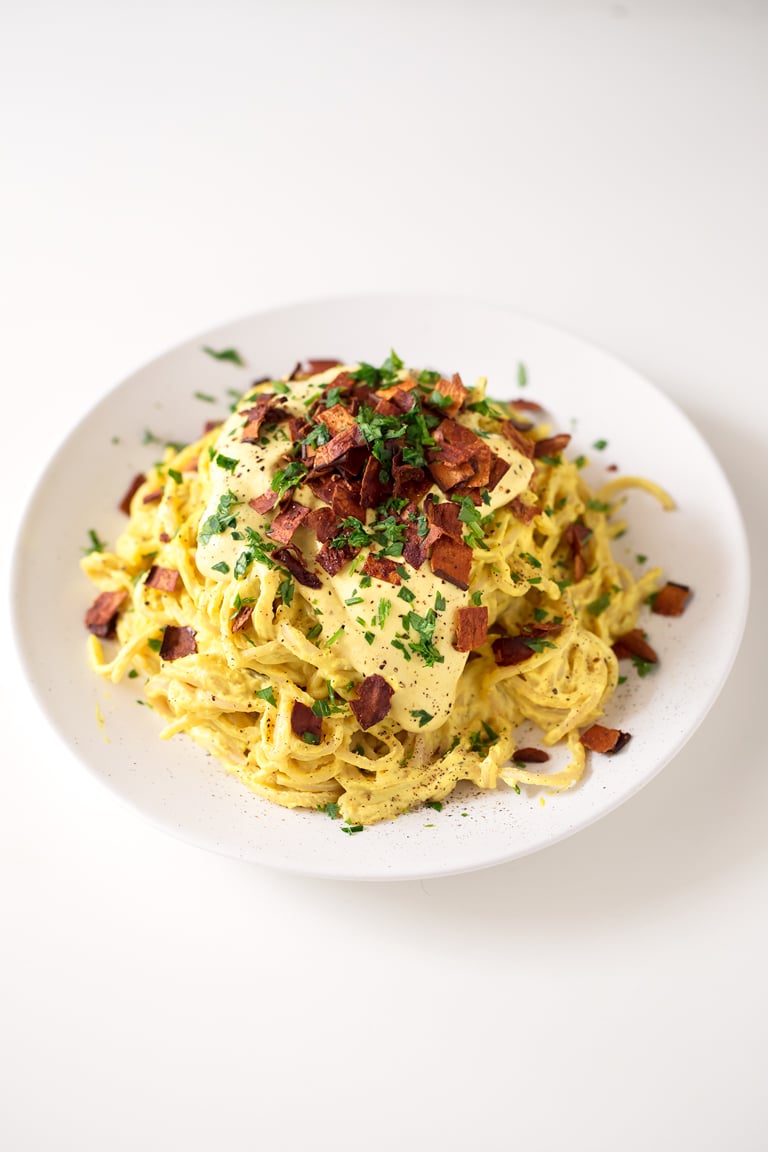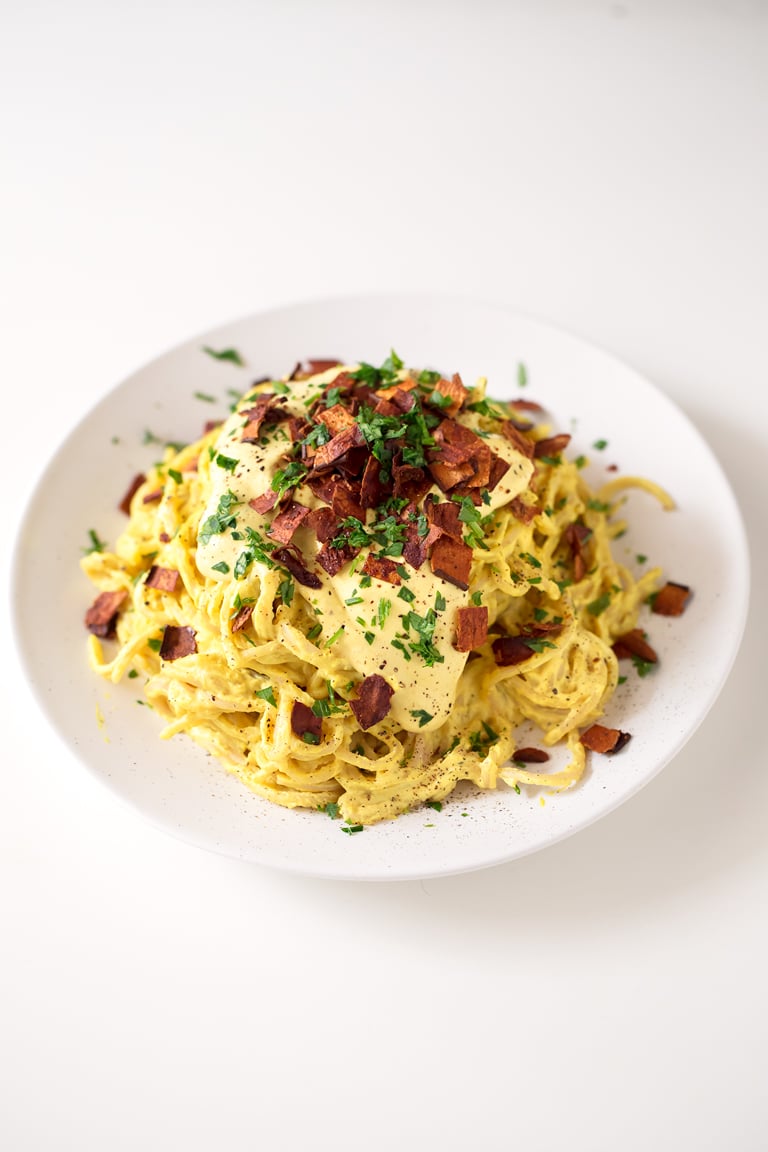 When I tried it again after more than three years, I knew I had to make my own version at home and here it is. It's inspired in the traditional recipe and I used our eggplant bacon. I think it's the best plant-based carbonara ever! Cooking at home is awesome because you can make dishes using your favorite ingredients and what you have on hand.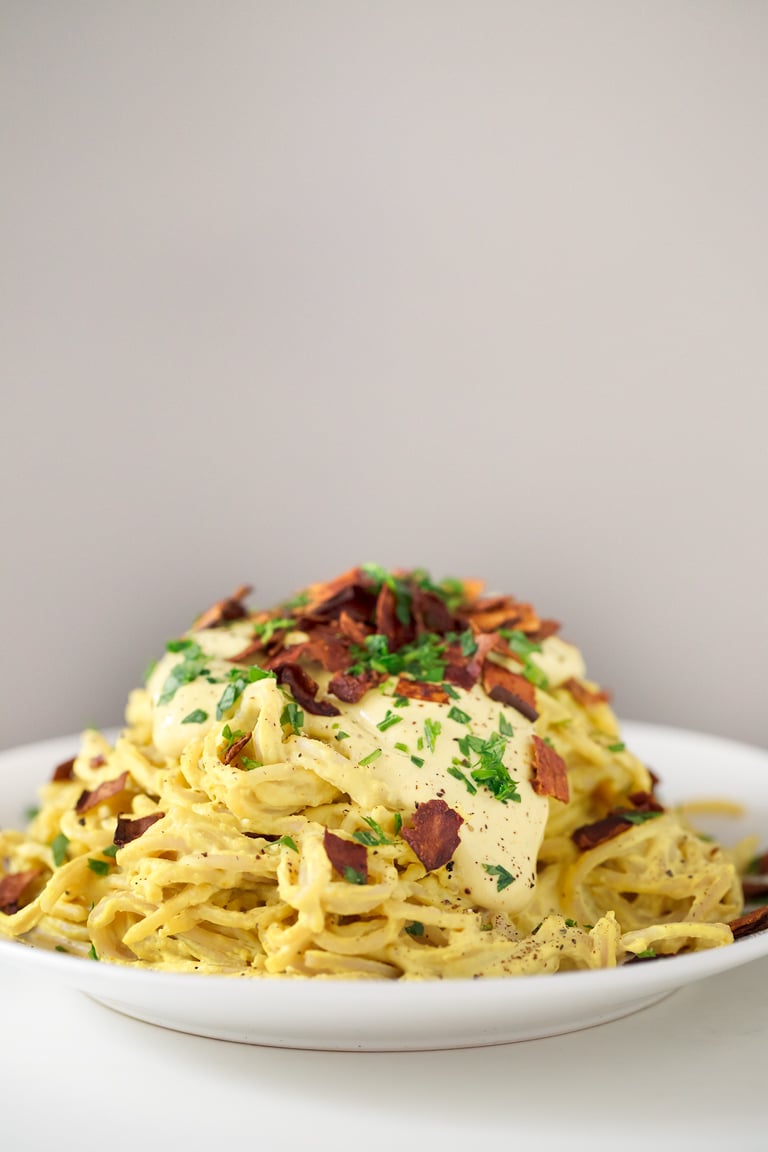 If you like this vegan pasta carbonara, check out these pasta recipes: vegan pasta Alfredo, lentil bolognese, 15-minute coconut green pasta, simple vegan piquillo pepper pasta and pasta arrabiata.
Did you make this recipe? Please leave a comment below, share it, rate it or tag a picture @simpleveganblog on Instagram and hashtag it #simpleveganblog. We'd love to see what you cook!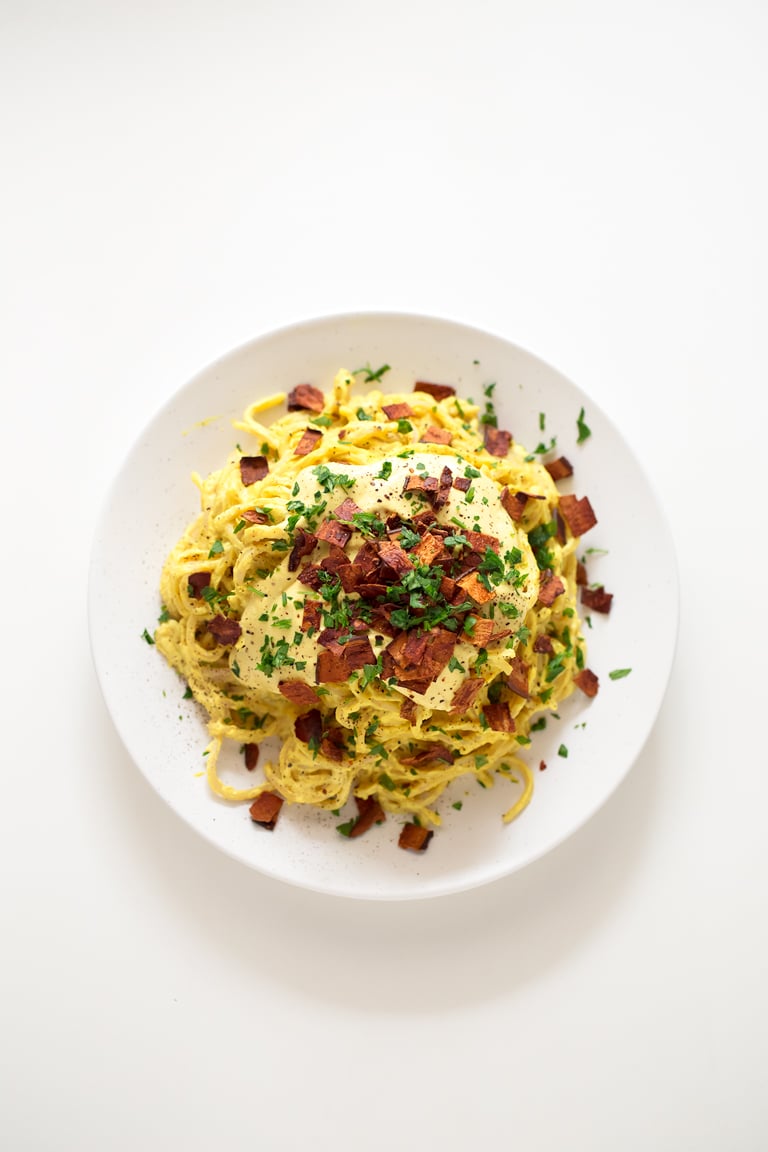 Print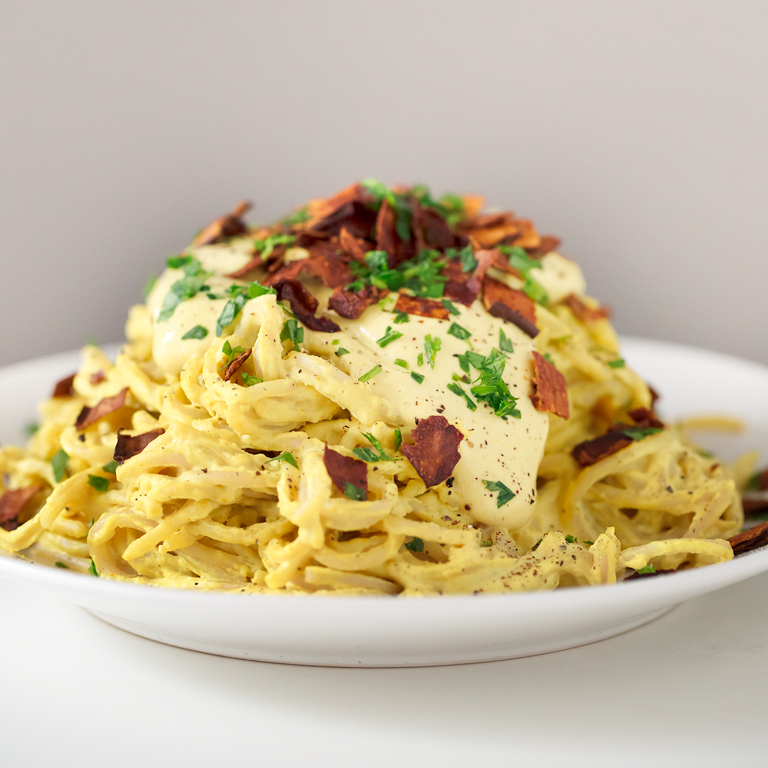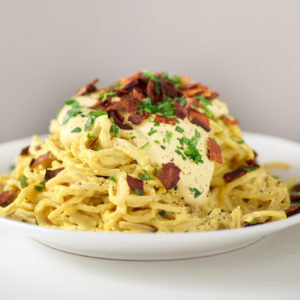 Vegan Pasta Carbonara
Author: Simple Vegan Blog
Prep: 10 mins
Cook: 15 mins
Total: 25 mins
6-8 1x
Main Dish
Italian
Servings 6-8 1x
Scale Tap or hover over number to scale servings
You can enjoy a delicious and creamy vegan pasta carbonara in just 25 minutes. This is a gluten-free version, which is also healthier and lower in fat.
Ingredients
18 ounces pasta of your choice (500 g), we used brown rice spaghetti
10 ounces firm tofu (275 g)
1/2 cup plant milk of your choice (125 ml), we used soy milk
1/2 cup vegan parmesan cheese or nutritional yeast (8 tbsp)
1/4 cup nutritional yeast (4 tbsp)
2 tbsp lemon juice
1 tbsp tahini (or extra virgin olive oil)
1 tsp turmeric powder
1/2 tsp sea salt
1/8 ground black pepper
Vegan bacon to taste, we usually add 3 slices for each serving
Fresh parsley to taste
Instructions
Cook the pasta according to package directions.
Place the rest of the ingredients (except the bacon and the parsley) in a blender and blend until smooth.
When the pasta is ready, strain it and place it in a frying pan or in the same pot you've cooked the pasta, add the sauce and the bacon (chopped) and cook over medium-high heat for about 2 to 3 minutes, stirring constantly.
Serve with some fresh parsley on top, more pepper and more bacon (optional).
Store the pasta carbonara in the fridge in a sealed container for up to 4 days.
Notes
Use any type of pasta you want.
Adding 1 tsp of turmeric powder you'll get a beautiful color, but if you're not a big fan of this ingredient, omit it or add just 1/2 tsp.
If you don't eat soy, you could try to use overnight soaked cashews instead of the tofu and any other plant milk instead of the soy milk.
Nutrition
Serving Size: 1/8 of the recipe using nutritional yeast instead of the vegan parmesan cheese and without the bacon
Calories: 375
Sugar: 2.2 g
Sodium: 195.9 mg
Fat: 7.3 g
Saturated Fat: 0.6 g
Carbohydrates: 61.3 g
Fiber: 10.6 g
Protein: 22.9 g