Vegan breakfast sausage made with textured vegetable protein, flour, vegetable stock and tons of herbs and spices. It tastes like the real thing!
vegan breakfast sausage
There aren't many savory breakfast recipes on the blog, as I have a sweet tooth (I usually have oatmeal or a smoothie for breakfast), but I promise I'm going to share more for those of you who prefer to eat savory things to start your day.
Breakfast sausage is a classic, and is delicious just by itself or in a breakfast sandwich with vegan English muffins, tempeh bacon, some vegan cheese and tofu instead an egg (take a look at our vegan eggs Benedict to see how to replace the egg).
Besides, this recipe is also gluten-free, as it's made with textured soy protein, brown rice flour (any other type of flour will do), vegetable stock (water is another good choice) and some herbs and spices. I also added flax eggs as the binder and maple syrup, but if you don't want to use any sweetener is okay.
It's even better than the real thing and much healthier, so you can enjoy it on a daily basis. I also eat it for lunch and dinner as it was a burger, with some bread and veggies.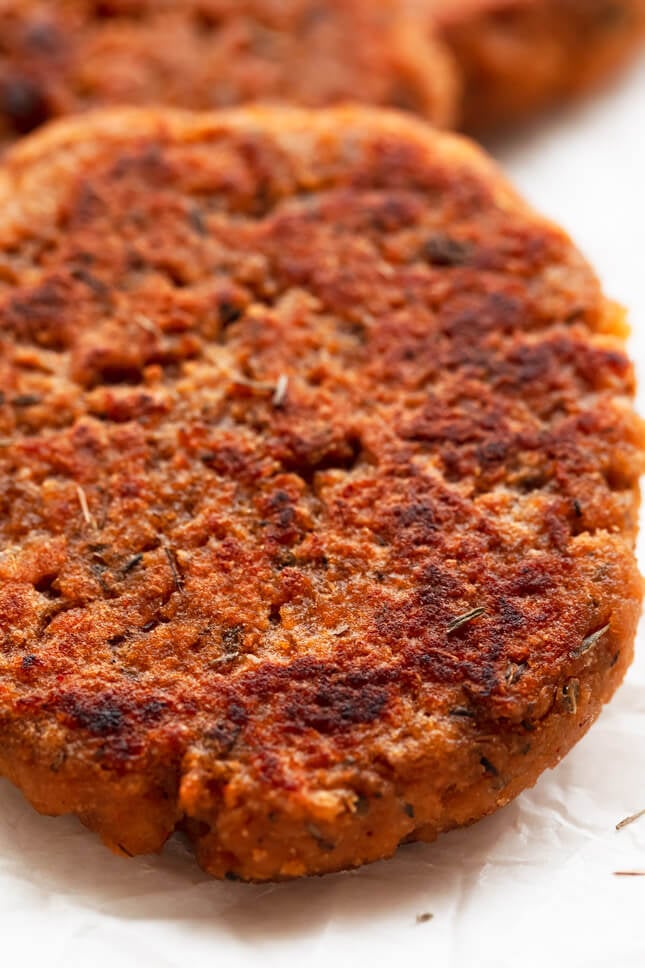 vegan breakfast sausage ingredients
Textured vegetable protein.
Vegetable stock or water – Homemade is best, but store-bought is also a good choice. Water is also a choice, but if you use vegetable stock, the sausages will be tastier.
Brown rice flour – Any other type of flour is okay. Add more or less if needed.
Nutritional yeast – If you can't eat it, just omit this ingredient and add more flour if needed.
Dried sage.
Dried thyme.
Garlic powder – Onion powder is a great alternative, or even you could add both.
Paprika.
Ground black pepper – Fresh ground black pepper tastes best. However, I find store-bought ground black pepper more convenient and also easier to measure with a teaspoon.
Cayenne powder – This ingredient is optional. If you don't like spicy food, just omit it.
Tamari or soy sauce – Coconut aminos is also okay. You could also add some salt and more liquid if needed.
Maple syrup – Feel free to use other sweeteners. If you're using a non-liquid sweetener, add more liquid if needed. This ingredient is not necessary, so you can replace it with some liquid. It will make your breakfast sausage taste better though.
Flax eggs – I've never tried this recipe using any other egg replacer myself, but I think it could work.
Oil – This is an optional ingredient. If you don't eat oil, just omit it. I'm Spanish, so I use extra virgin olive oil to cook most of my dishes. However, any type of oil is okay. I always use extra virgin oils when possible because they're healthier, but it's up to you.
tips to make vegan breakfast sausage
Try to make your own vegetable stock at home, it's so easy, more affordable and made with simple ingredients and the amount of sodium you want.
Feel free to add or use other herbs or spices you like.
If your dough is too sticky, add more flour. If it's too dry, add more vegetable stock or water. Take a look at our picture to see our dough.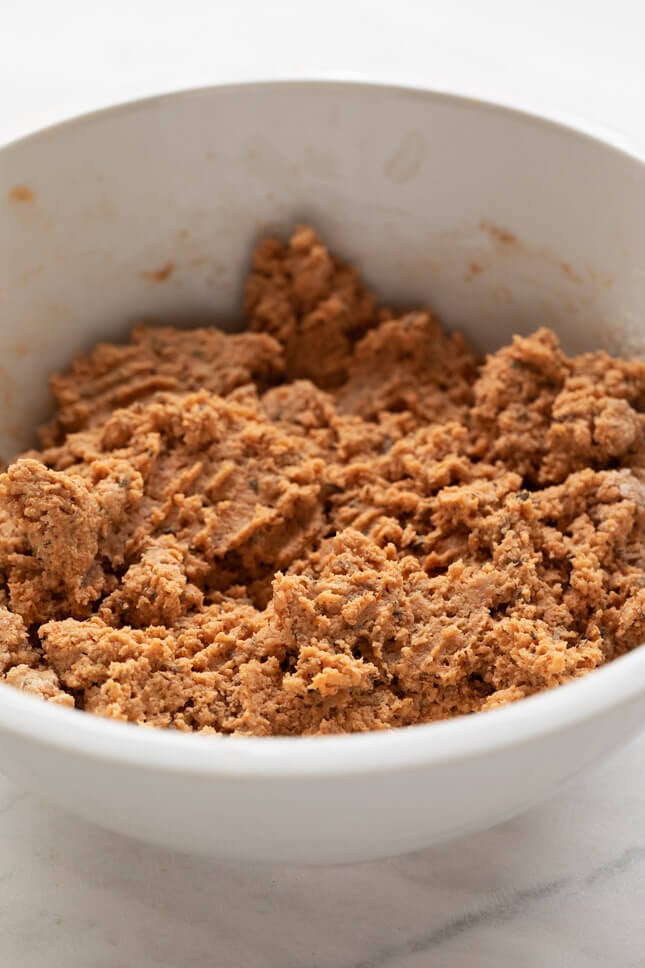 looking for more textured vegetable protein recipes?
did you make this vegan breakfast sausage recipe?
Please leave a comment below, share it, rate it or tag a picture @simpleveganblog on Instagram and hashtag it #simpleveganblog. We'd love to see what you cook!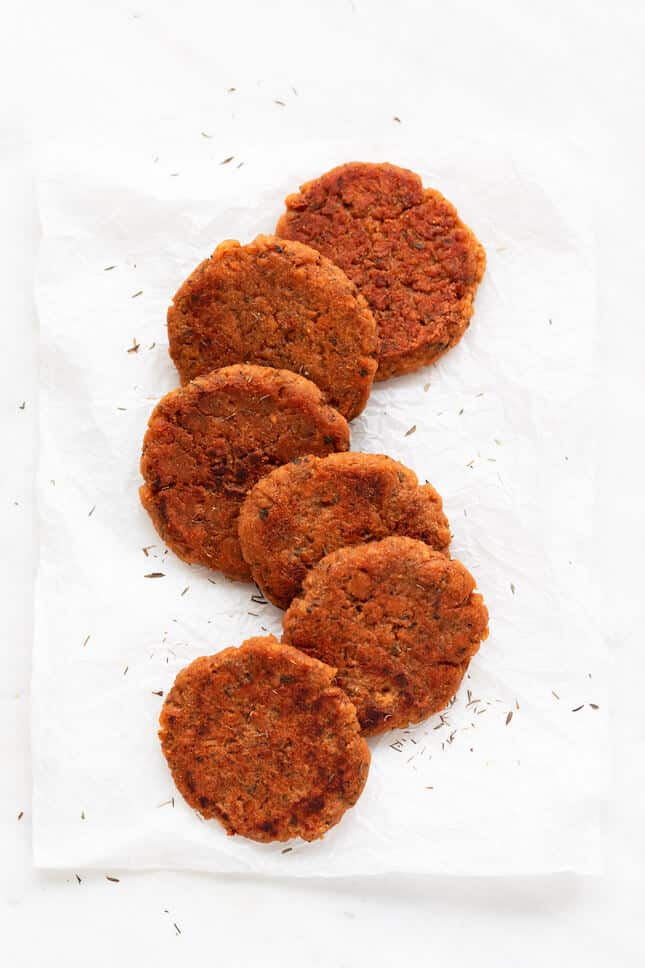 Print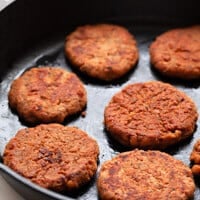 Vegan Breakfast Sausage
Author: Simple Vegan Blog
Prep: 15 mins
Cook: 15 mins
Total: 30 mins
10–12 sausages 1x
Breakfast
Vegan, American
Servings 10–12 sausages 1x
Scale Tap or hover over number to scale servings
Vegan breakfast sausage made with textured vegetable protein, flour, vegetable stock and tons of herbs and spices. It tastes like the real thing!
Ingredients
1 cup textured vegetable protein (80 g)
1 cup vegetable stock or water (250 ml), hot
1 and 1/4 cups brown rice flour (175 g)
1/4 cup nutritional yeast (4 tbsp)
2 tsp dried sage
2 tsp dried thyme
2 tsp garlic powder
1/2 tsp paprika
1/8 tsp ground black pepper
1/8 tsp cayenne powder (optional)
2 tbsp tamari or soy sauce
1 tbsp maple syrup
Instructions
Add the textured vegetable protein and the hot vegetable stock or water to a large mixing bowl. Stir, cover and allow to sit for 5-10 minutes to absorb.
Mix the dry ingredients (flour, nutritional yeast, sage, thyme, garlic powder, paprika, pepper and cayenne) in another large mixing bowl until well combined.
Add the rest of the ingredients (rehydrated textured vegetable protein, tamari or soy sauce, syrup and flax eggs) to the bowl you have the dry ingredients. Stir until well combined.
Make 10-12 patties with your hands.
Heat some oil in a skillet and cook the sausages until golden brown for both sides (about 3-4 minutes each side). If you don't eat oil, just omit it. You can also cook the sausages in a griddler.
Serve immediately. Keep leftovers in a sealed container in the fridge for 5-7 days.
Nutrition
Serving Size: 1 sausage (of 12)
Calories: 105
Sugar: 1.3 g
Sodium: 216 mg
Fat: 1.6 g
Carbohydrates: 16 g
Fiber: 3.3 g
Protein: 6.2 g