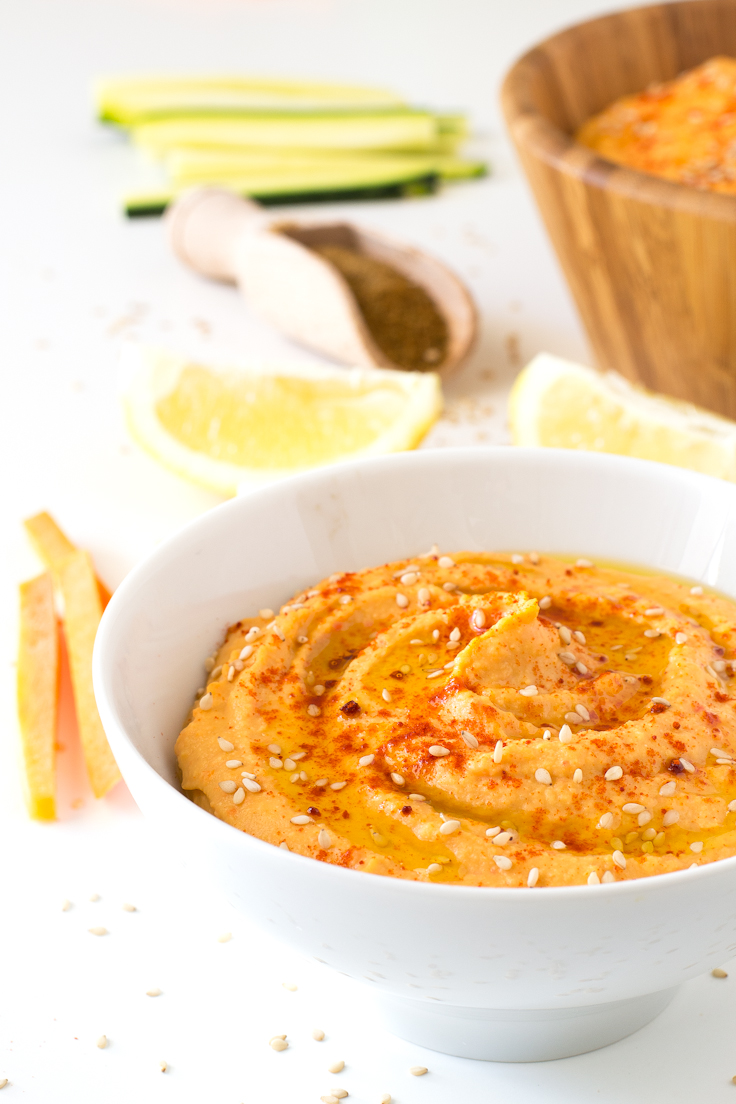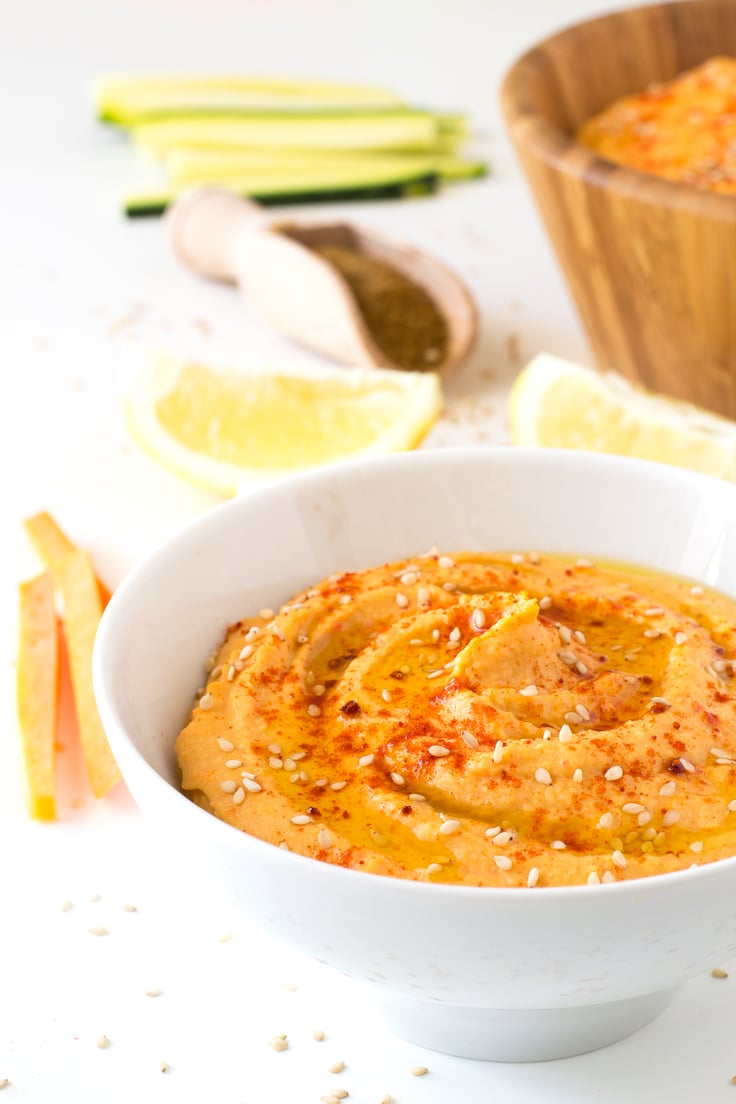 I fell in love with hummus the first time I tried it a few years ago, but I've always made the traditional version until I try a store-bought roasted red pepper hummus and it tastes even better! Unfortunately, the store-bought hummus had white sugar, refined sunflower oil and other nasty ingredients, so I prefer to make this homemade hummus and it tastes even better.
I eat hummus as an appetizer with some crudités (I love carrots!) or with homemade tortilla chips, salad dressing or as a side dish, but my favorite way to enjoy this delicious dish is spreading the hummus over a baked pizza crust and I also add chopped tomatoes, sweet paprika, extra virgin olive oil and some olives, it tastes really awesome!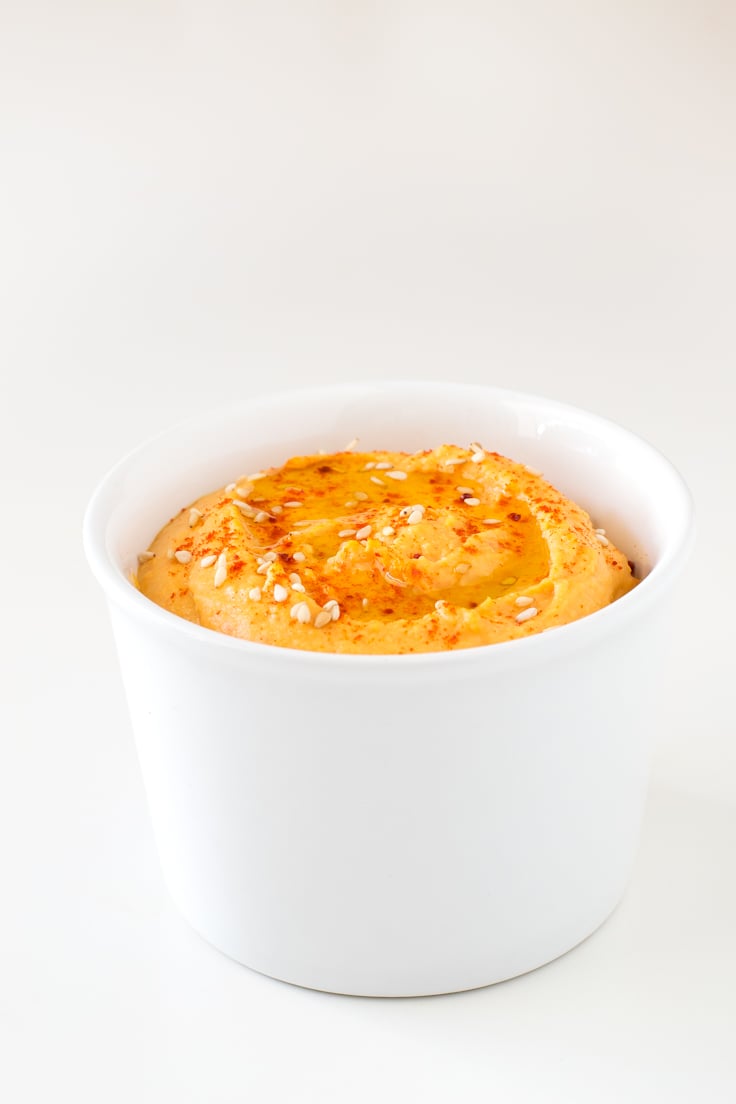 Tips:
I prefer to cook raw chickpeas, but canned chickpeas are okay, although try to avoid nasty ingredients.
Feel free to use store-bought roasted red peppers if you're too busy.
Roasted tahini also works and it tastes better, but raw tahini is more nutritious.
You can see the roasted red peppers and the hummus texture in the food processor in the picture below.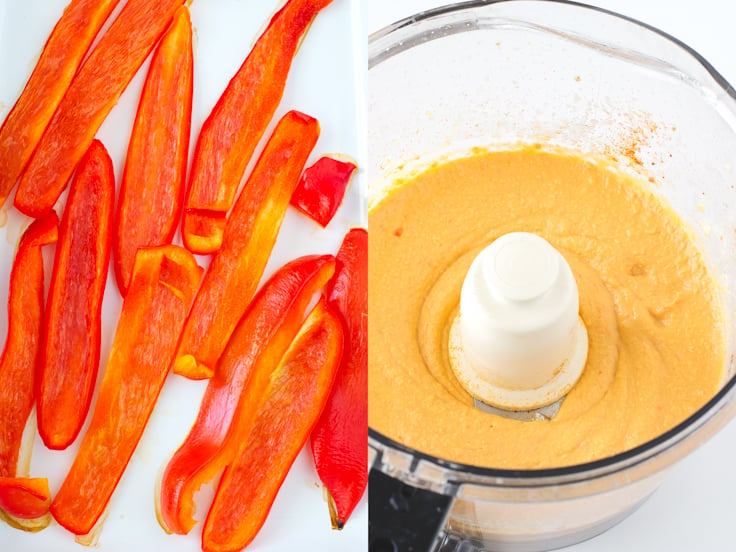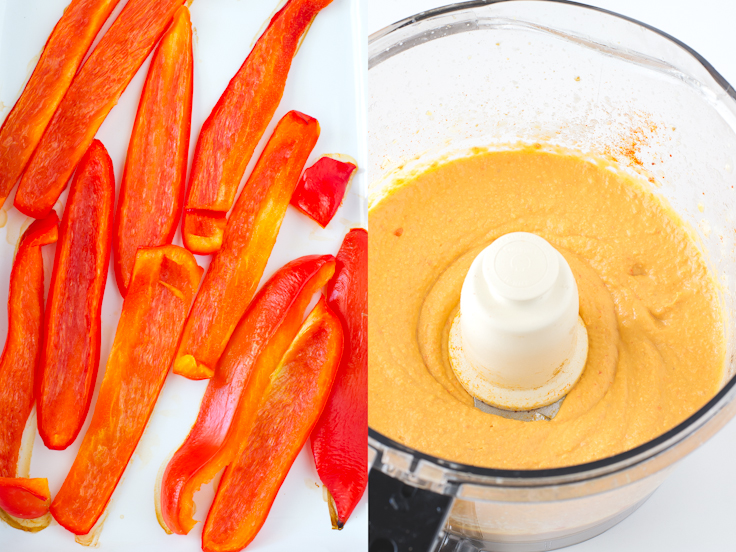 Product I used to make this recipe (affiliate links):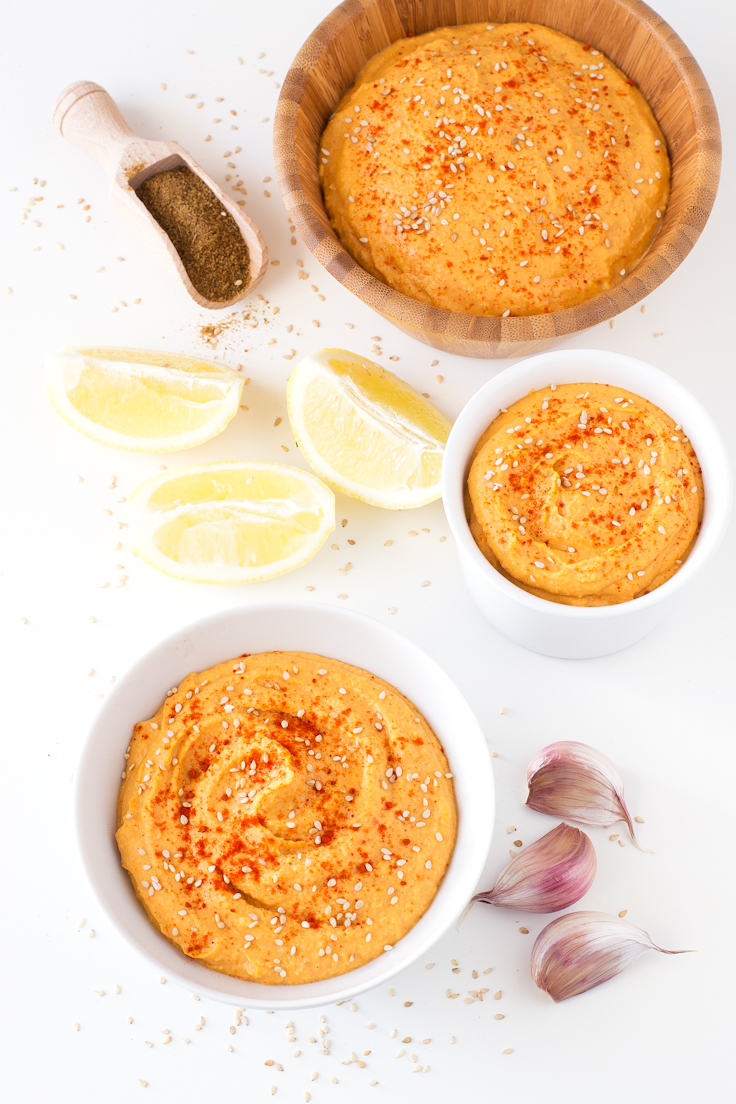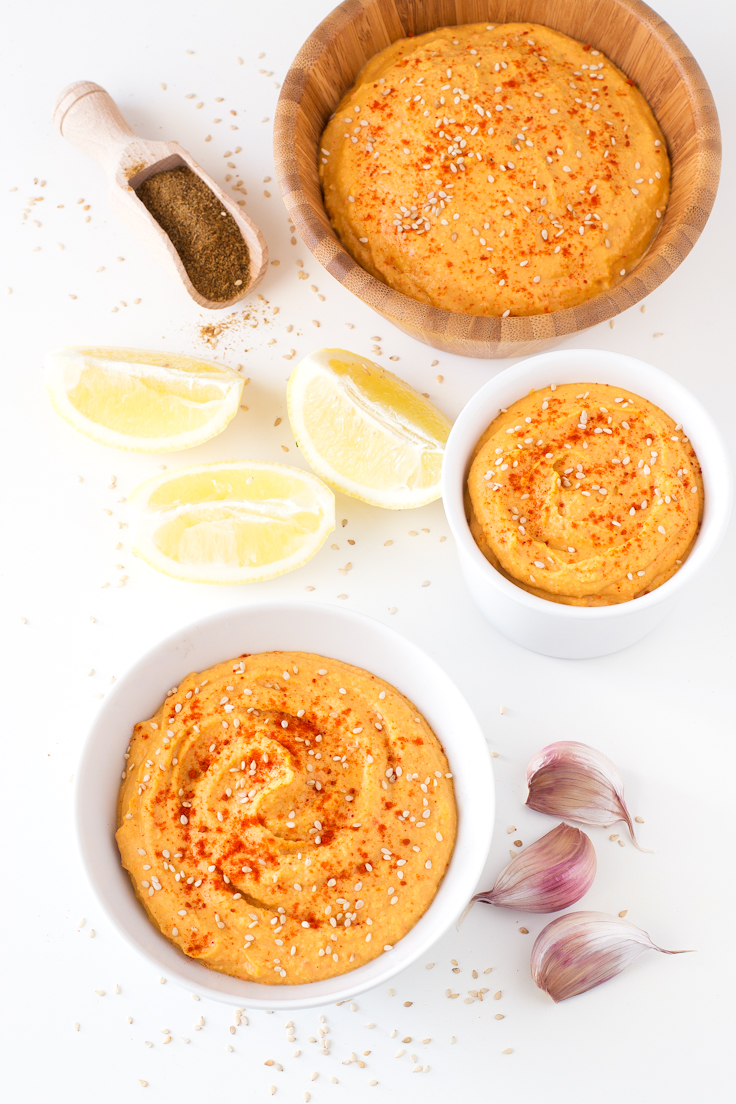 Print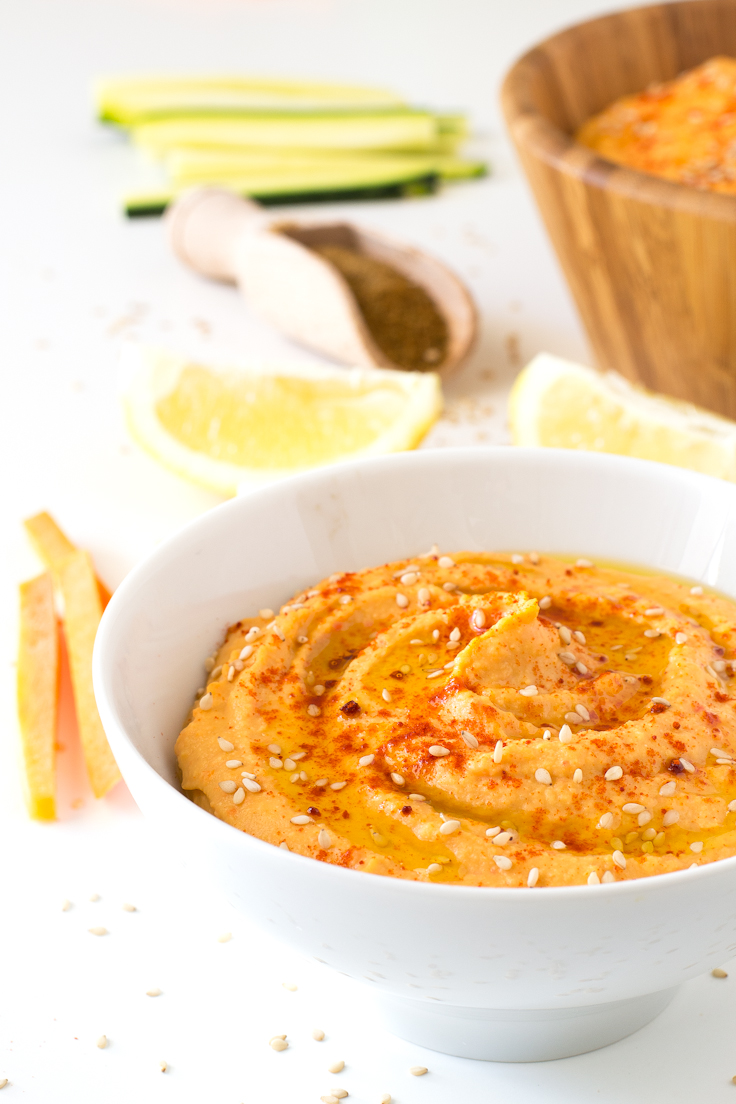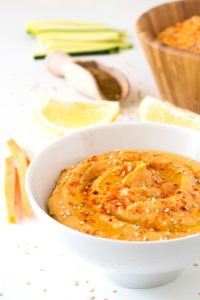 Roasted Red Pepper Hummus
Author: Simple Vegan Blog
Prep: 10 mins
Cook: 10 mins
Total: 20 mins
4 1x
Appetizer
Vegan, Middle Eastern
Servings 4 1x
Scale Tap or hover over number to scale servings
If you like traditional hummus you should try this roasted red pepper hummus, it tastes even better!
Ingredients
1 julienned red bell pepper
2 1/2 cups cooked or canned chickpeas (400 g)
1 clove of garlic (remove the germ to improve your digestion)
The juice of 2 lemons
1 tbsp raw tahini
3 tbsp extra virgin olive oil
1 tsp sea salt
1 tsp ground cumin
1 tsp sweet paprika
Instructions
Preheat the oven to 350ºF or 180ºC.
Roast the red pepper on a baking tray for 10 or 15 minutes. Let it cool.
Combine all the ingredients in a food processor or a blender until smooth.
Nutrition
Serving Size: 1/4 of the recipe
Calories: 246
Sugar: 1.6g
Sodium: 786mg
Fat: 13.9g
Saturated Fat: 2.1g
Carbohydrates: 25.9g
Fiber: 5.6g
Protein: 6.2g
DID YOU MAKE THIS RECIPE?
Please leave a comment below or tag a picture #simpleveganblog on Instagram (or any other social network).