Thai mango sticky rice, made with rice, mango and a delicious coconut sauce. It's sweet, creamy and a scrumptious dessert. Only 7 ingredients needed!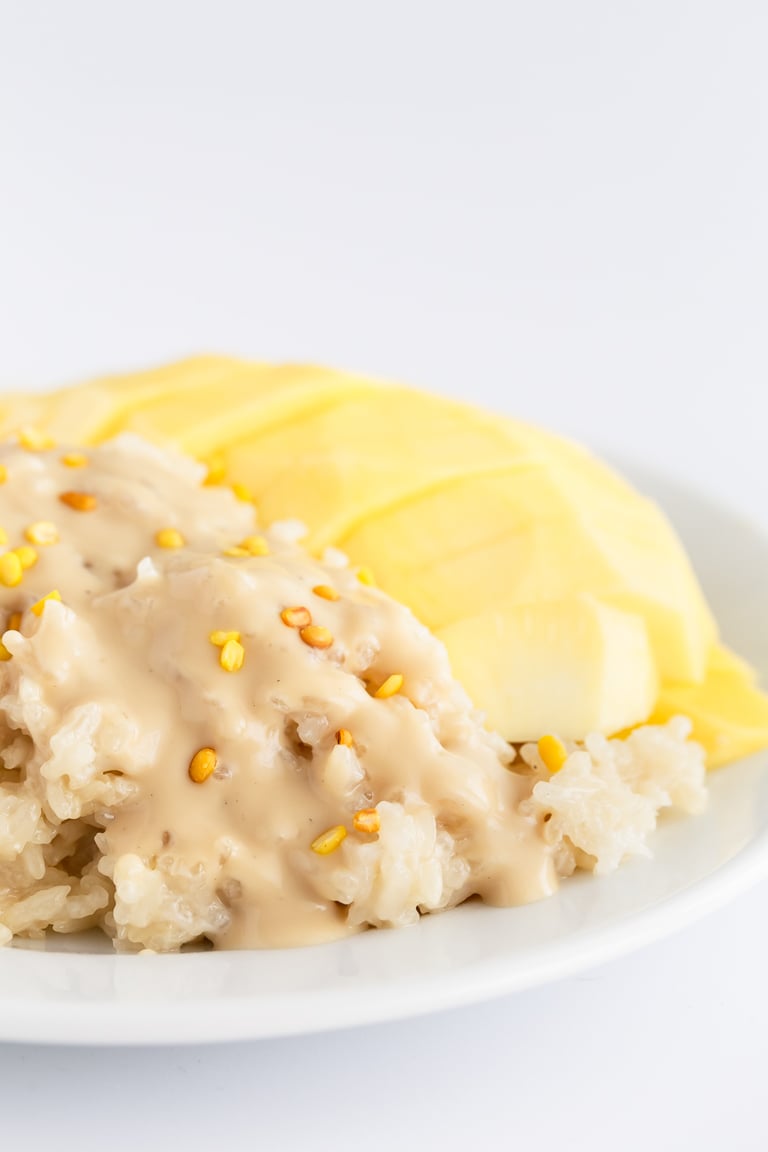 I think this is probably the most popular dessert here in Thailand and is made with 3 of my all-time favorite ingredients: rice, coconut and mango. It reminds me to arroz con leche, a Spanish rice pudding I used to eat a lot when I was a child.
The classic recipe is made with glutinous rice and mung bean seeds, but if you can't find them don't worry, we've got you covered. Just use any type of rice you have on hand (starchy rice varieties work best) and sesame seeds or any seeds you like.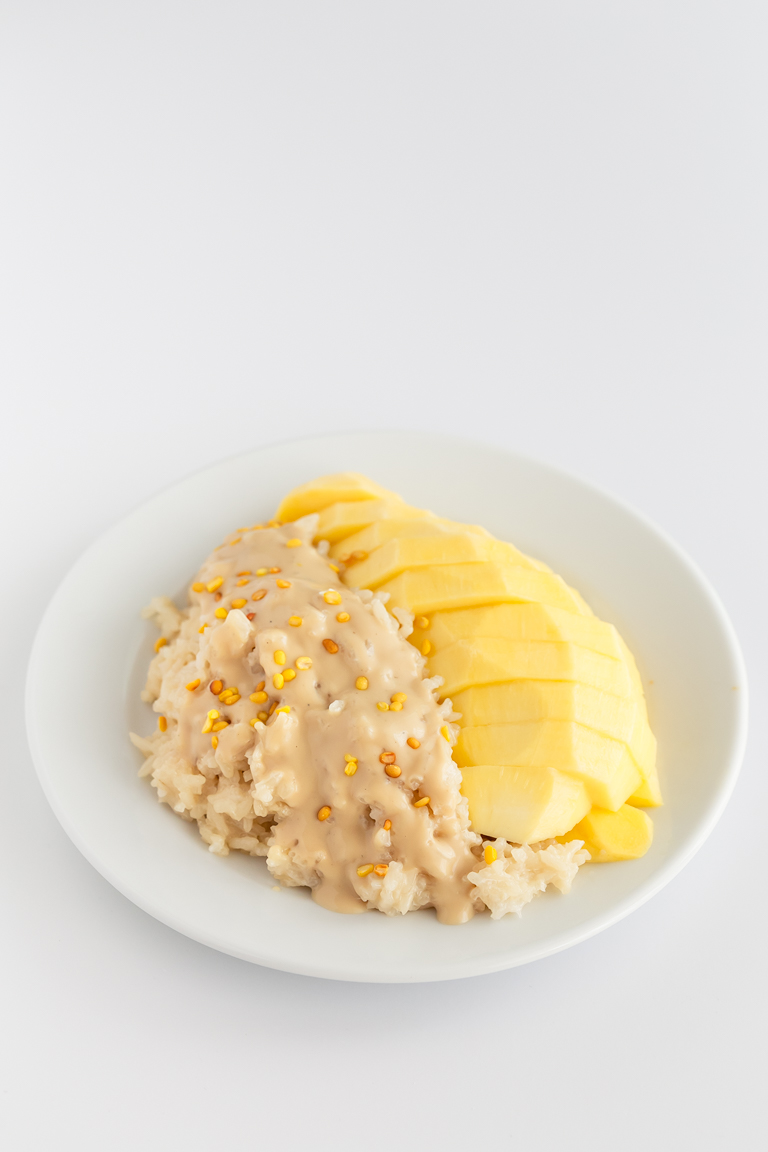 The combination of sticky rice, a creamy coconut sauce and the fresh mango is amazing. I understand why this dessert is so popular in South East Asia, you can find it everywhere! I've even seen versions using black rice.
Alberto took a photo of the cooked glutinous rice for you guys (see picture below), just before we added the coconut sauce. This rice has a high starch content, so it's super sticky. If I couldn't find it, I'd probably use sushi rice.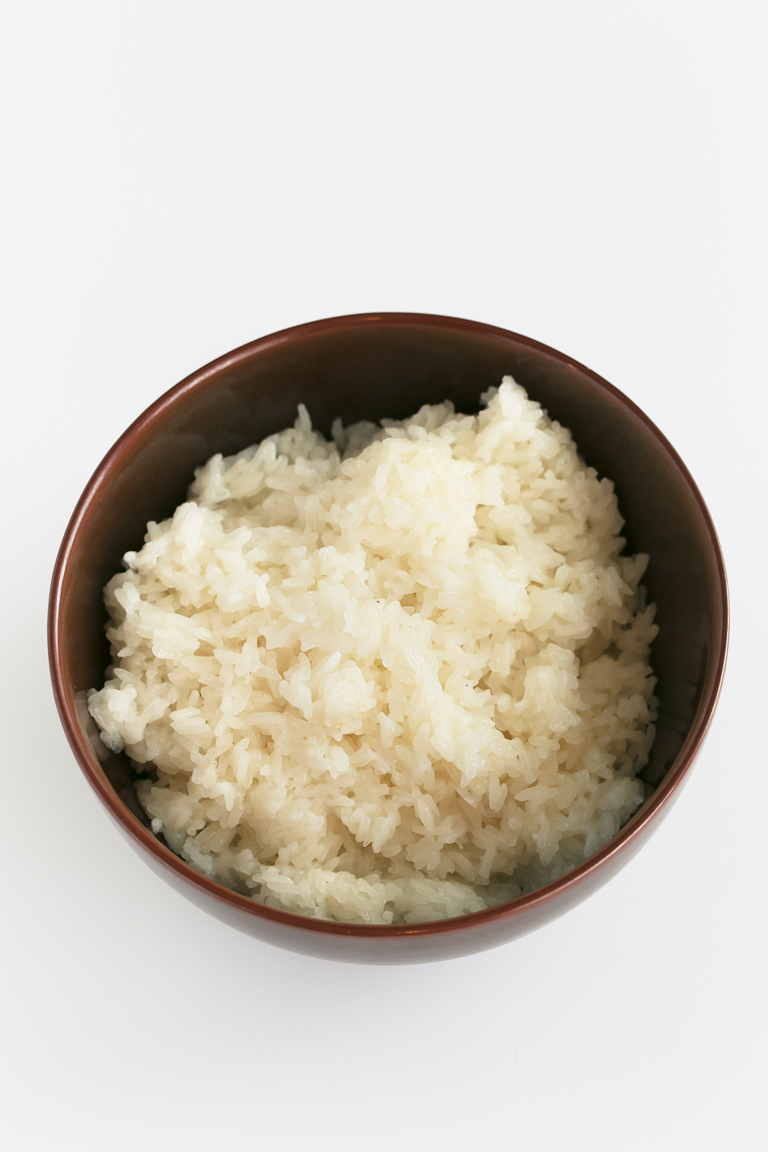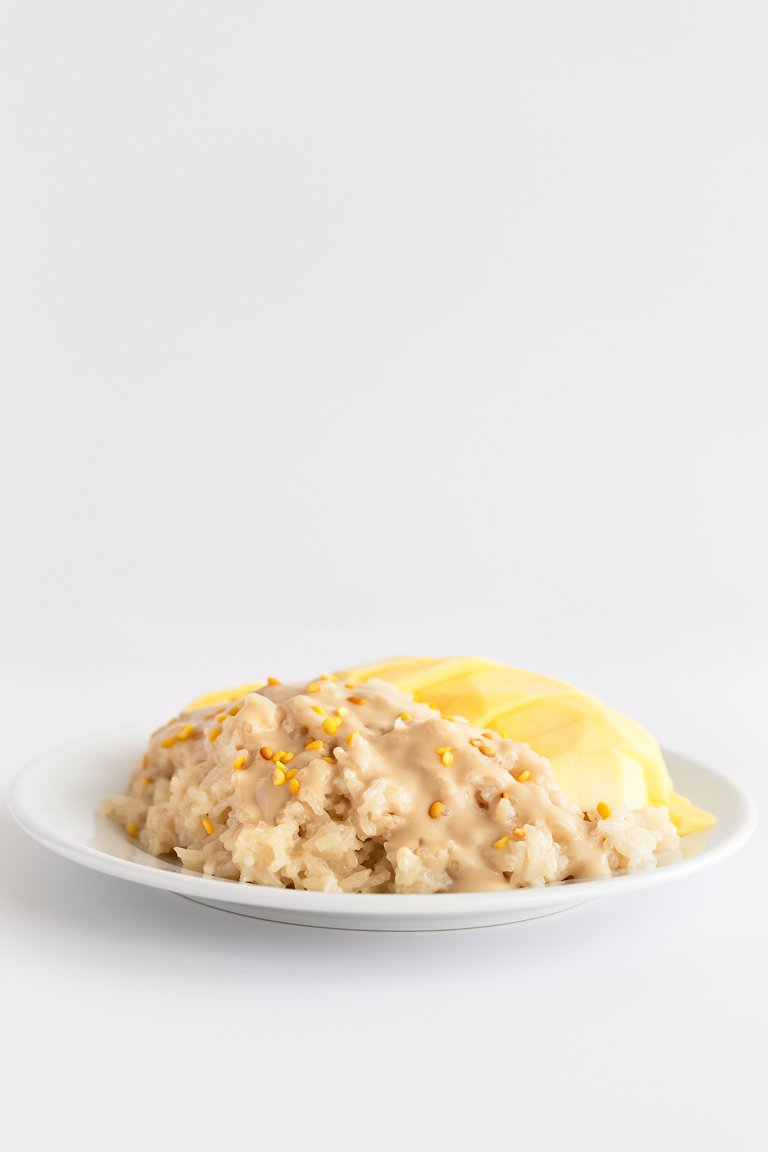 LOOKING FOR MORE DESSERT RECIPES?
Did you make this recipe? Please leave a comment below, share it, rate it or tag a picture @simpleveganblog on Instagram and hashtag it #simpleveganblog. We'd love to see what you cook!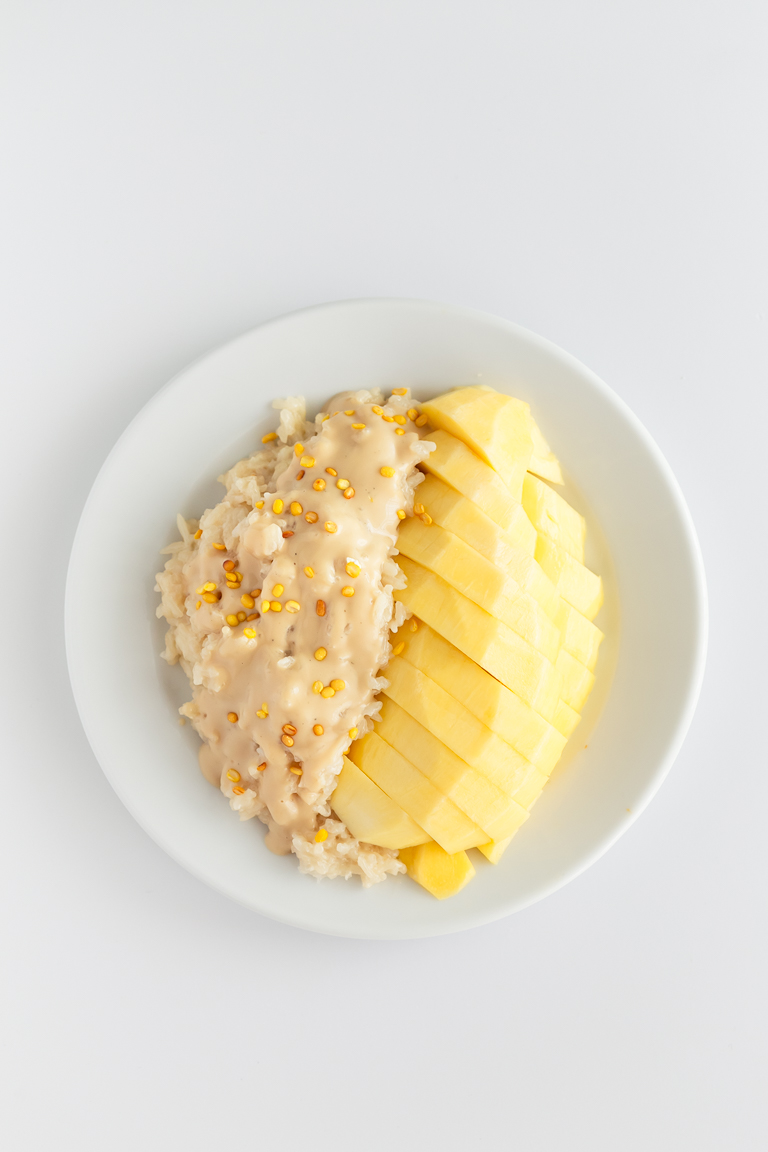 Print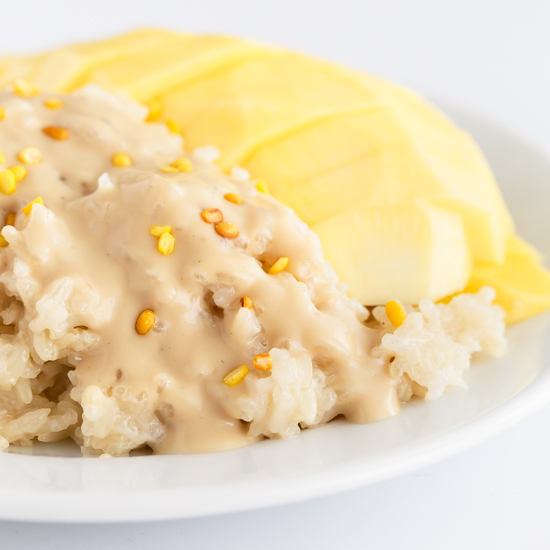 Thai Mango Sticky Rice
Author: Simple Vegan Blog
Prep: 10 mins
Cook: 20 mins
Total: 30 mins
4-8 1x
Dessert
Thai
Servings 4-8 1x
Scale Tap or hover over number to scale servings
Thai mango sticky rice, made with rice, mango and a delicious coconut sauce. It's sweet, creamy and a scrumptious dessert. Only 7 ingredients needed!
Ingredients
1 cup glutinous rice or any other rice you have on hand, uncooked (185 g), see notes
1 cup full-fat coconut milk (250 ml)
1/4 cup cane, coconut or brown sugar (4 tbsp)
1/4 tsp sea salt
1–2 tsp cornstarch + 1 tbsp water
Mung beans (optional)
4–8 mangoes
Instructions
The classic recipe is made with glutinous rice, but any other type of rice will do. Soak the rice with 2 cups of water (500 ml) for 30 minutes.
In Thailand they steam the rice, but as we haven't a steamer, we add the rice with the water to a saucepan, bring it to a boil and cook over low heat (partially covered) until the water is absorbed and the rice is cooked (about 10-15 minutes, but cooking time may vary depending on the type of rice you're using). Add more water if needed.
While the rice is cooking, make the sauce. Add the coconut milk, sugar and salt in a saucepan and cook over medium-high heat until the mixture is hot and the sugar is melted. Then add the cornstarch dissolved in water, stir and cook until it thickens. Add more or less cornstarch depending on how thick you want your sauce (we usually add 1 and 1/2 to 2 tsp).
When the rice is ready, transfer it to a mixing bowl and add half of the sauce. Stir until well combined.
Thai people add some toasted mung beans on top. We buy it raw and then toast them in a frying pan, but any other seeds are okay (sesame seeds work great).
To serve the mango sticky rice, add the rice mixture first, then the peeled and chopped mango on the side (1/2 to 1 mango per serving), some sauce and finally top with the seeds.
Best when fresh, feel free to keep the rice mixture and the sauce (separately) in sealed containers in the fridge for 3 to 4 days. If the sauce is too thick, add some milk or water. Add the mango just before serving.
Notes
It's better to use glutinous rice, but any type of rice is okay. Glutinous rice is high in starch, so starchy rice varieties work best for this recipe.
Add your favorite sweetener.
Cornstarch can be replaced by any starch or thickener.
Use any seeds you have on hand.
If you like your mango sticky rice with more sauce, just prepare some more in a minute, it's so easy to make!
Nutrition
Serving Size: 1/8 of the recipe (using 2 tbsp mung bean seeds and 4 mangoes)
Calories: 147
Sugar: 27.7 g
Sodium: 64 mg
Fat: 2.2 g
Saturated Fat: 1.5 g
Carbohydrates: 32.6 g
Fiber: 3.2 g
Protein: 2.3 g