Lentil soup, made from scratch with simple ingredients. It's so healthy, filling and comforting, perfect to warm you up on a cold day.

lentil soup
It's been a while since I posted a lentil recipe on the blog for the last time, so here you have another one. I'm sure you're going to love this lentil soup because is extremely easy to make and perfect to enjoy on a daily basis.
It only requires one pot and a handful of ingredients. In addition, you can make big batches of lentil soup and keep it in your fridge or freezer to eat during the week.
Add any veggies you want and more or less liquid (vegetable stock or water) depending on how thick you like your soup. I always use an immersion blender to thicken it a little bit, but it's up to you.
This is a recipe I make a lot during the cold months, but I have to admit I eat soups all year long, even in summer and I live in Seville, which is the hottest city in Europe!
I like to serve this lentil soup with a salad or cooked veggies and some type of healthy carb, like bread, cooked rice or potatoes. You could also cook the potatoes in the soup, just chop and add them to the pot at the beginning and cook until the lentils and potatoes are soft (add more vegetable stock or water if needed).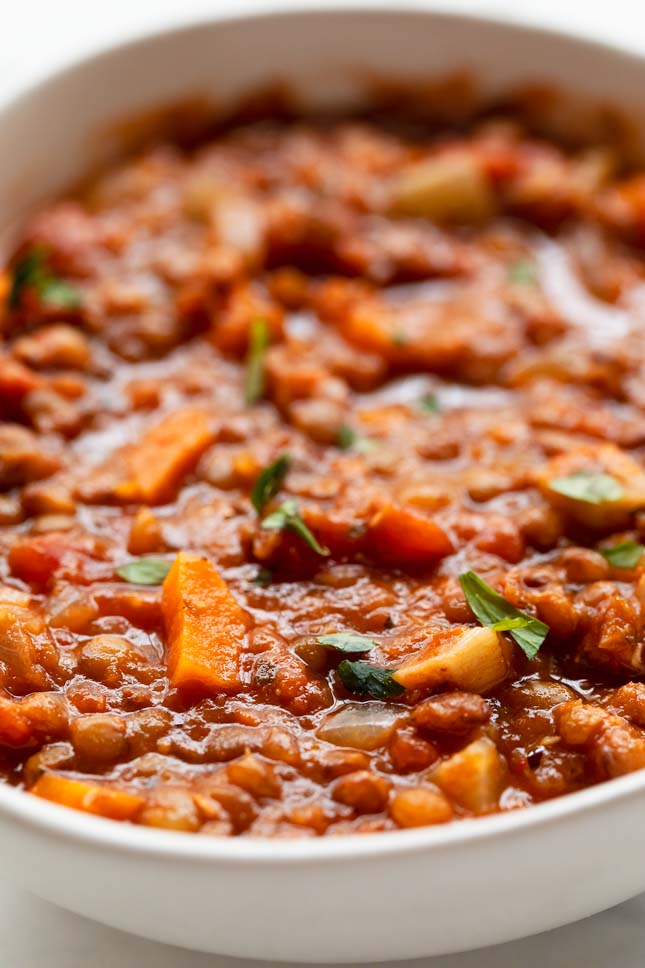 what ingredients do you need to make lentil soup?
Extra virgin olive oil – I'm Spanish, so I use extra virgin olive oil to cook most of my dishes. However, any type of oil is okay. I always use extra virgin oils when possible because they're healthier. If you don't eat oil, just use some vegetable stock or water instead.
Garlic – I prefer fresh garlic, but garlic powder is a good alternative.
Onion – I used a white onion. Any type of onion will do, though, even onion powder.
Celery.
Carrot.
Dried brown or green lentils.
Crushed tomatoes – Canned tomatoes are so convenient. If you want to use fresh tomatoes is okay, but you'll maybe need to add more liquid (vegetable stock or water).
Vegetable stock or water – I prefer vegetable stock because it enhances the flavor of the soup. However, water is okay too. Making your own vegetable stock at home is a good idea, but feel free to use store-bought if you want.
Dried oregano – Any dried or fresh herb will do. I prefer to add fresh herbs at the end, once the soup is already cooked.
Ground cumin – Add any spices you like.
Salt – I always use Himalayan pink salt. Any type of salt is okay, though.
Ground black pepper – Fresh ground black pepper tastes best. However, I find store-bought ground black pepper more convenient and also easier to measure with a teaspoon.
tips for making lentil soup
Feel free to add your favorite veggies.
Add more or less liquid depending on how thick you want your soup.
If you want to reduce the amount of sodium in this recipe, omit the salt and use water instead of vegetable stock. You could also make your own vegetable stock with no salt or buy a low-sodium one.
Lentils do not require it, but can be soaked in order to reduce cooking time. Soaked lentils are also easier to digest.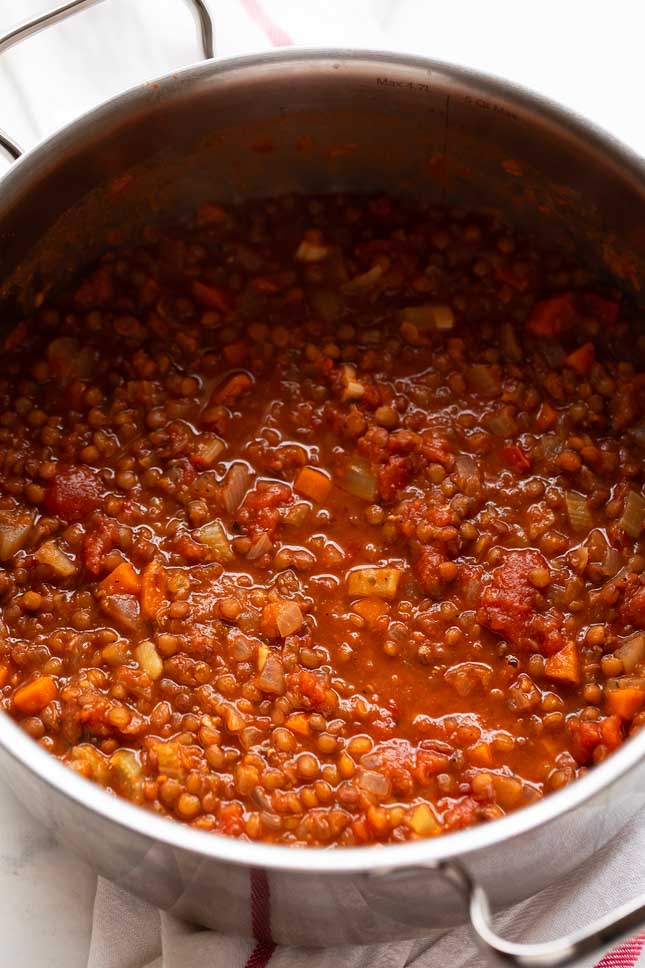 looking for more lentil recipes?
did you make this lentil soup recipe?
Please leave a comment below, share it, rate it or tag a picture @simpleveganblog on Instagram and hashtag it #simpleveganblog. We'd love to see what you cook!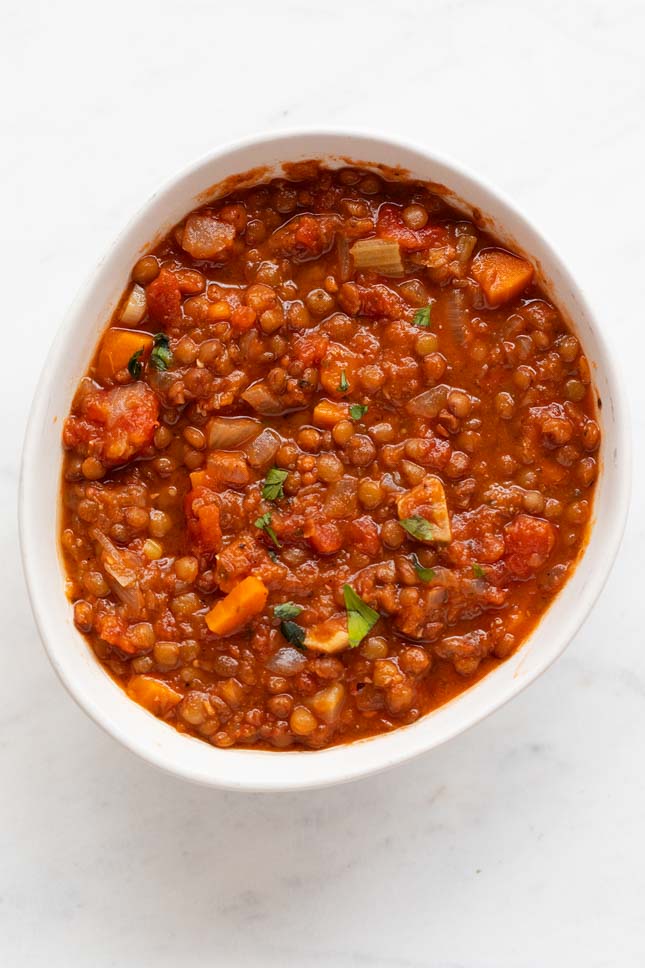 Print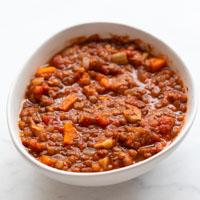 Lentil Soup
Author: Simple Vegan Blog
Prep: 10 mins
Cook: 50 mins
Total: 1 hour
4 1x
Main Dish
Vegan, Mediterranean
Servings 4 1x
Scale Tap or hover over number to scale servings
Lentil soup, made from scratch with simple ingredients. It's so healthy, filling and comforting, perfect to warm you up on a cold day.
Ingredients
1 tbsp extra virgin olive oil (optional)
4 cloves of garlic, chopped
1 onion, chopped
1 celery stick, chopped
1 large carrot, chopped
1 cup dried brown or green lentils (200 g)
2 14-ounce cans crushed tomatoes (800 g)
4 cups vegetable stock or water (1 liter)
2 tsp dried oregano
2 tsp ground cumin
1 tsp paprika
1/2 tsp salt
1/4 tsp ground black pepper
Instructions
Heat the oil in a large pot and add the veggies (garlic, onion, celery and carrot). Cook over medium-high heat until golden brown, stirring occasionally. If you don't eat oil, use some vegetable stock or water instead.
Add all remaining ingredients except the salt and pepper. Stir.
Increase heat and bring to simmer. Cover with a lid, reduce heat to medium-low and simmer for about 40 minutes or until lentils are soft.
Finally, add the salt and pepper and stir.
To thicken the soup, use an immersion blender and do 3-4 quick pulses. You could also transfer 1 cup (250 ml) to a regular blender and blend, then transfer back into the pot. This step is totally optional.
Serve immediately (I topped my soup with some chopped fresh parsley) or keep leftovers in an airtight container for about 5-7 days.
Nutrition
Serving Size: 1/4 of the recipe
Calories: 291
Sugar: 4.3 g
Sodium: 1124 mg
Fat: 5 g
Saturated Fat: 0.6 g
Carbohydrates: 48.9 g
Fiber: 11.1 g
Protein: 15.3 g