Brussels sprouts, sautéed in a skillet and ready in less than 30 minutes. This recipe only requires 6 ingredients and is the perfect holiday side dish.
Brussels Sprouts
These are the best Brussels sprouts I've ever had. Many people don't like them (I used to hate them as well), and that's because they don't know how to cook sprouts properly.
This recipe is extremely simple, but also extremely delicious, and you don't even need to use your oven, just a skillet or frying pan. I boil my sprouts for 3 minutes before sautéing them, but don't over boil them, or they will be mushy and won't taste good.
I could add garlic to any dish, I love it so much. In addition, it goes really well with Brussels sprouts. Roasted sprouts are also super yummy, but I prefer mine sautéed as I find this method more convenient and they're ready in less than 30 minutes!
You should give this recipe a try, even people don't like Brussels sprouts will love it, I promise. It's one of my favorite side dishes at the moment and is a great dish for the holidays as well. Besides, it's super quick and easy to make!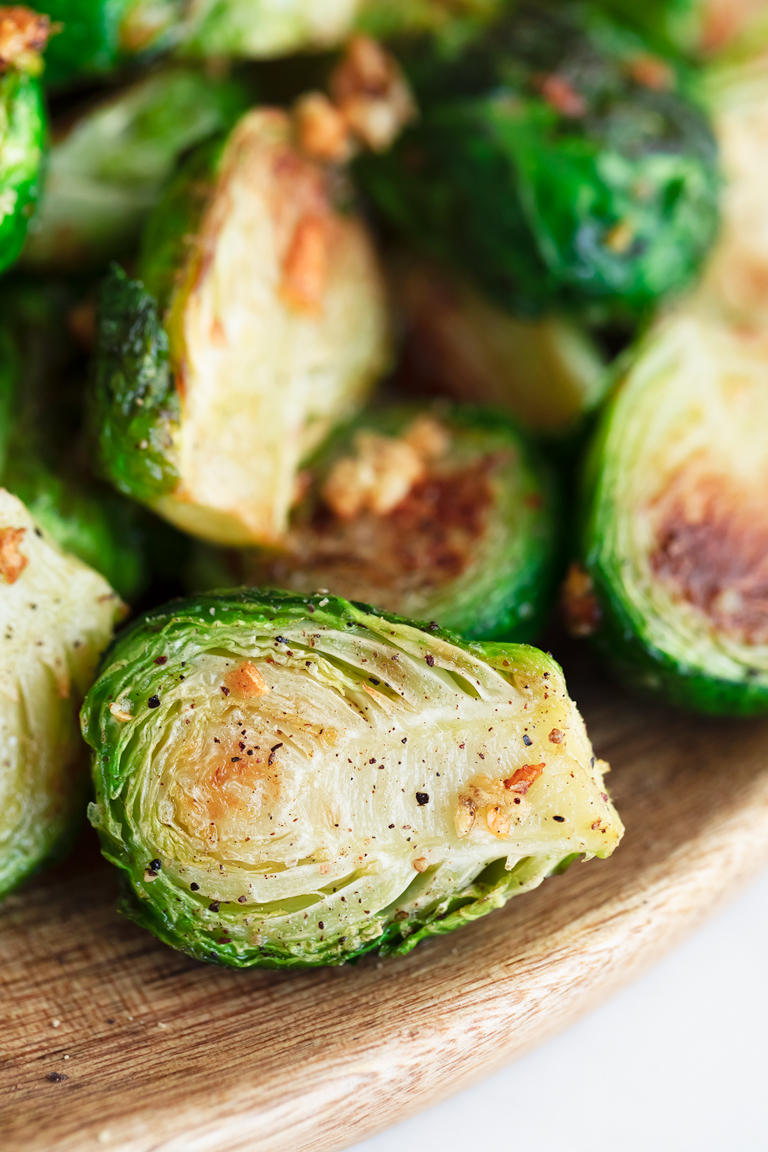 vegan brussels sprouts ingredients
Brussels sprouts 
Extra virgin olive oil – I'm Spanish, so I use extra virgin olive oil to cook most of my dishes, but any type of oil is okay. I always use extra virgin oils when possible because they're healthier, but it's up to you. If you don't consume oil, just add some water or vegetable stock.
Garlic – Fresh garlic works best, but garlic powder is also a good choice.
Salt – I always use Himalayan pink salt, but any type of salt will do.
Ground black pepper – Fresh ground black pepper work best, but I find store-bought ground black pepper more convenient and also easier to measure with a teaspoon.
Cayenne flakes – If you don't like spicy food, omit this ingredient. Cayenne powder will do as well.
tips to make brussels sprouts
Smaller sprouts are sweeter and usually have a better flavor. Avoid yellowing leaves and pick tightly packed sprouts with no loose leaves.
To prepare Brussels sprouts, just discard the rough edges of the root and remove any yellow outer leaves. You can also cook them whole, although I prefer to cut them lengthwise.
Try them before serving and add more salt if needed.
Feel free to add any spices, herbs or ingredients you like. Maple syrup goes so well with Brussels sprouts and also our tempeh bacon and vegan Parmesan cheese, or even some chopped nuts (pecans are my favorite ones). They're also great with some lemon juice or lemon zest on top, just add them before serving.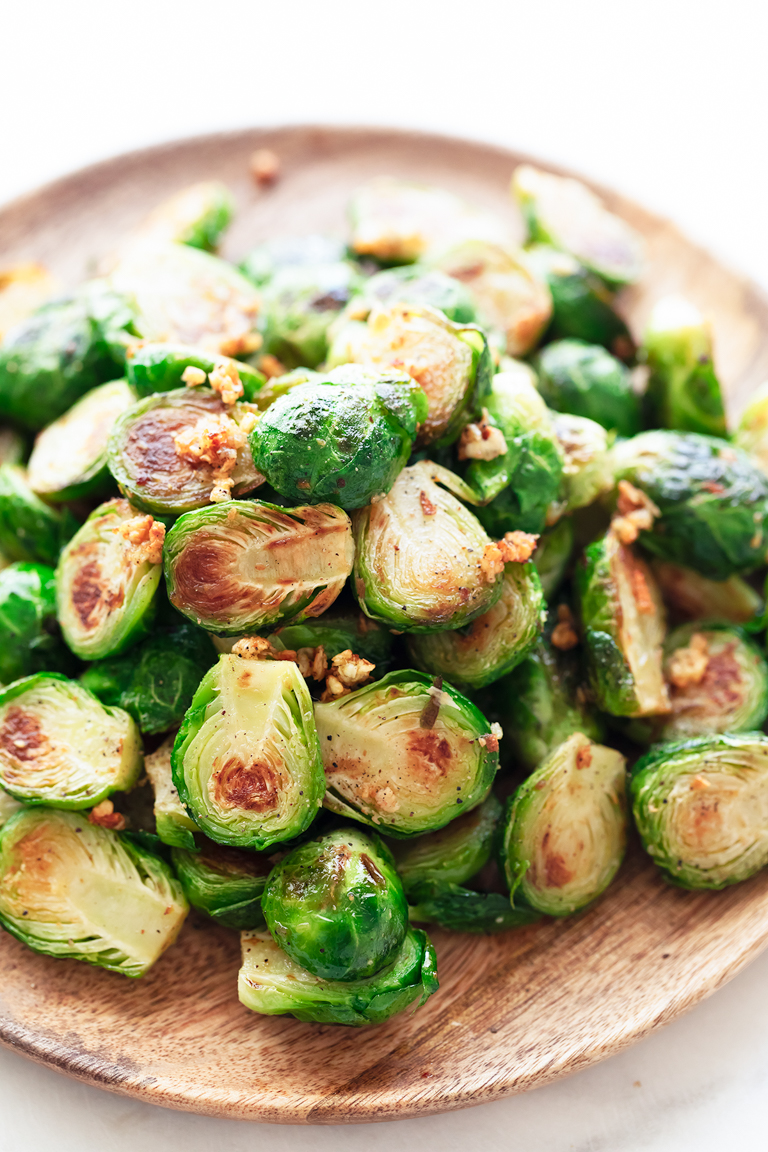 looking for more side dish recipes?
did you make this brussels sprouts recipe?
Please leave a comment below, share it, rate it or tag a picture @simpleveganblog on Instagram and hashtag it #simpleveganblog. We'd love to see what you cook!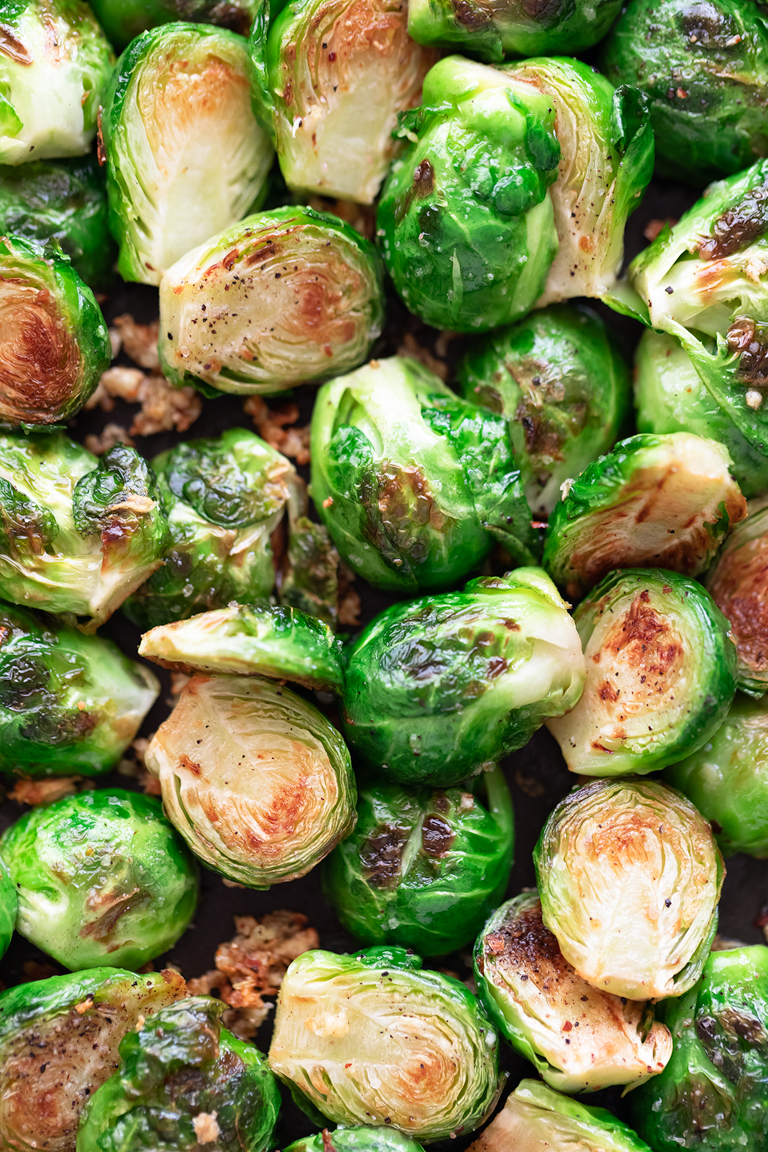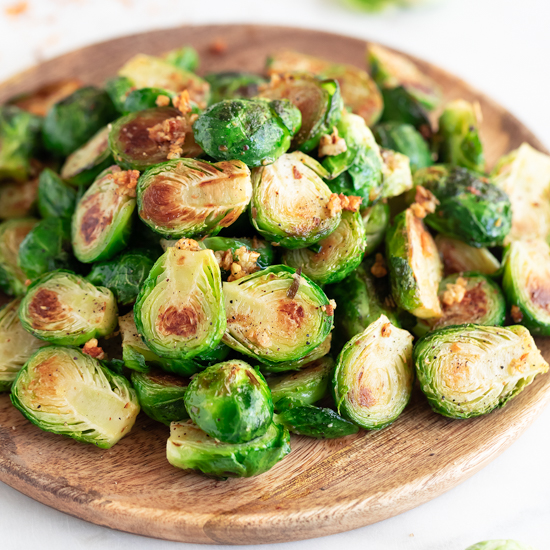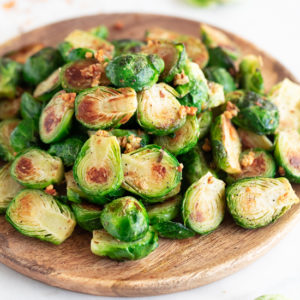 Brussels Sprouts
Author: Simple Vegan Blog
Prep: 10 mins
Cook: 20 mins
Total: 30 mins
4 1x
Side Dish
Vegan, American
Servings 4 1x
Scale Tap or hover over number to scale servings
Brussels sprouts, sautéed in a skillet and ready in less than 30 minutes. This recipe only requires 6 ingredients and is the perfect holiday side dish.
Ingredients
1 pound Brussels sprouts (500 g), rinsed and trimmed
2–3 tbsp extra virgin olive oil (optional)
4 cloves of garlic, minced
1/4 tsp salt
1/8 tsp ground black pepper
Dash of cayenne flakes (optional)
Instructions
Cut the Brussels sprouts in half lengthwise.
Cook them in a large pot with boiling water for 3 minutes (don't over ¡cook them). This step is optional, you could only sautée the sprouts in a skillet, but I feel this way they're softer and also taste better.
Drain and thoroughly dry them with a dish towel.
Heat the oil in a large skillet (if you don't consume oil, just use some water or vegetable stock) and cook them in 2-3 batches over medium-high heat for both sides until golden brown (about 2-3 minutes each side).
Add the rest of the ingredients (garlic, salt, pepper and cayenne flakes), stir and cook for 1 minute or until the garlic is golden brown.
Serve immediately or keep leftovers in a sealed container in the fridge for 4-5 days.
Notes
Nutritional info was calculated by using 2 tbsp extra virgin olive oil.
Nutrition
Serving Size: 1/4 of the recipe
Calories: 119
Sugar: 2.7 g
Sodium: 179 mg
Fat: 7.5 g
Saturated Fat: 1.1 g
Carbohydrates: 12.4 g
Fiber: 4.8 g
Protein: 4.5 g