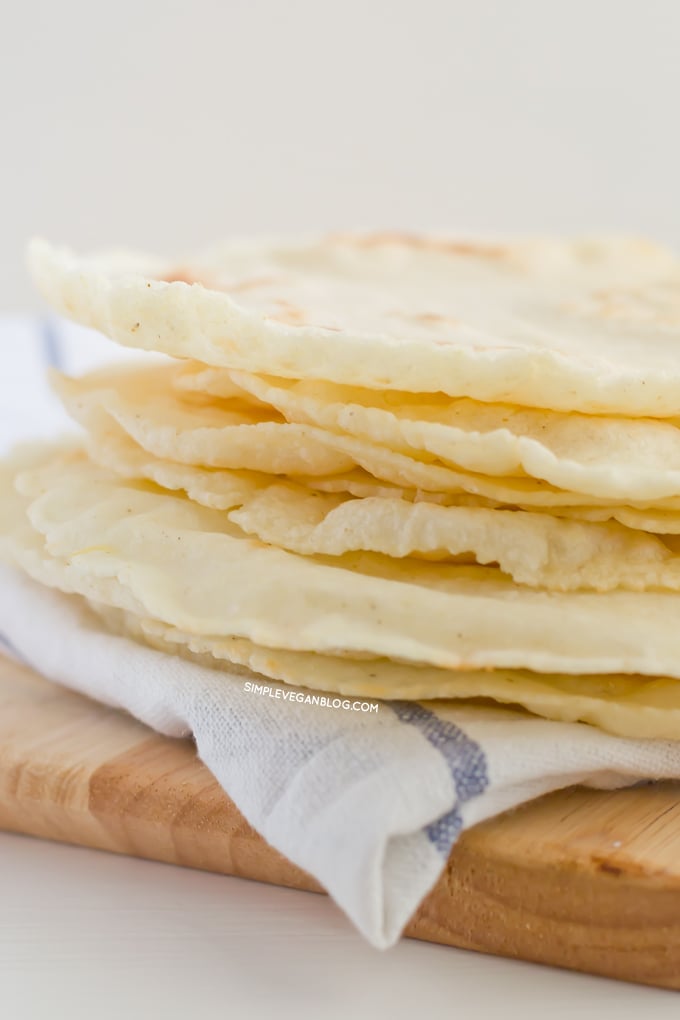 Tortillas are really easy to make! You only need 3 ingredients, a bowl, a spoon, your hands and a frying pan. That's all!
This recipe is gluten, dairy and soy free and it's also vegan. The ingredients are really easy to get: cornmeal, salt and water. So cheap and easy!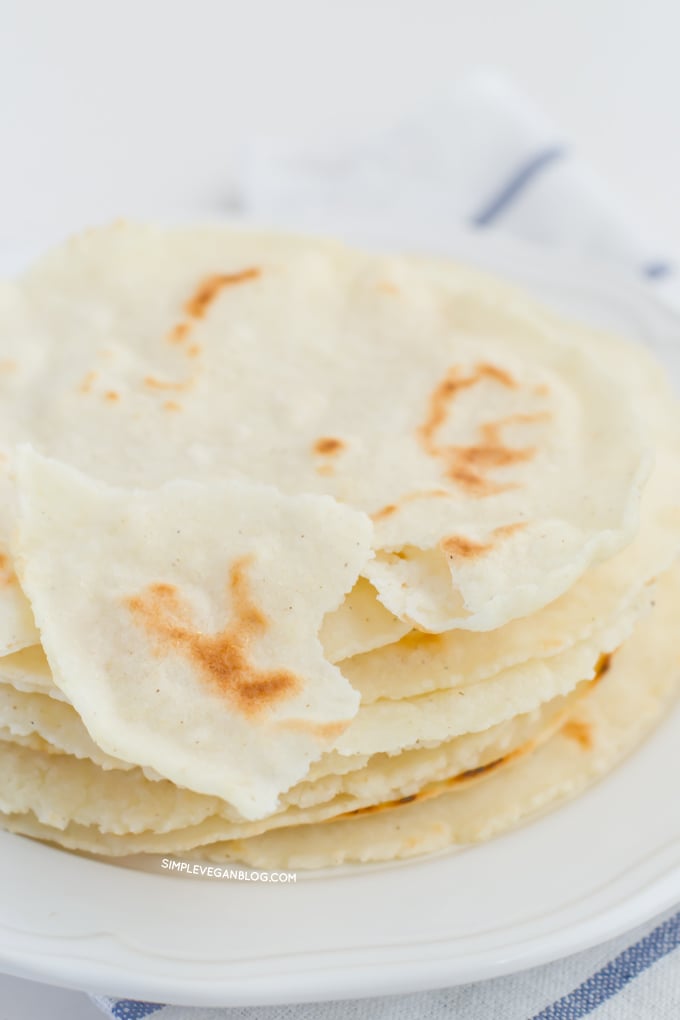 We love Mexican cuisine and of course tortillas! But we prefer homemade tortillas. They are so much better than store bought, because you can choose the best ingredients and you make sure there are no chemicals, preservatives and additives in your food.
Authentic Mexican tortillas are made of a special cornmeal called masa harina, but here in Spain it isn't easy to get, so we use cornmeal. If you can use masa harina, lucky you!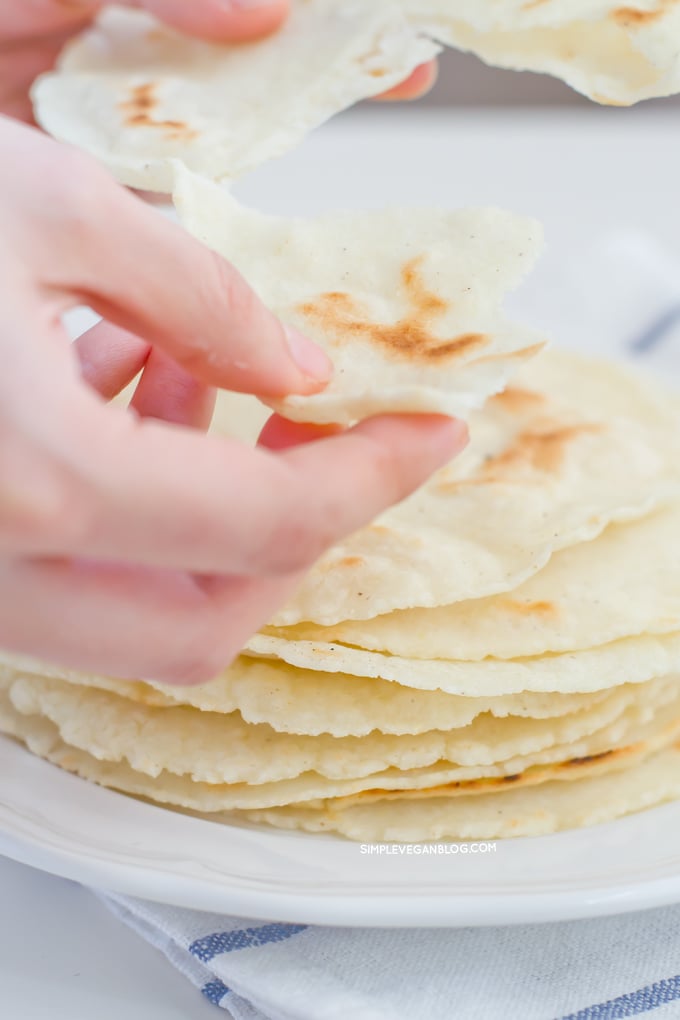 These tortillas are perfect for tacos. If you want softer tortillas you can add 40 grams or 1,4 ounces of oil (we use extra virgin olive oil).
We recommend adding the water gradually because it's possible you're gonna need more or less water than us, it depends on the cornmeal you use.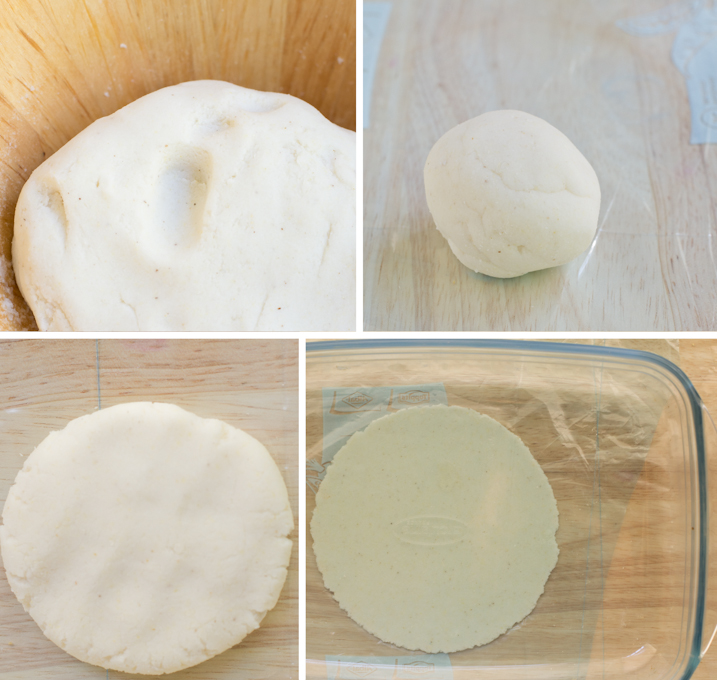 In this photo you can see how we make tortillas, it's sooooo easy. If you don't have a tortilla press don't worry, we used a glass roasting pan.
You can make a lot of wonderful recipes with tortillas, our favorite recipe is baked tortilla chips, they are amazing! And we eat tortilla chips with our vegan cheese, yummy!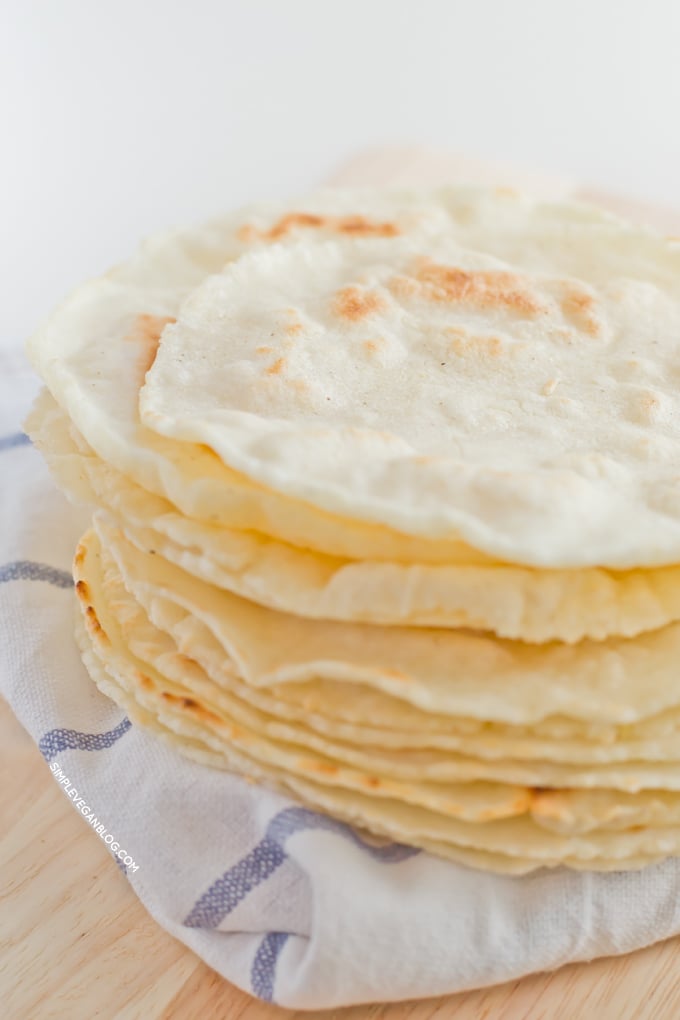 📖 Recipe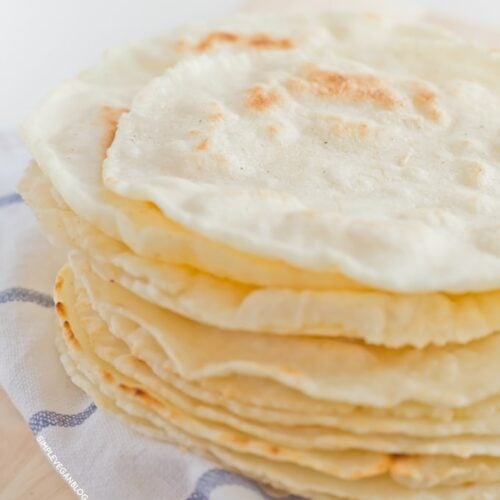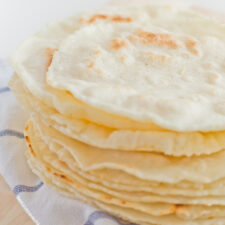 Corn Tortillas (Gluten Free)
Tortillas are so easy to make! You only need 3 ingredients, a bowl, a spoon, your hands and a frying pan. This recipe is vegan, gluten, dairy and soy free.
PRINT
PIN
RATE
---
Instructions
Combine cornmeal and salt in a bowl. Add warm water gradually, you maybe need to add more or less water (it depends on the cornmeal you're using). It's important to use warm water, because if the water is cold, tortillas will break and if it's hot the dough will be very chewy. If at any point through the tortilla making process the dough seems too dry or too wet, add a little more water or cornmeal to the dough. You can mix the ingredients with a spoon first, and then you can use your hands. You should knead at least 3 or 5 minutes, or until dough is ready (look at the picture above).

Take a piece of the dough and shape it into a ball the size of a plum. We made 15 balls from the dough.

Take two pieces of plastic (we used a freezing bag). Place one piece of plastic on the table, place your dough ball, place another piece of plastic on top and press the tortilla with the glass roaster (or whatever you use). Make tortillas as thin as possible (1 or 2 millimeters or 1/10 inch thick).

Place each tortilla on a medium hot skillet. Cook for about 1 to 2 minutes on each side, or until the tortilla does not look doughy.
Nutrition
Serving:
1
tortilla
|
Calories:
85
kcal
|
Carbohydrates:
17.8
g
|
Protein:
2.2
g
|
Fat:
0.9
g
|
Saturated Fat:
0.1
g
|
Sodium:
120.8
mg
|
Fiber:
1.5
g