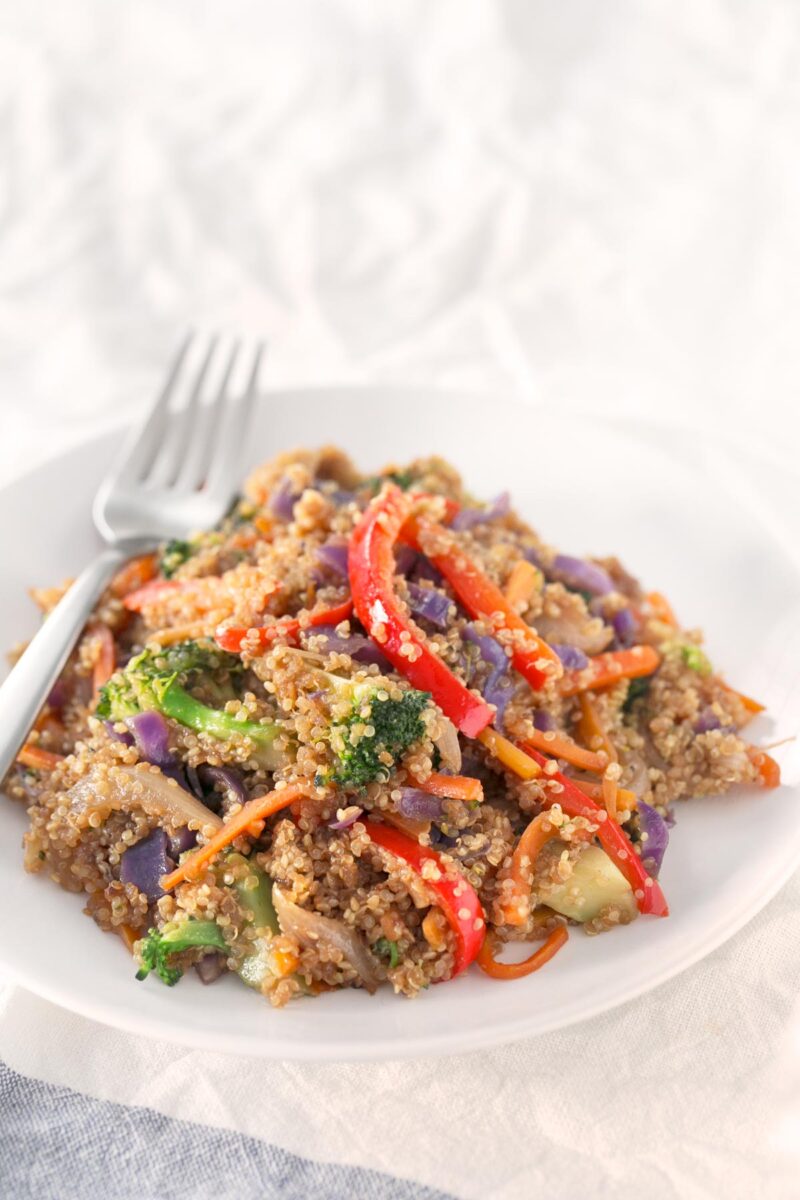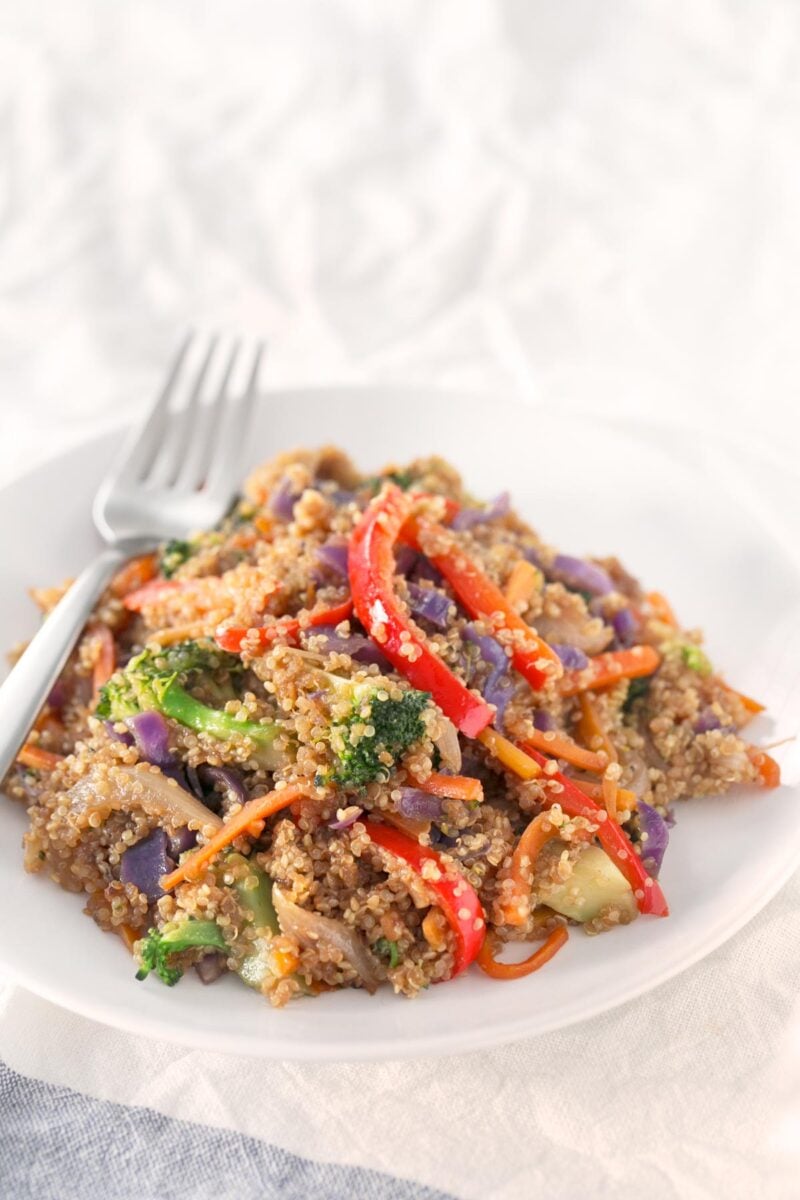 We make Asian food all the time because we love the taste and how simple it usually is. This quinoa stir fry with vegetables is not an exception, it's so delicious, simple and good for your body because is really nutritious.
If you love Asian-style recipes as much as we do, you should give our brown rice stir fry with vegetables and also our vegan noodle stir fry a try. We've shared other stir fry recipes (like these vegan stir-fried Udon noodles or this amazing tofu stir fry with rice and veggies) because we make them very often on a daily basis.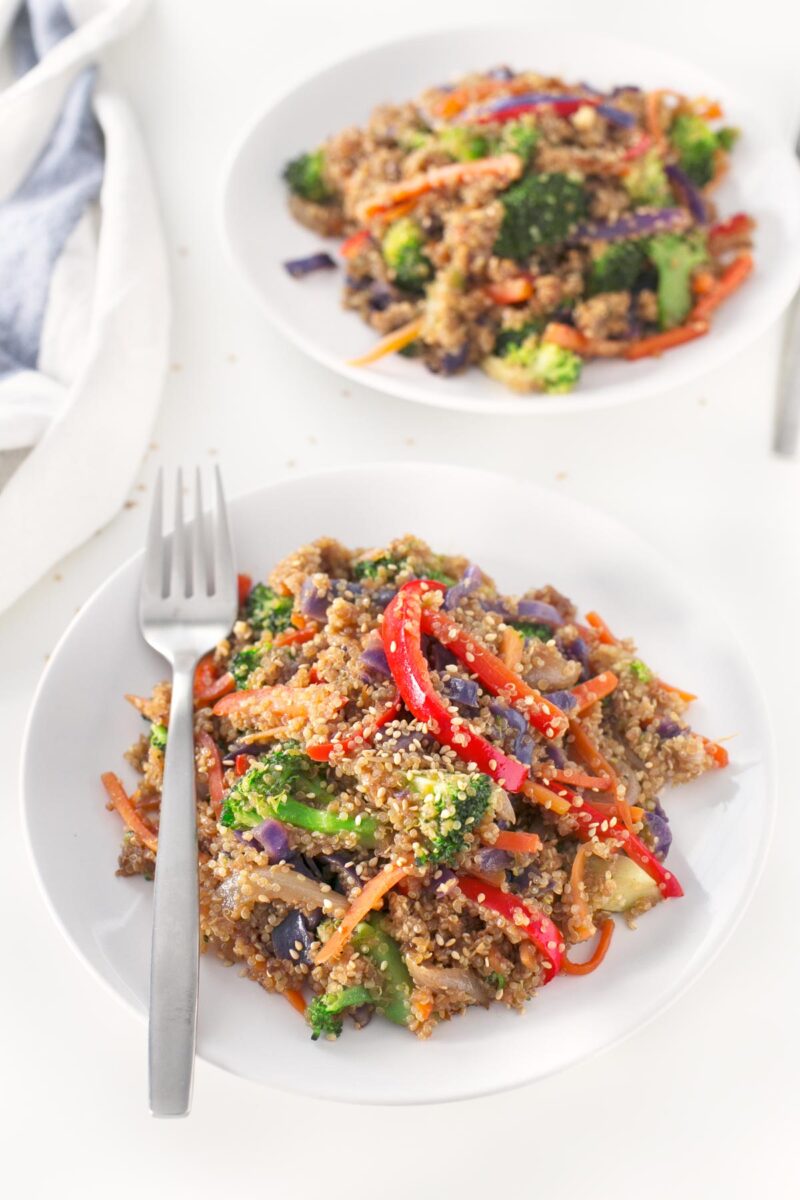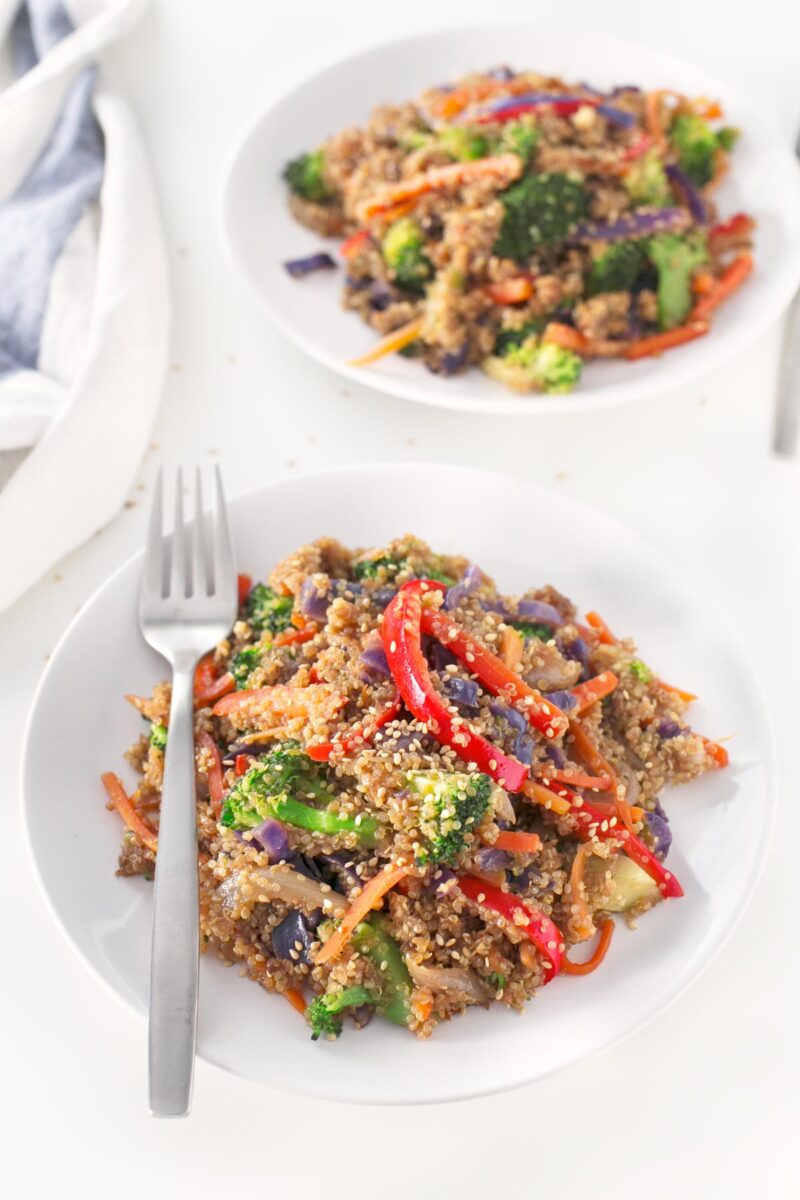 To make a stir fry at home is really easy, you just need to cook the veggies (steam, boil or sautée them), cook the main ingredient (quinoa, rice, chickpeas, tofu, whatever you want) and sautée both with your favorite sauce and the spices or ingredients you prefer. I usually boil or steam the veggies first and then I sautée them, that way I need to use less oil and the vegetables are so tasty and crunchy.
If you want to save some time on a daily basis, cook big batches of quinoa, rice or dried legumes and you'll be able to make healthy meals in just a few minutes. This recipe is perfect for this or to use up leftover quinoa.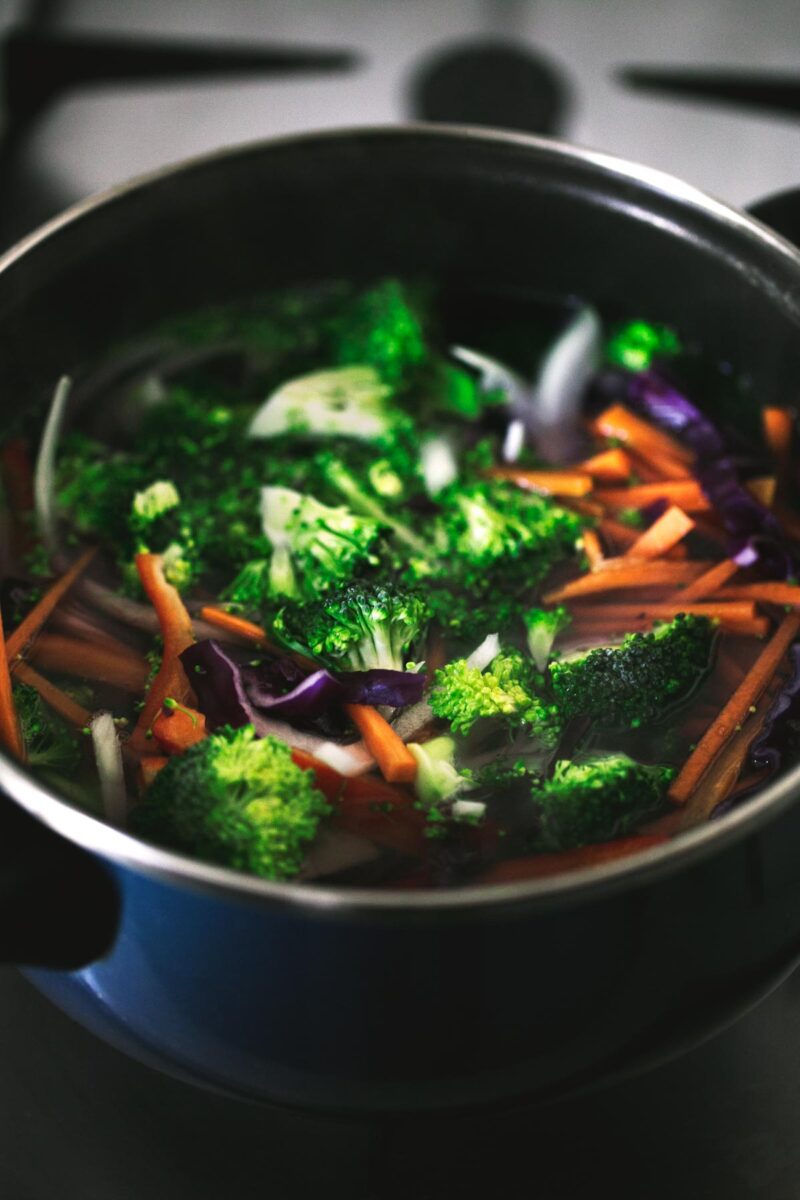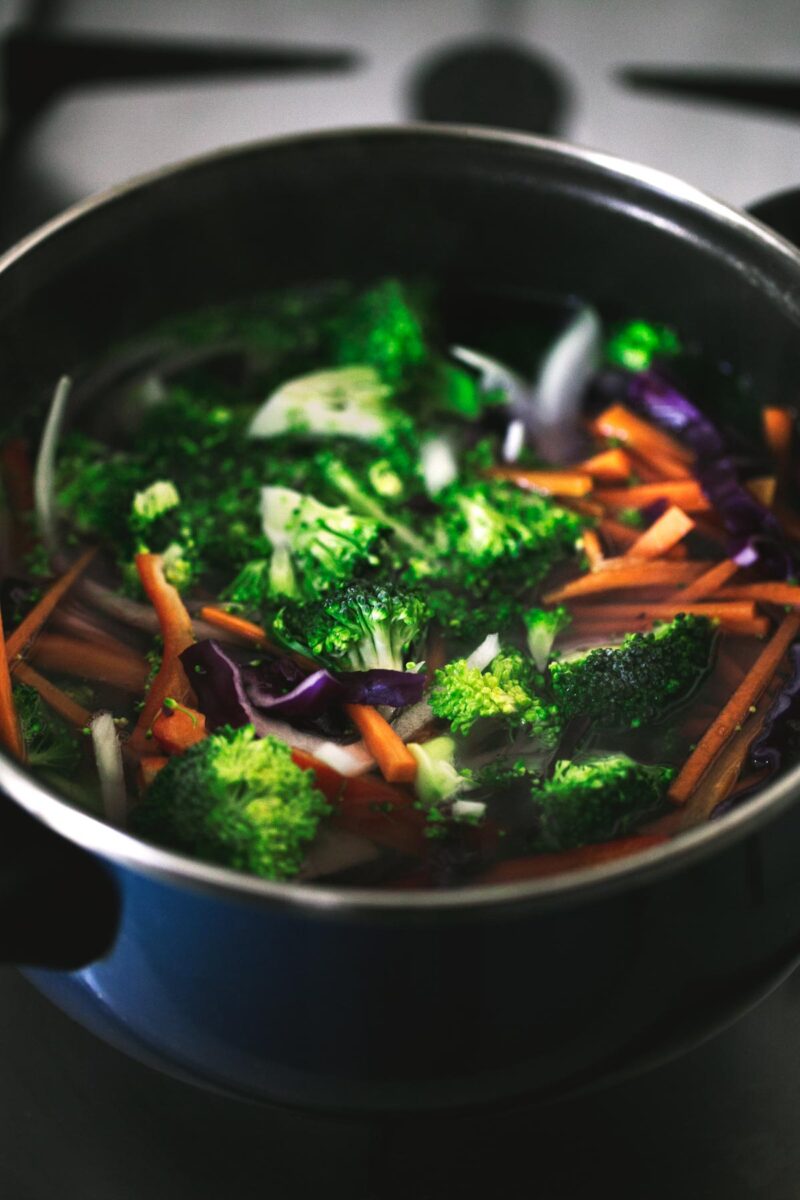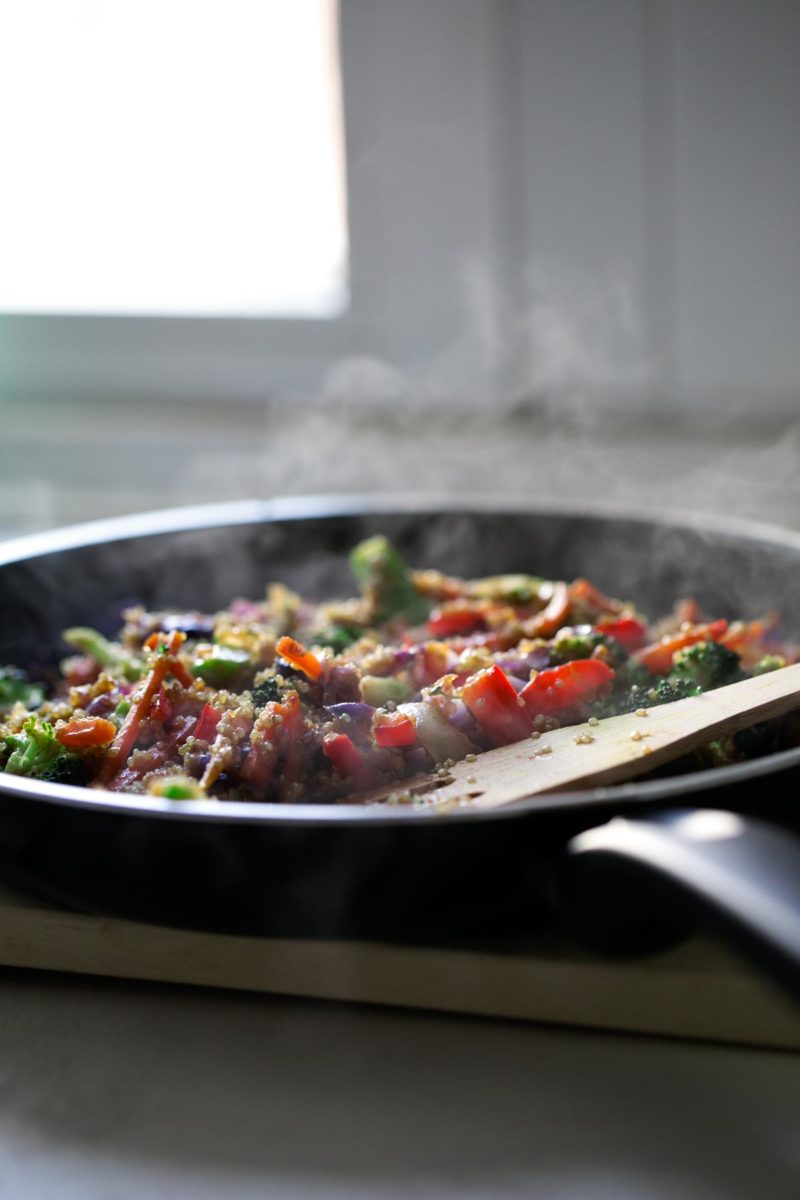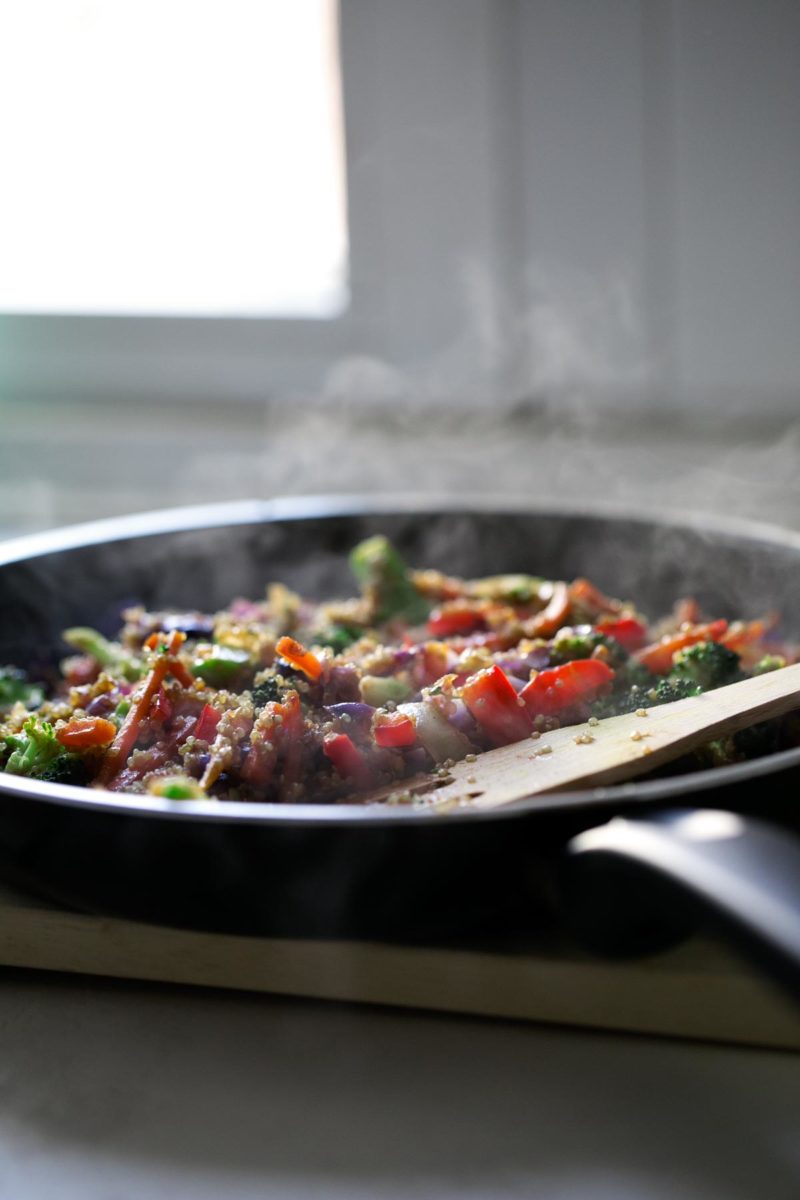 Tips:
Feel free to make this stir fry with any other starch (legumes, rice, buckwheat).
Use the oil, sweetener, veggies, spices or ingredients you like, this recipe always works.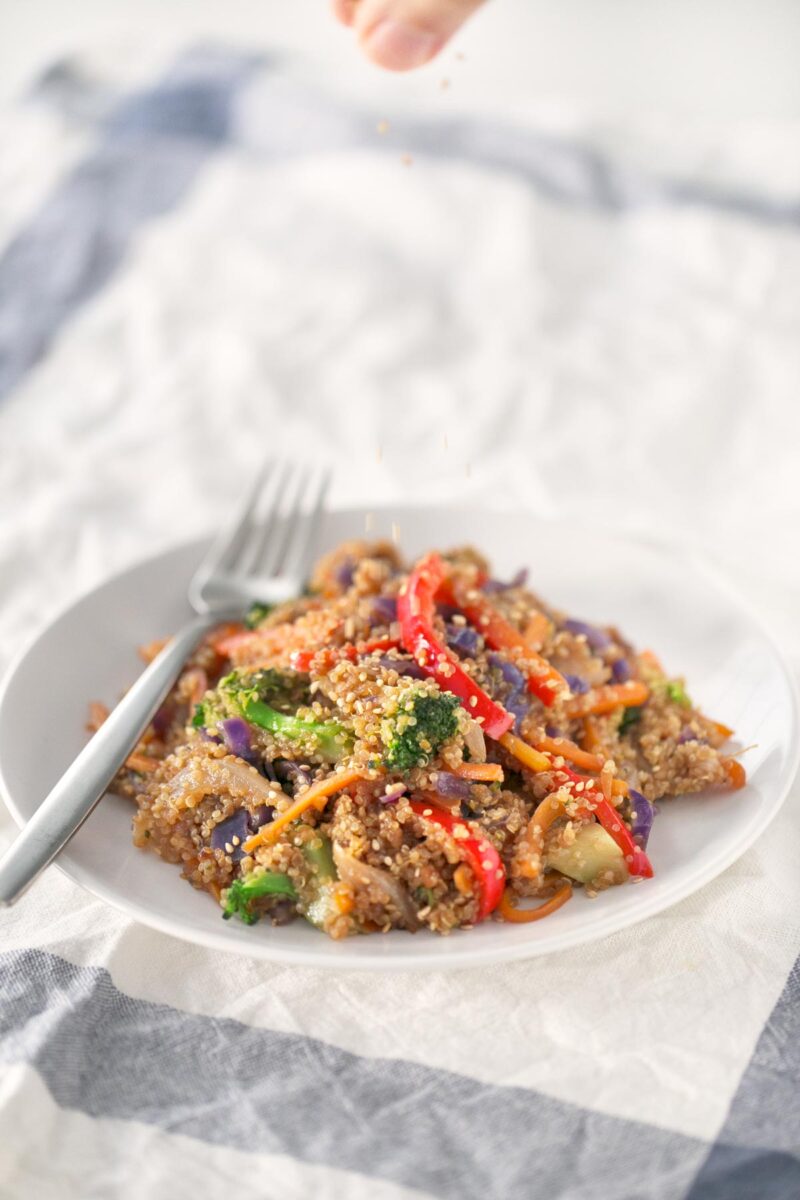 Print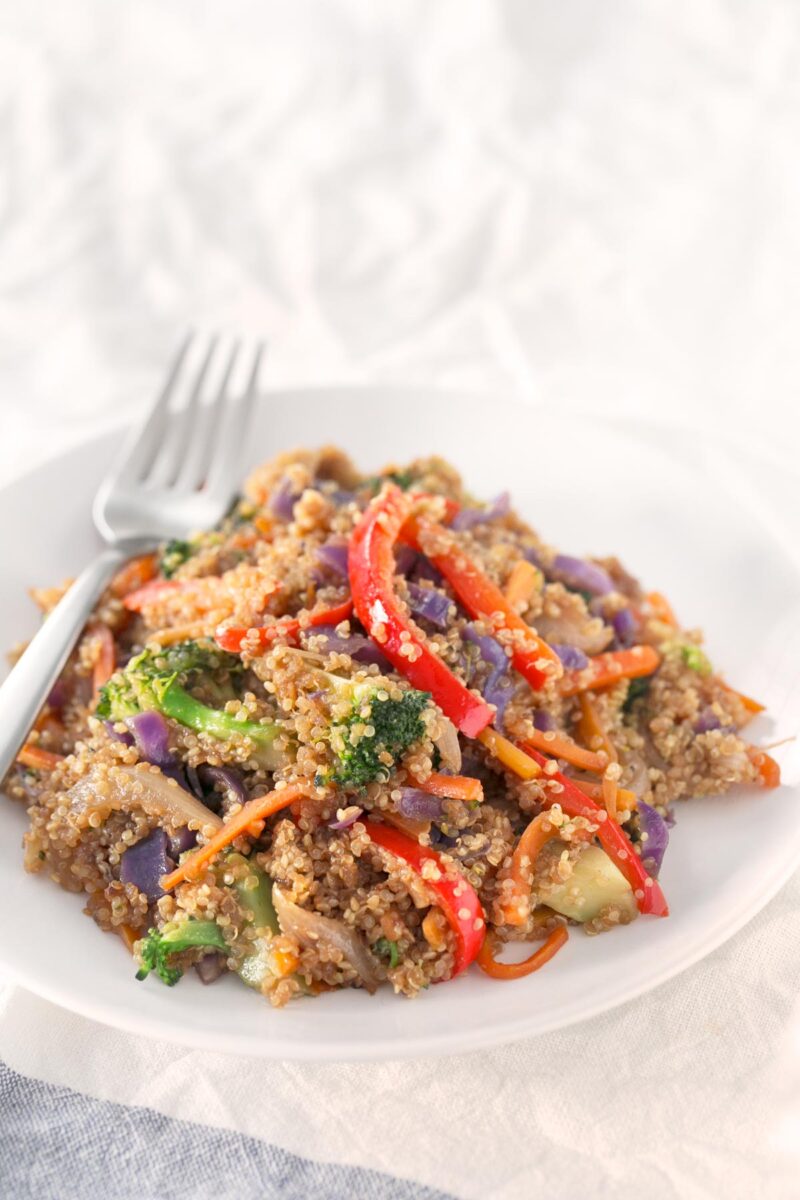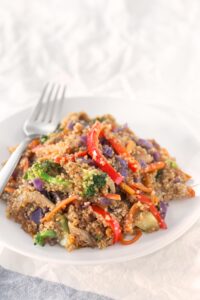 Quinoa Stir Fry with Vegetables
Author: Simple Vegan Blog
Prep: 10 mins
Cook: 20 mins
Total: 30 mins
2-4 1x
Main Dish, Gluten Free
Vegan, Asian
Servings 2-4 1x
Scale Tap or hover over number to scale servings
Save some time cooking big batches of quinoa or rice to make healthy meals during the week, like this quinoa stir fry with vegetables. It's so tasty!
Ingredients
1 cup uncooked quinoa (200 g)
1/2 julienned onion
1/2 julienned red bell pepper
1 cup julienned red cabbage (70 g)
1 julienned carrot
1/2 head of broccoli, chopped, discard the stem
2 tbsp extra virgin olive oil
4 sliced cloves of garlic
1/4 tsp cayenne powder
1/2 tsp ground ginger
1 tbsp tamari or soy sauce
1 tbsp cane or coconut sugar
Sesame seeds
Instructions
Cook the quinoa according to package directions. Read this post if you want to learn how to cook quinoa properly.
Boil or steam the veggies for about 2 minutes. You want crunchy vegetables. Drain and set aside.
Heat the oil in a wok or a frying pan and cook the garlic over medium-high heat for about a couple of minutes.
Add the cayenne powder and the veggies and cook for another 2 minutes, stirring frequently.
Add the quinoa and the rest of the ingredients (except the sesame seeds) and cook for 2 minutes more.
Serve with some sesame seeds on top.
Store in a sealed container in the fridge for about 5 days.
Nutrition
Serving Size: 1/4 of the recipe
Calories: 285
Sugar: 7.2 g
Sodium: 295.8 mg
Fat: 9.8 g
Saturated Fat: 1.3 g
Carbohydrates: 42 g
Fiber: 6.5 g
Protein: 9.6 g