Vegan stuffed shells with a tofu ricotta filling and an easy homemade marinara sauce. It's freezable, and one of the best pasta dishes in the entire world.

vegan stuffed shells
Guys, this is the best pasta recipe in the entire world! And it's perfect for Christmas, Thanksgiving or just for dinner on a daily basis.
It's a family favorite and everyone LOVES this pasta dish because it's out of this world, I promise! Besides, it's so simple and easy to make and as it's freezable, you can make big batches to enjoy during the week.
Jumbo pasta shells (or conchiglioni or chochiglie in Italian) are really hard to find here in Spain, but I finally found it, yay! I was so excited to make this recipe and it's even better that I thought.
If you're a huge lasagna lover like me, you really need to make these stuffed shells. This is quite similar to a ricotta lasagna, but much easier to make, which it's an epic win!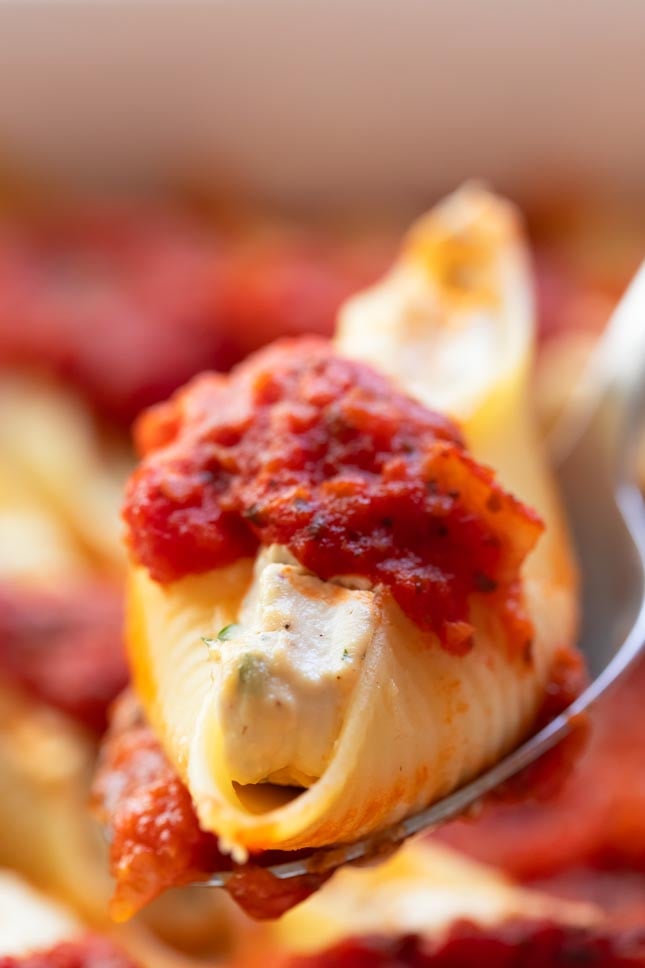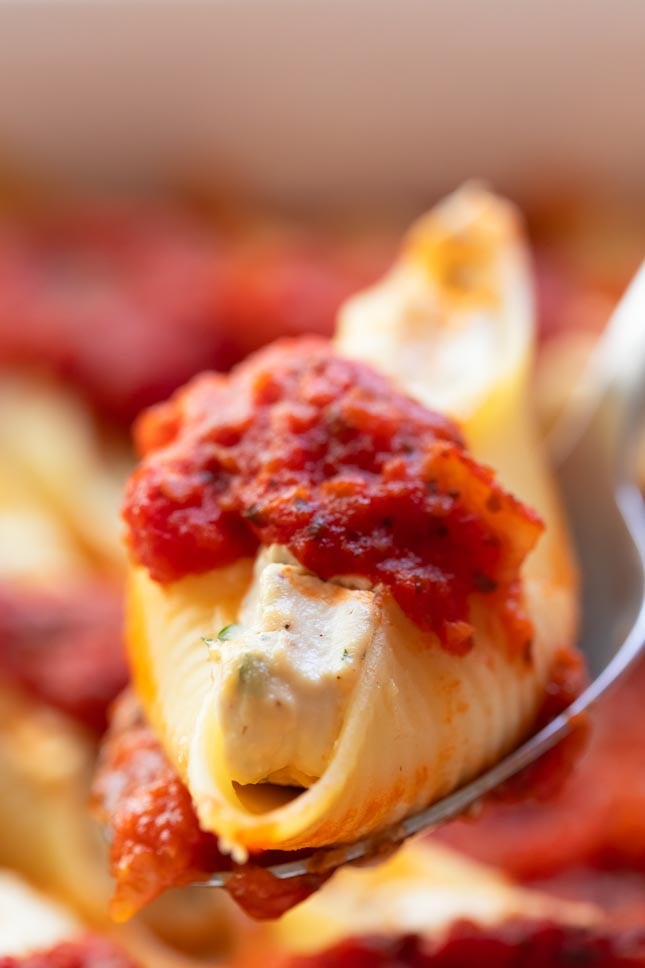 vegan stuffed shells ingredients
Jumbo pasta shells – If you can't find them, feel free to use cannelloni or manicotti tubes or any other type of pasta you can stuff. You could also slice some eggplant with a mandoline slicer (or a knife), cook the slices in a skillet (or even bake them) and use them like if they were cannelloni tubes.
Vegan tofu ricotta – Store-bought vegan ricotta is also a good choice, but I prefer to make it at home, as it's so healthy, super easy to make, more affordable and extremely delicious. In addition, it only requires 4 easy to get ingredients (tofu, lemon juice, nutritional yeast and salt, that's all!) and it's ready in less than 5 minutes.
Parsley – Fresh parsley works great in this recipe, but feel free to use any other fresh or dried herb you have on hand. Besides, you could also omit this ingredient if you want to make the recipe simpler.
Ground black pepper – Fresh ground black pepper tastes best. However, I find store-bought more convenient and also easier to measure with a teaspoon.
Marinara sauce – Feel free to use store-bought, but making your own marinara sauce at home is so simple, I hardly ever buy it. Although marinara sauce works well in this recipe, any other type of tomato sauce is also okay.
tips to make vegan stuffed shells
If you don't consume oil, omit the extra virgin oil in the marinara sauce, if you're making it from scratch, or buy an oil-free marinara sauce.
Feel free to add more marinara sauce if you want, or serve with extra sauce on the side, just in case someone wants more.
Don't overcook the pasta, just cook it "al dente" because we're going to bake it for another 30 minutes.
Classic recipes call for some kind of cheese on top, which melts while baking, but I prefer to add my vegan Parmesan cheese just before serving. This makes the recipe simpler and lighter, but feel free to add some store-bought cheese on top at the beginning, just before baking.
This dish freezes really well, so you can make several batches of vegan stuffed shells and freeze them at the step before baking. When you're ready to bake them, just bake for 5 to 10 more minutes than directed in the instructions.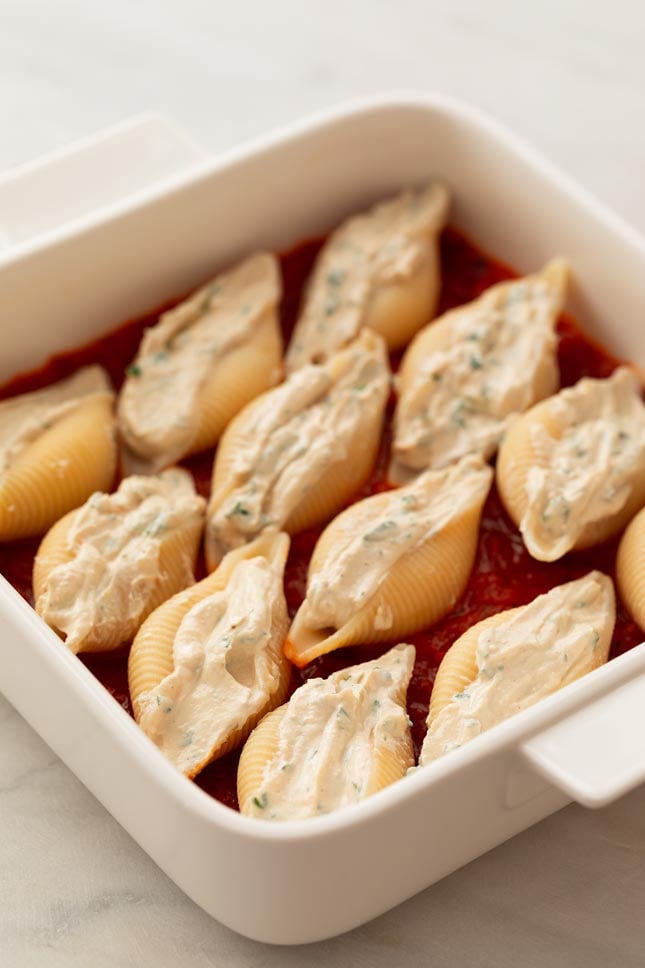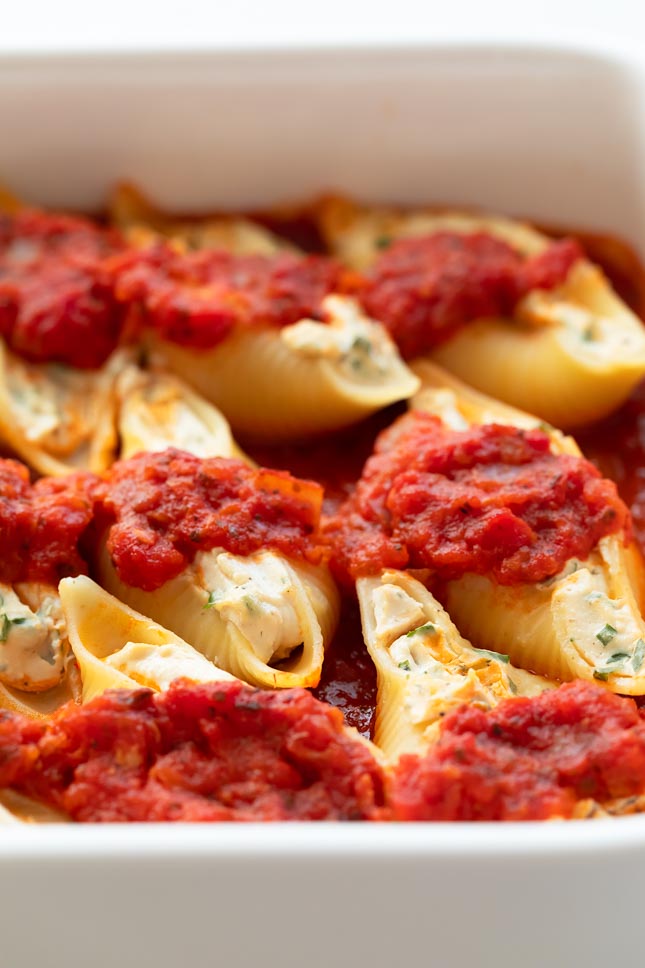 looking for more pasta recipes?
did you make this vegan stuffed shells recipe?
Please leave a comment below, share it, rate it or tag a picture @simpleveganblog on Instagram and hashtag it #simpleveganblog. We'd love to see what you cook!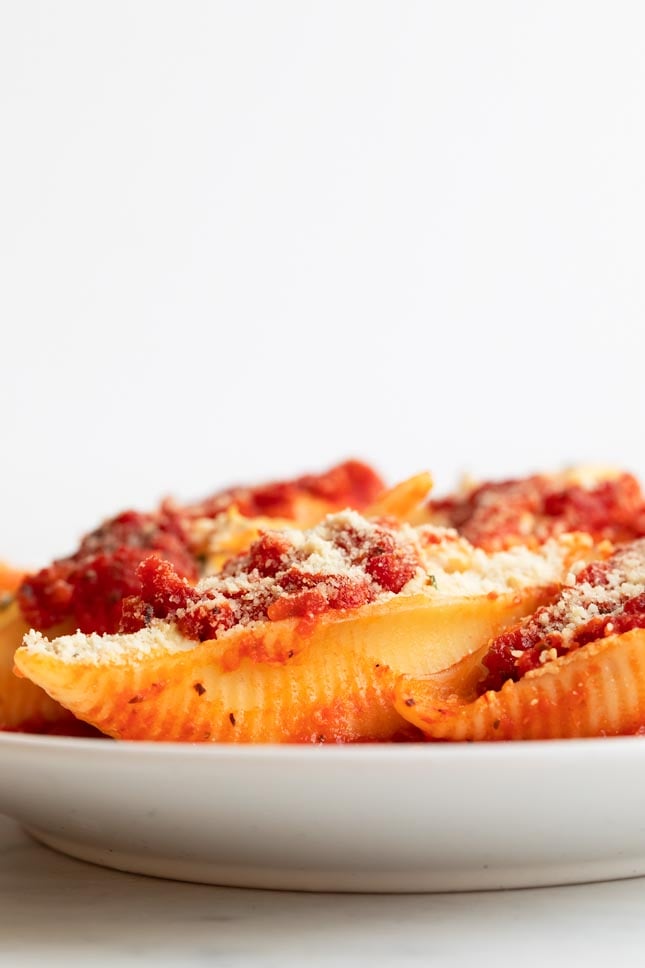 Print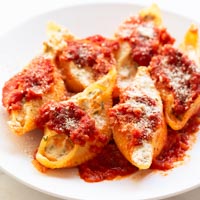 Vegan Stuffed Shells
Author: Simple Vegan Blog
Prep: 10 mins
Cook: 40 mins
Total: 50 mins
2–4 1x
Main
Italian
Servings 2–4 1x
Scale Tap or hover over number to scale servings
Vegan stuffed shells with a tofu ricotta filling and an easy homemade marinara sauce. It's freezable, and one of the best pasta dishes in the entire world.
Instructions
Cook the jumbo pasta shells according to package directions. Set aside.
Preheat the oven to 375ºF or 190ºC.
Add the vegan tofu ricotta, parsley and pepper to a large mixing bowl and stir until well combined.
Spread 1 cup of the marinara sauce (250 ml) in the bottom of an 8×8 inch (20×20 cm) baking dish.
Spoon the ricotta mixture into the shells and put them in the baking dish.
Top with the rest of the marinara sauce (1/2 cup or 125 ml) and bake for 30 minutes or until the sauce is bubbling.
Serve immediately with some vegan Parmesan cheese on top (optional).
Keep leftovers in a sealed container in the fridge for 4-5 days.
Nutrition
Serving Size: 1/4 of the recipe
Calories: 232
Sugar: 10.2 g
Sodium: 998 mg
Fat: 6.2 g
Saturated Fat: 1.3 g
Carbohydrates: 33.4 g
Fiber: 4.8 g
Protein: 12.4 g