We shared with you our veggie burgers recipe a few months ago and these were our favorite burgers, but because it was our favorite burger recipe, but now these veggie patties are our favorite ones, they are just amazing!
In addition, these patties are gluten-free because we've used cornstarch instead of bread crumbs, and we are so happy with the result, they taste so good.
These veggie patties are made with vegetables, cornstarch, lemon juice, herbs and spices, that's all! We hardly ever eat white bread but we've used it on this occasion. If you are on a gluten-free diet, you can use other kind of bread, or you can eat only the veggie patties with potatoes or salad.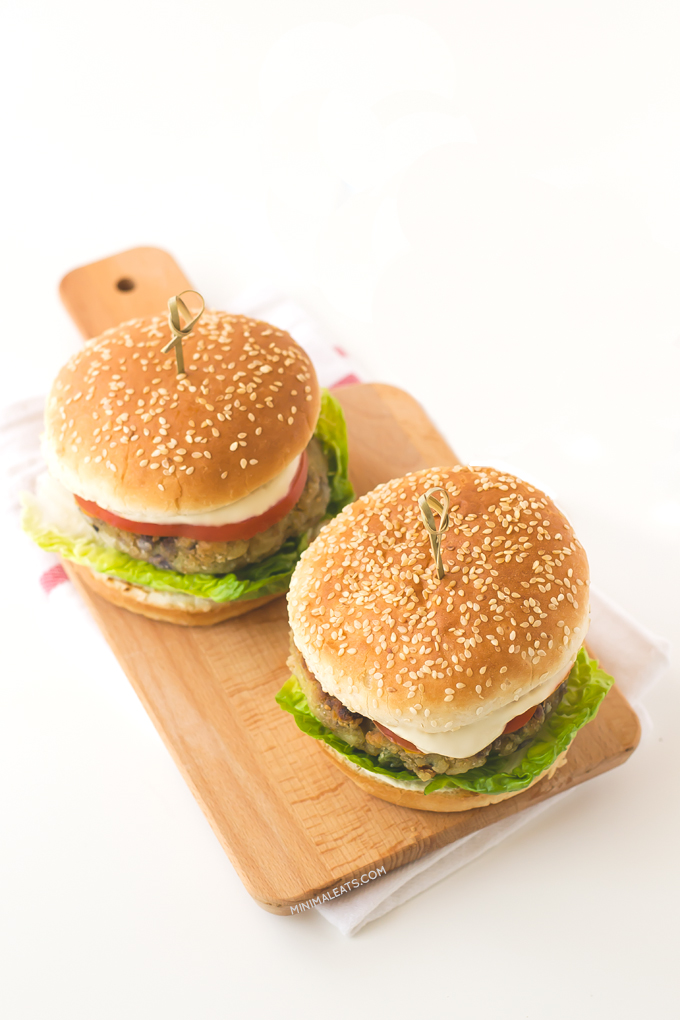 The sauce is pretty similar to the vegan sour cream we shared with you in our vegan taco lettuce wraps recipe, but we've removed sugar and soy sauce and we've added more lemon juice. You can also use ketchup or vegan mayonnaise, it's so easy to make, you only need soy milk and extra virgin olive oil, although you can use other kind of plant milk or oil.
Our veggie patties are made with red onion, but you can use other kind of onion. If you don't have cornstarch you can use any sort of flour or starch you have or even you can use bread crumbs. If you don't use cornstarch, maybe you'll have to add more or less flour, so I recommend you to add it gently because if you add too much flour, your patties will be too thick and they will break.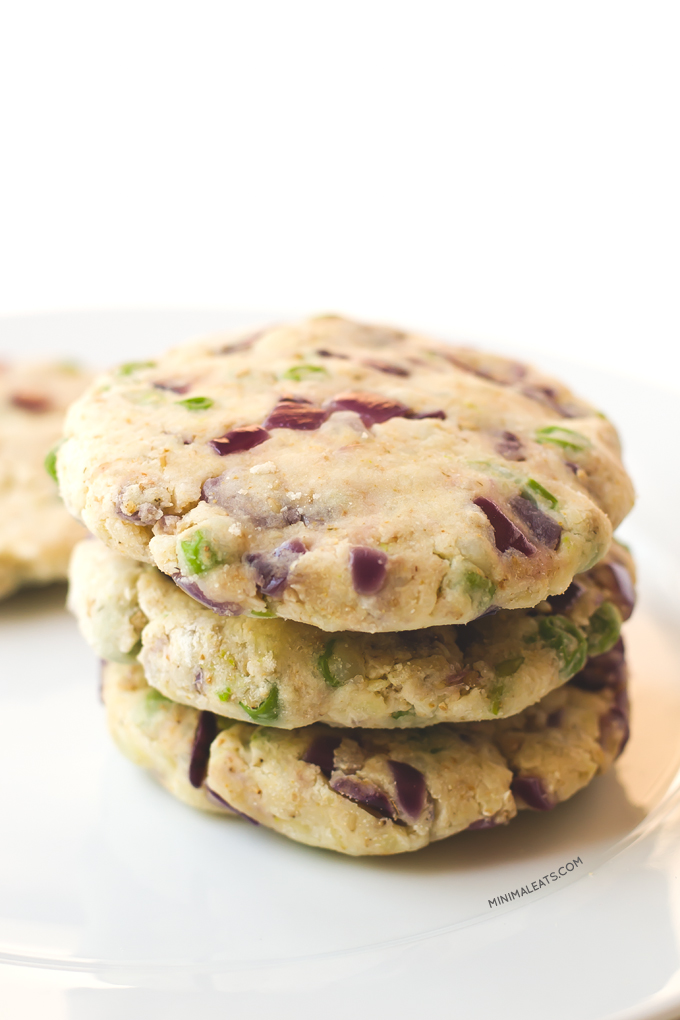 You can fry the veggie patties, but we prefer to grill them, it's much healthier and lighter. These patties can be frozen, we don't use the microwave so we defrost them at room temperature and then we cook them.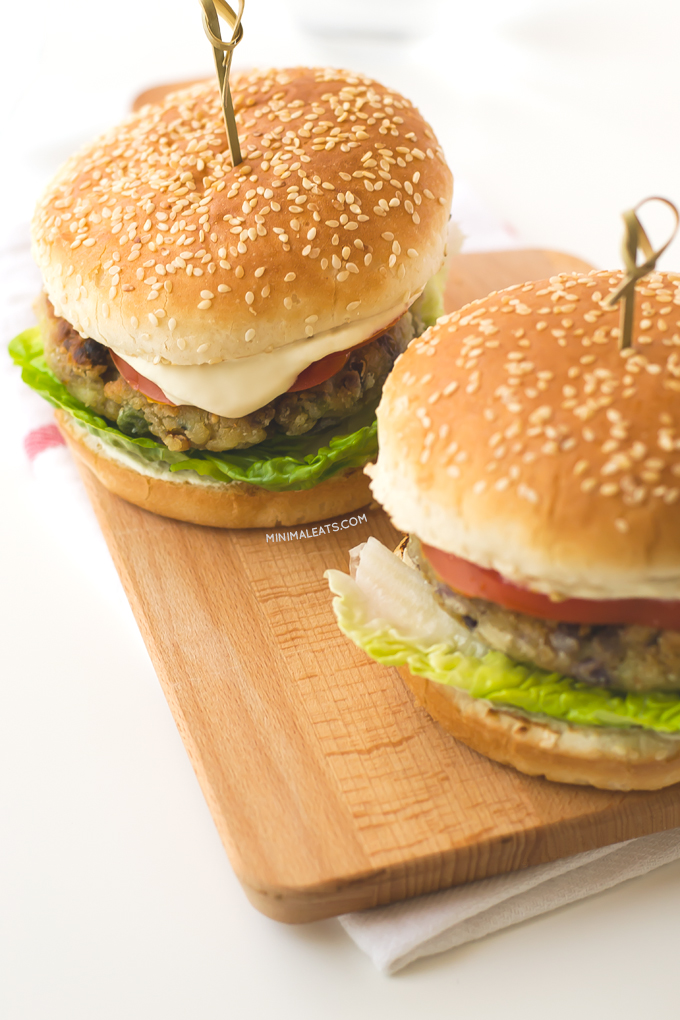 This recipe is bikini-friendly. These veggie patties have only 168 calories each one, and the sauce has 45 calories per tablespoon. You can eat them with burger buns, lettuce and tomato slices or you can eat them with salad, veggies or baked or steamed potatoes, you choose!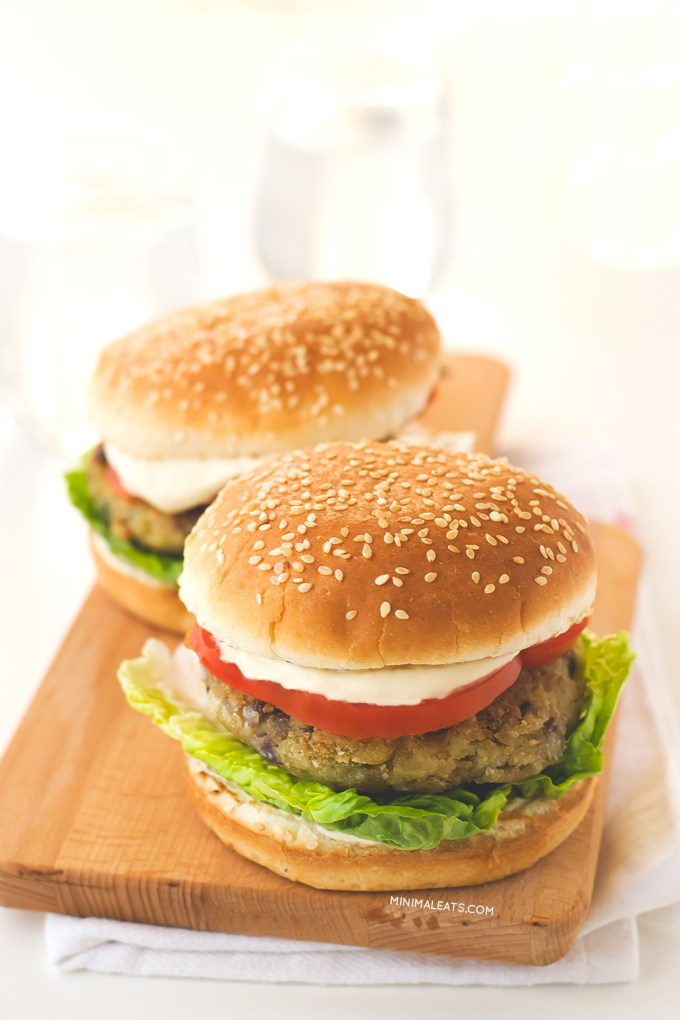 Print
Veggie Patties (Gluten Free)
Author: Simple Vegan Blog
Prep: 10 mins
Cook: 30 mins
Total: 40 mins
6 1x
Main dish
Vegan, American
Servings 6 1x
Scale Tap or hover over number to scale servings
These veggie patties have only 168 calories each one. They are gluten-free and so delicious. The sauce has only 45 calories per tablespoon and it's amazing!
Ingredients
3 medium potatoes (16 ounces or 450 grams)
1/2 cup peas (70 grams)
1 red onion
3/4 cup cornstarch (95 grams)
1 tablespoon extra virgin olive oil
1 tablespoon sesame seeds
1 chili pepper or a pinch of cayenne powder
1 teaspoon ground ginger
1 tablespoon coriander
1 teaspoon ground cumin
1 tablespoon lemon juice
For the sauce:
1 package of firm tofu (10 ounces/275 grams drained or 14 ounces/400 grams undrained)
2 tablespoons extra virgin olive oil
1 tablespoon apple cider vinegar
3 tablespoons lemon juice
Instructions
Cook the potatoes. You can steam them or cook them in plenty of boiling water for about 20 minutes or until they are soft. Drain them and set aside.
Boil the peas for about 8 minutes (we've used frozen peas). Drain them and set aside.
Heat the oil in a frying pan and cook the sesame seeds and the chili pepper (sliced) for 1 or 2 minutes. Add the red onion (chopped) and cook for 2 minutes. Add the peas and cook until veggies golden brown. Remove from heat and set aside.
When all the ingredients are cool, place the potatoes in a big bowl and mash them, add the ginger, coriander, cumin, cornstarch, lemon juice, onion and peas. Mix all the ingredients using your hands or a spoon. Form burger patties with your hands. We recommend don't make them too thick, just about the thickness of your thumb. Coat burgers in cornstarch (this step is optional).
Grease the frying pan with a little bit oil and cook the patties over medium heat. Cook each side for about 5 min, or until they are nicely browned.
To make the sauce you only have to place all the ingredients in a blender and blend until smooth.
Serve on bread with lettuce, tomato and one or two tablespoons of sauce.
Nutrition
Serving Size: 1 veggie patty
Calories: 168
Sugar: 2.4 g
Sodium: 8.2 mg
Fat: 3.7 g
Saturated Fat: 0.5 g
Carbohydrates: 30.6 g
Fiber: 3.9 g
Protein: 4 g