I tried peanut butter last year and it was love at first sight. It's so delicious and you can make thousands of recipes with it. This vegan blueberry peanut butter oats is one of my favorite breakfast recipes because I love all the ingredients.
You can make your own peanut butter, it's cheaper and so easy! You only need peanuts and a powerful blender. This version is much healthier than store bought because peanut butter is usually made with hydrogenated oils and salt.
This is a healthy breakfast recipe, I love to eat oats in the morning, they put me in a good mood (I'm serious!). You can find more recipes with this awesome ingredient in the blog, like this easy vegan oatmeal. It's pretty similar to this recipe, but I've used different ingredients.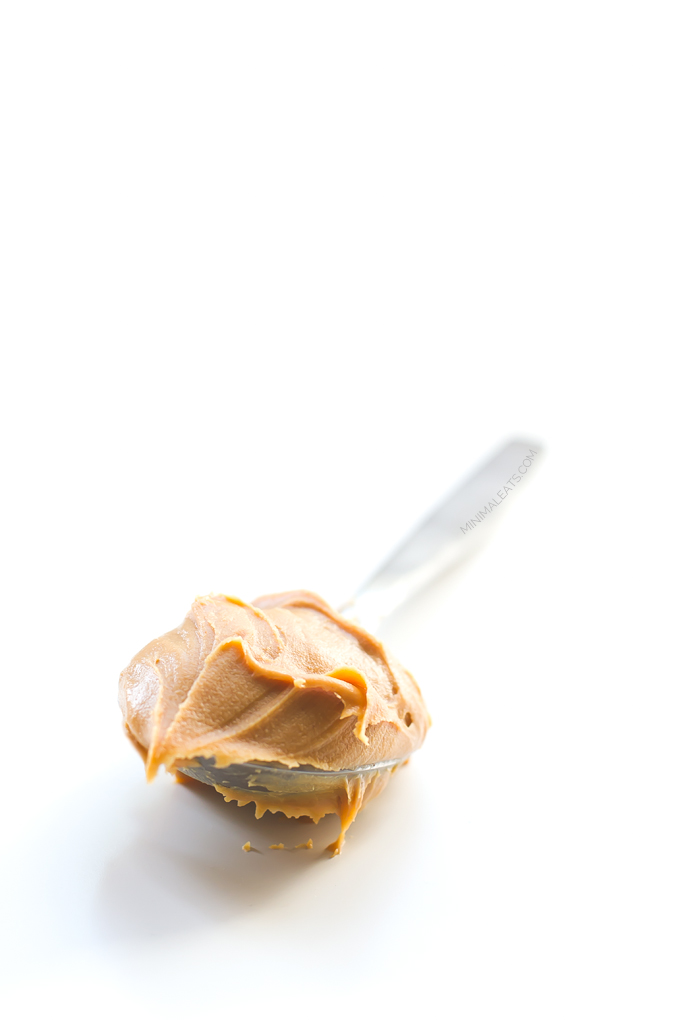 If you want your oats to be thicker you can cook them for 5 minutes more, if you want it to be less thick, you can cook them 5 minutes less or add more milk.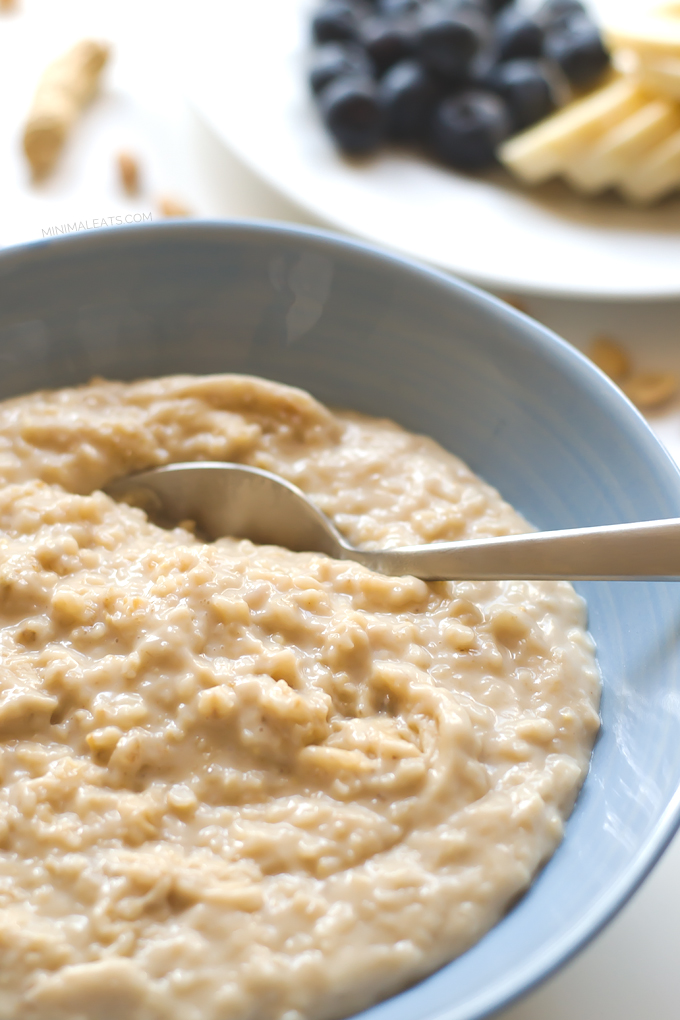 Almond milk is my favorite plant milk for this kind of recipes, but you can use another if you want. If you don't want to use agave syrup, you can use sugar, other syrup, molasses, stevia, or whatever.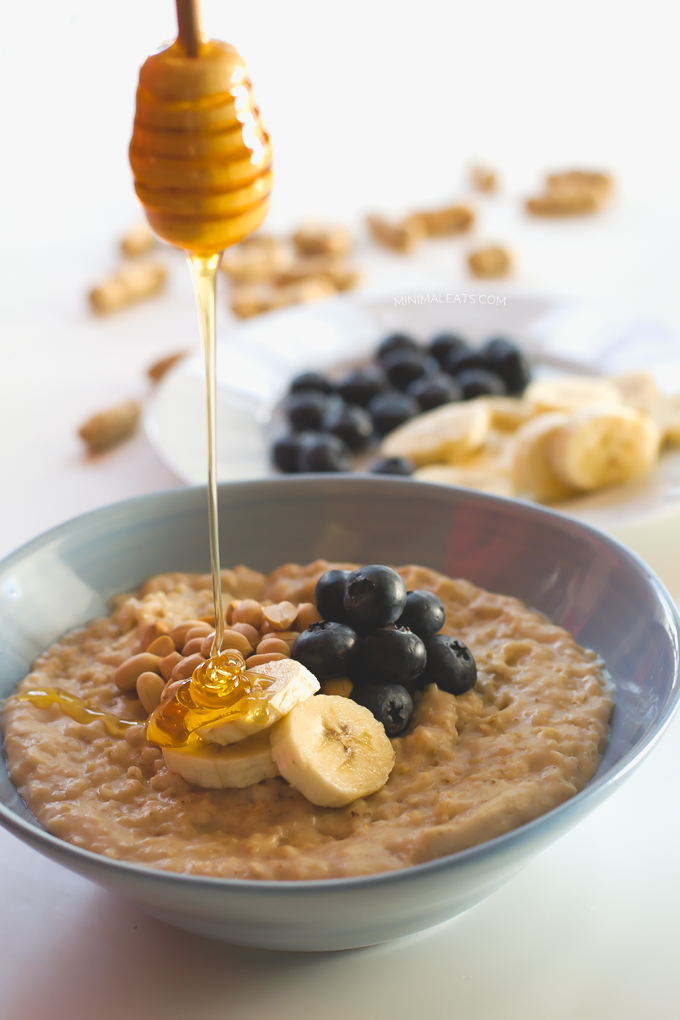 I could eat only bananas and I would be so happy! I tried blueberries one or two years ago, it's not a common fruit here in Spain, but now they are also between my favorite fruits. They are so healthy and a great source of antioxidants.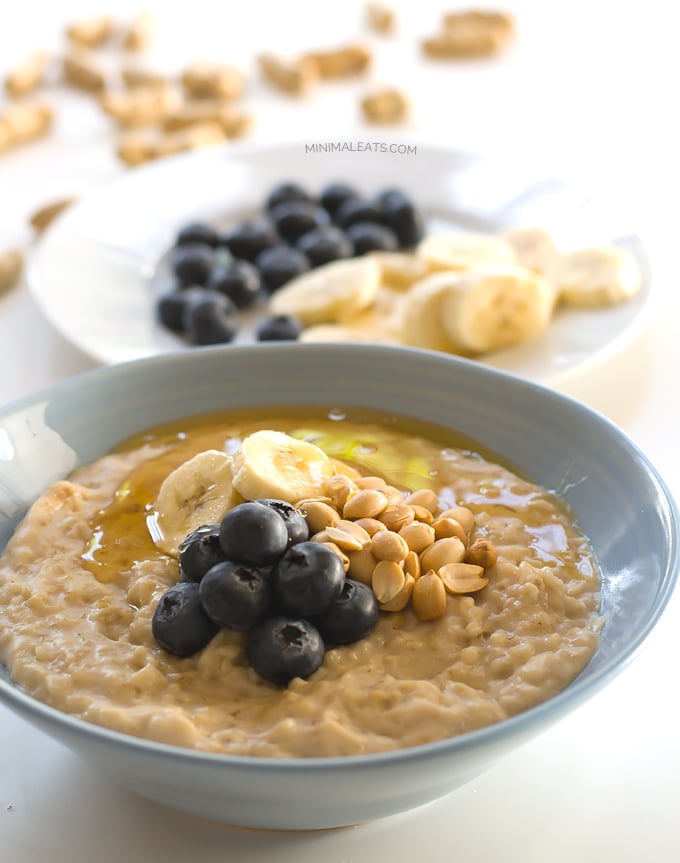 I love this recipe just like that, but you can also add dates, other nuts and seeds, chocolate, dried fruits, cinnamon and any ingredient you can imagine. This recipe is always delicious, no matter what ingredients you use.
Many people soak the oats overnight, but if you forget this step, don't worry, your oats will be delicious too. You can also make this recipe with water, or with half water and half milk, you choose! I prefer to use only milk because the oats are more creamy.
Breakfast is the most important meal of the day and this recipe is just perfect, in addition is ready in only 15 minutes! You have no excuses to take a healthy, easy and delicious breakfast with this vegan blueberry peanut butter oats recipe.
Print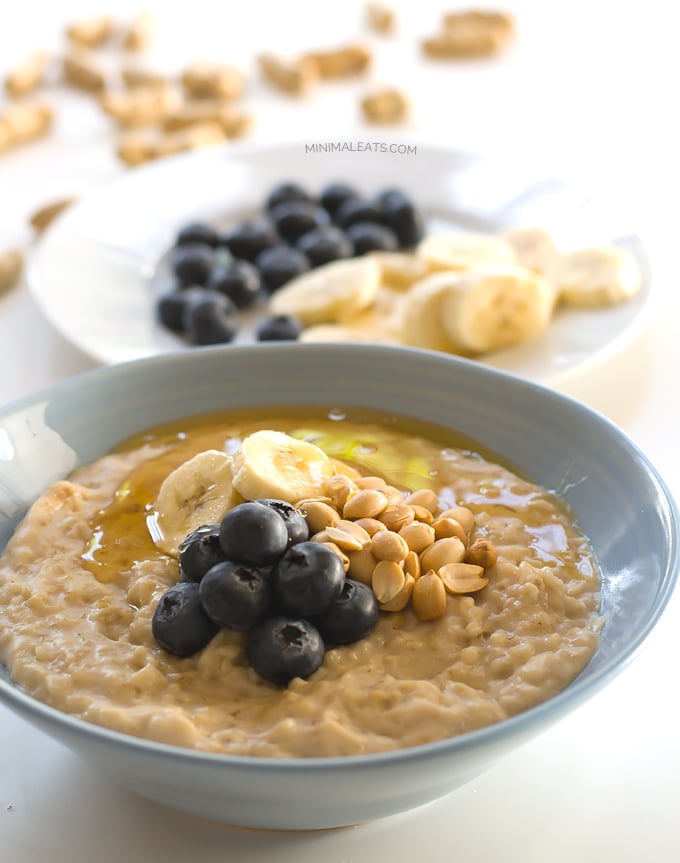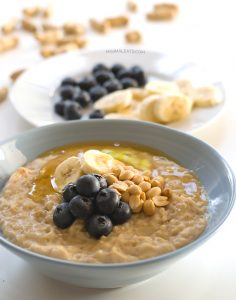 Vegan Blueberry Peanut Butter Oats
Author: Simple Vegan Blog
Prep: 5 mins
Cook: 10 mins
Total: 15 mins
2 1x
Breakfast
Vegan, American
Servings 2 1x
Scale Tap or hover over number to scale servings
Breakfast is the most important meal of the day and this vegan blueberry peanut butter oats recipe is just perfect, in addition is ready in only 15 minutes!
Ingredients
2 cups almond milk (500 milliliters)
6 tablespoons rolled oats
1 tablespoon peanut butter
1 or 2 bananas
1/2 cup blueberries (70 grams)
2 tablespoons peanuts (20 grams)
2 tablespoons agave syrup (optional)
Instructions
Pour the milk in a saucepan and bring it to boil.
Add the oats and the peanut butter, stir with a spoon, cover the saucepan and cook over medium heat for about 10 or 15 minutes.
Place the mixture in a bowl and add the rest of the ingredients.
Nutrition
Serving Size: 1/2 of the recipe
Calories: 415
Sugar: 34 g
Sodium: 164.5 mg
Fat: 13.8 g
Saturated Fat: 1.9 g
Carbohydrates: 65.6 g
Fiber: 8.9 g
Protein: 11.5 g