Stew time! In the fall and winter months I make a lot of stews, at least 3 or 4 every week because they're so comforting, satisfying and so simple. I prefer the summer and the hot weather, but there's one good thing about this time of the year, it's perfect to cook and spend more time in the kitchen, although most of my recipes are really simple, especially on my daily basis.
I learnt to cook from my mum and she doesn't use pumpkin in any of her recipes, but I love it so much, especially since I went vegan. Alberto's mum does make a lot of recipes using pumpkin and this stew is one of them, although we made some changes.
If you prefer a quicker recipe, you can omit the potatoes and the pumpkin and cook the stew for 5 minutes more. If you have some rice or potato leftovers, you can also add them for more fun. ? If you're a really busy person and you like chunky soups and stews, you don't have to blend the veggies, it's totally up to you.
Tips:
This recipe works with all types of pumpkin/squash. If you don't like how it tastes, use more potato or sweet potato instead.
Feel free to add other veggies, herbs or spices.
Tomato sauce can be used instead of the tomato paste and you can also use more fresh tomato or even canned tomatoes.
Sometimes I add vegetable broth to get a more intense flavor.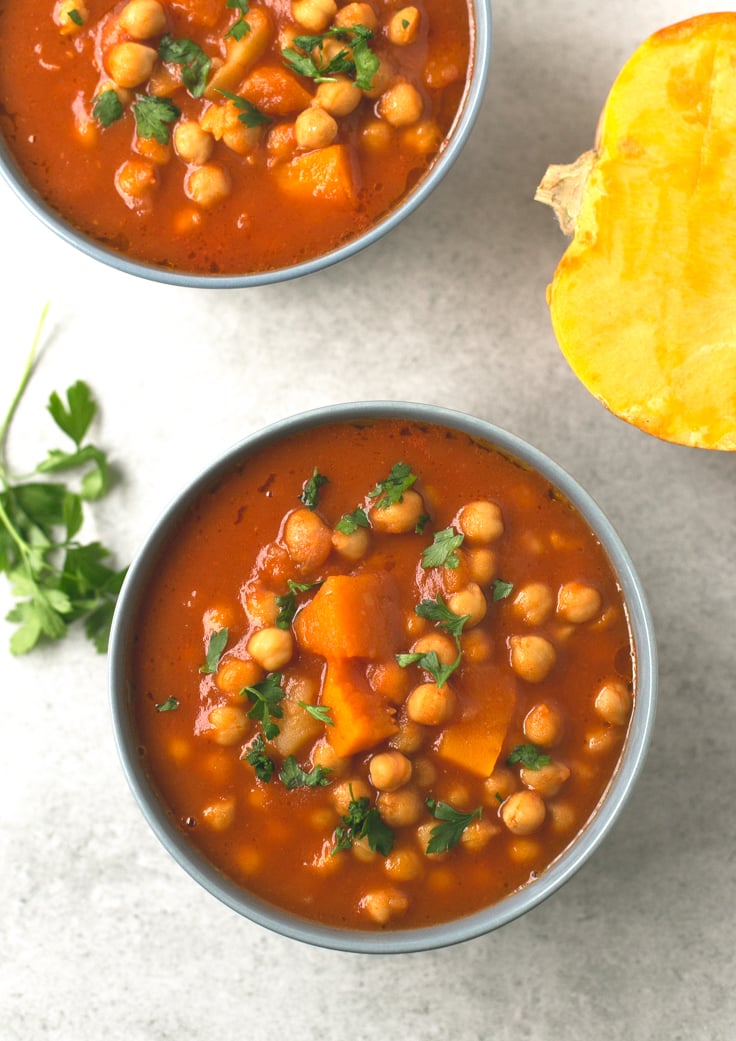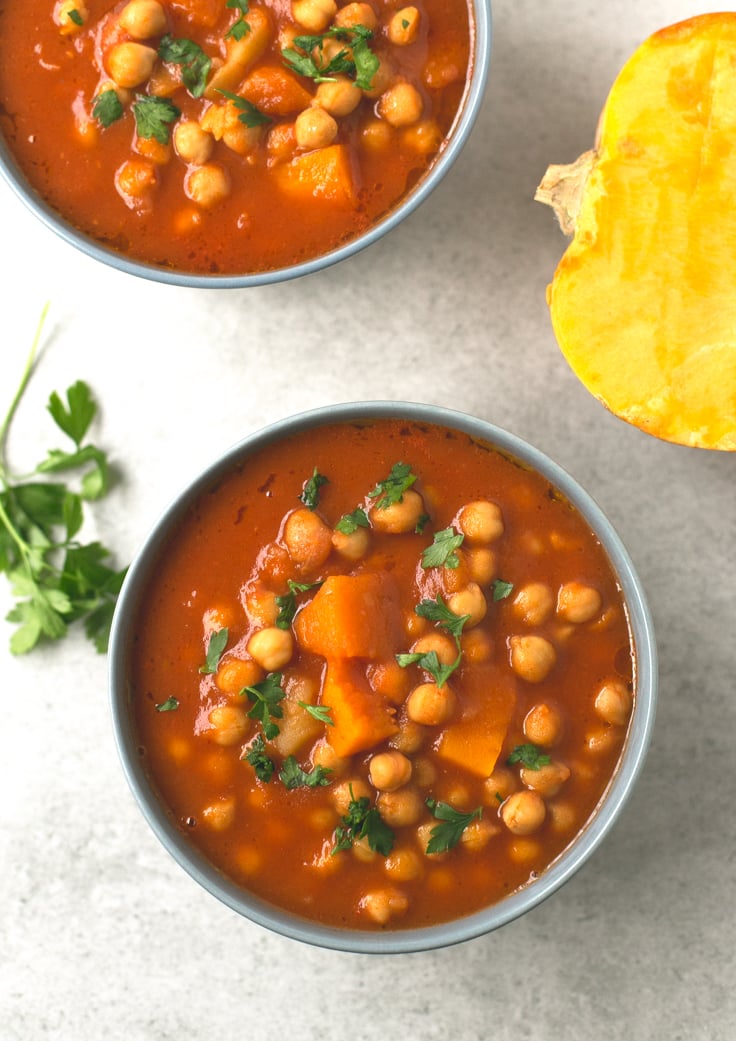 PRODUCT I USED TO MAKE THIS RECIPE (AFFILIATE LINK):
Print
Spanish Pumpkin and Chickpea Stew
Author: Simple Vegan Blog
Prep: 10 mins
Cook: 40 mins
Total: 50 mins
2 1x
Main dish
Spanish
Servings 2 1x
Scale Tap or hover over number to scale servings
You need to give this Spanish pumpkin and chickpea stew a try! It's so comforting, satisfying and easy to make. You're going to love it!
Ingredients
3 cups water (750 ml)
2 cloves of garlic
1/2 chopped onion
1/4 chopped green bell pepper
1/4 red bell pepper
1/2 chopped tomato
2 tbsp tomato paste
1 chopped medium potato
2 cups chopped raw pumpkin (230 g)
2 tsp sweet paprika
1/2 tsp ground ginger
1 tbsp extra virgin olive oil
15 oz cooked or canned chickpeas (425 g)
Fresh parsley for garnish
Instructions
Pour the water in a large pot and bring it to a boil. Then add the garlic, onion, red and bell pepper, tomato and tomato paste. Cook over medium-high heat for about 5 minutes.
Place the soup in a blender and blend until smooth. Then pour it in the pot again.
Add the potatoes and cook over medium-high heat for 10 minutes.
Add the pumpkin and cook for 15 or 20 minutes more or until it's soft. The time may vary depending on the type of pumpkin you're using.
Add the sweet paprika, the ginger and the oil and stir.
Add the chickpeas and cook for another 5 minutes.
Serve hot. I also added chopped fresh parsley for garnish (optional).
Nutrition
Serving Size: 1/2 of the recipe
Calories: 566
Sugar: 17.2g
Sodium: 57mg
Fat: 13.2g
Saturated Fat: 1.7g
Carbohydrates: 94.5g
Fiber: 21.9g
Protein: 24.1g
DID YOU MAKE THIS RECIPE?
Please leave a comment below or tag a picture #simpleveganblog. We'd love to see what you cook!