I've seen a lot of chorizo paella recipes on Pinterest, but you won't find this kind of paella if you come to Spain because paella is not made with chorizo. We use this ingredient to make other delicious recipes like rice with chorizo (arroz con chorizo in Spanish) or a Spanish chorizo scramble I'll share soon.
Vegan chorizo tastes amazing, I can't notice any difference and I used to loved chorizo when I wasn't vegan. If you can't find it, use vegan sausages, tofu, tempeh or just veggies. Use seasonal produce and if you can afford it, buy organic food, it's better for the environment and for your health.
The rice has a beautiful color because of the chorizo and the chopped tomatoes, but if you want a more intense color, you can also add tomato paste, sweet or hot paprika, turmeric powder or a little bit of saffron, but avoid artificial dyes, they're really unhealthy, especially for kids.
I've never tried brown Basmati rice before and I love it! It tastes amazing and is healthier. Brown Basmati rice usually requires 40 to 50 minutes of cooking, unlike white Basmati which requires less than 15 minutes. If you use brown rice, you will need to add more vegetable broth or water.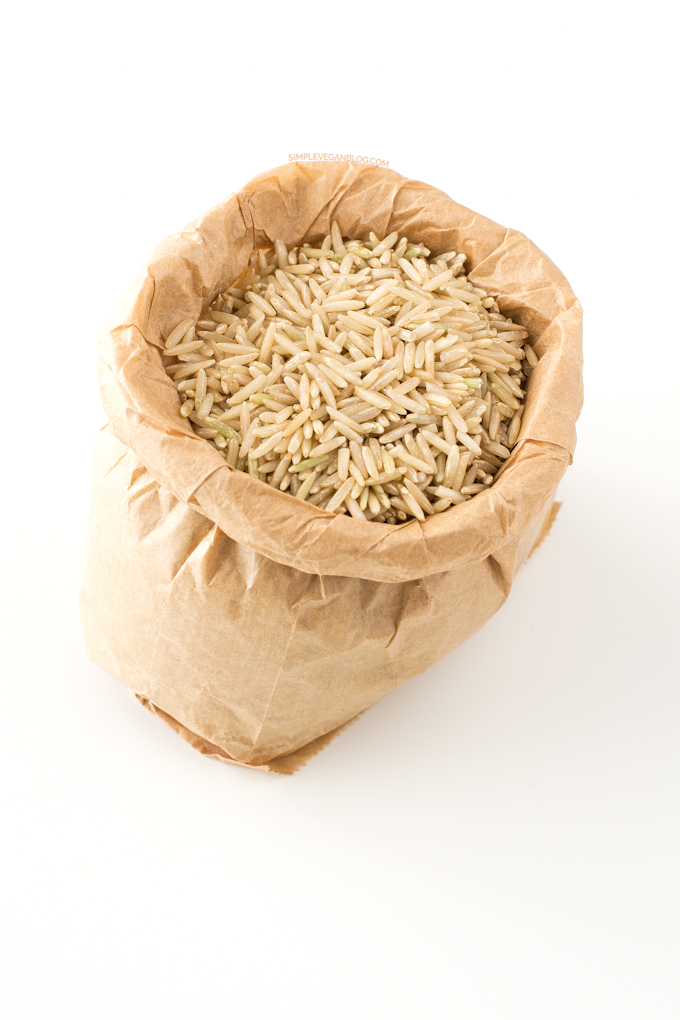 I prefer to cook rice in vegetable broth instead of water because it adds more flavor, but some store bought broths are full of unhealthy ingredients like monosodium glutamate, so if you can't find a healthy alternative, use homemade vegetable broth or water.
I buy vegan chorizo in vegan stores here in Spain, but I don't know where you can find it in your country. This chorizo is made with gluten, but there are others that are made with soy. There are also lots of vegan chorizo recipes you can find on Google and I hope to share one with you in the future.
I use a "paellera" to cook this recipe. It's a pan, traditionally round, shallow and made of polished steel with two handles, but you can use a regular pan or even a pot. When you cook paella or some Spanish rice recipes you don't have to stir the rice unlike risotto, but sometimes I do if rice sticks to the bottom of the pan.
Don't be afraid to eat carbs like pasta or rice, Asians eat rice all day long and they're so lean, skinny and healthy, just eat healthy recipes. Vegan chorizo is a great choice because it has less fat and also tastes really good.
Don't forget to leave a comment or tag a picture #simpleveganblog on Instagram or any other social network if you make this simple vegan Spanish rice with chorizo!
Simple Vegan Spanish Rice with Chorizo
This simple vegan Spanish rice with chorizo is similar to paella and it tastes so good. You can use white or brown rice.
PRINT
PIN
RATE
---
Ingredients
Extra virgin olive oil

1 ½

cup

vegan chorizo

4

cloves

of garlic

½

onion

⅓

cup

green bell pepper

⅓

cup

red bell pepper

⅓

cup

frozen peas

1 ⅔

cup

chopped tomatoes

1 ¼

cup

white Basmati rice

4

cups

vegetable broth or water:

2

tablespoon

thyme

Salt and black pepper to taste
Instructions
Heat a little bit of extra virgin olive oil in a paellera or a pan over medium heat and when it's hot, cook the vegan chorizo (chopped) until it starts to golden brown. Set aside.

Add the garlic, onion, green and red pepper (chopped) and cook until golden brown.

Add the frozen peas and chopped tomatoes and cook for another 5 or 10 minutes.

Add the rice and the chorizo and cook until it begins to be translucent. Pour the vegetable broth/water (hot), add the thyme and salt and black pepper to taste.

Stir the rice until all the ingredients are mixed and cook over medium or medium high heat for 15 or 20 minutes or until the rice is cooked. Add more vegetable broth/water if the rice is hard and dry. Brown Basmati rice requires 40 to 50 minutes of cooking.

Let stand the rice (covered) for at least 5 or 10 minutes.
Nutrition
Serving:
1
serving
|
Calories:
423
kcal
|
Carbohydrates:
59.9
g
|
Protein:
14.6
g
|
Fat:
15.5
g
|
Saturated Fat:
0.6
g
|
Sodium:
564
mg
|
Fiber:
18.9
g
|
Sugar:
6.3
g