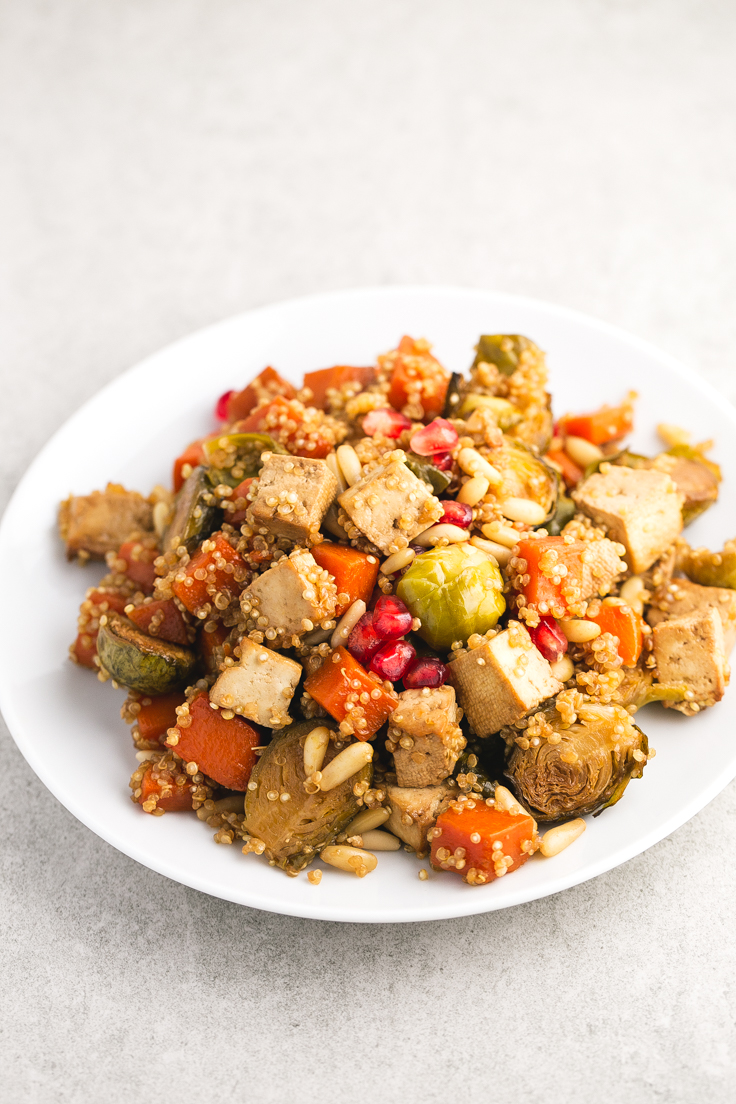 We're going to make these roasted veggies and baked tofu with quinoa as the main dish of our Christmas dinner. We love this recipe because is pretty easy, super healthy and has an intense flavor. At the end of the week we'll share a Christmas round-up with more main dishes and many other recipes for the holidays.
I eat quinoa at least once or twice a week, specially for dinner with a beautiful salad. It's quite inexpensive here in Spain, but it's worth it! If you can't afford it or don't like it, use brown rice or any other cereal instead.
Enjoying delicious and healthy food for Christmas is really easy, you're going to feel better and you won't miss the unhealthy dishes. In addition, healthy recipes like this one are ready in less than an hour. ?
Tips:
To get a super crispy tofu, bake it in another baking dish and add it when you add the quinoa and the pomegranate seeds.
If you don't like tofu, use other veggies, tempeh or seitan instead.
If you're going to reheat this dish, add the pomegranate seeds just before serving.
Baking time may vary depending or the oven.
Print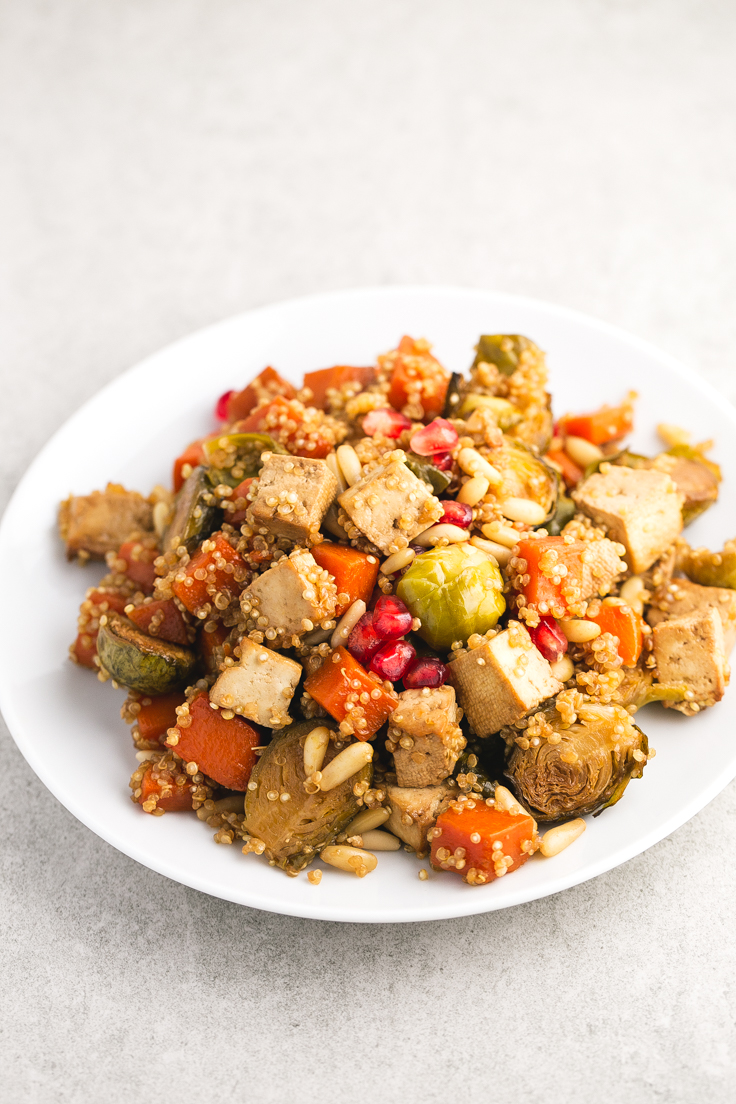 Roasted Veggies and Baked Tofu With Quinoa
Author: Simple Vegan Blog
Prep: 10 mins
Cook: 45 mins
Total: 55 mins
2 1x
Main dish
Vegan
Servings 2 1x
Scale Tap or hover over number to scale servings
We love these roasted veggies and baked tofu with quinoa recipe because is pretty easy, super healthy and has an intense flavor.
Ingredients
5 oz Brussels sprouts (150 g), cut in halves
5 oz raw pumpkin (150 g), diced
5 oz firm tofu (150 g), diced
4 tbsp pinenuts
Pomegranate seeds to taste
For the dressing:
1 tbsp maple syrup
1 tbsp apple cider vinegar
1 tbsp extra virgin olive oil
1 tbsp tamari or soy sauce
1 tsp cornstarch
For the quinoa:
1/2 cup quinoa (85 g)
1 cup water (250 ml)
1 tbsp tamari or soy sauce
Instructions
Preheat the oven to 355ºF or 180ºC.
Place the Brussels sprouts, the pumpkin and the tofu in a baking dish.
Mix the dressing ingredients in a small bowl or a jar and pour it over the veggies, stir and bake for 45 minutes. Stir every 15 minutes and add the pinenuts in the last 15 minutes.
Cook the quinoa, we showed you how on this post. Set aside.
When the veggies are cooked, add the quinoa, the pomegranate seeds and stir. You can also add some extra virgin olive oil or some lemon juice.
DID YOU MAKE THIS RECIPE?
Please leave a comment below or tag a picture #simpleveganblog. We'd love to see what you cook!