Oil-free dressings are my favorite ones at the moment, it's amazing you can make delicious dressings without oil and they taste even better!
Although I love kale with all my heart, it's really hard to find it here in Spain, that's why I don't use it very often. There is only another recipe with kale in the blog, this delicious apple kale green smoothie, which it's perfect for fall, but I'll try to make more kale recipes.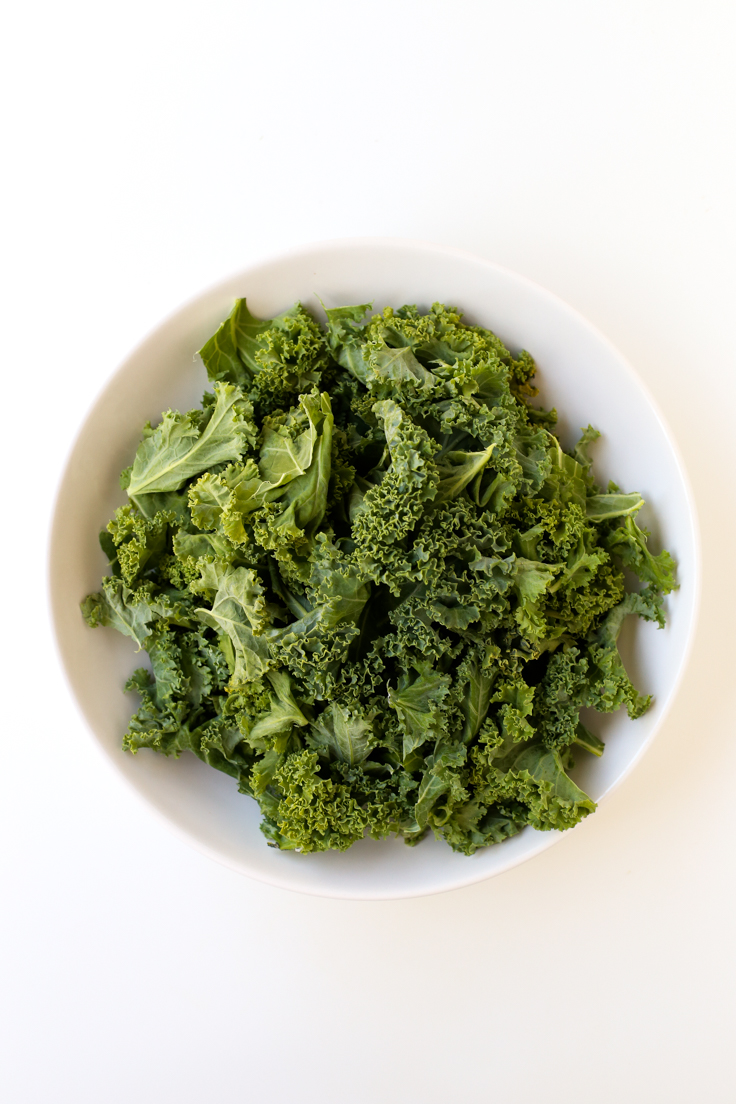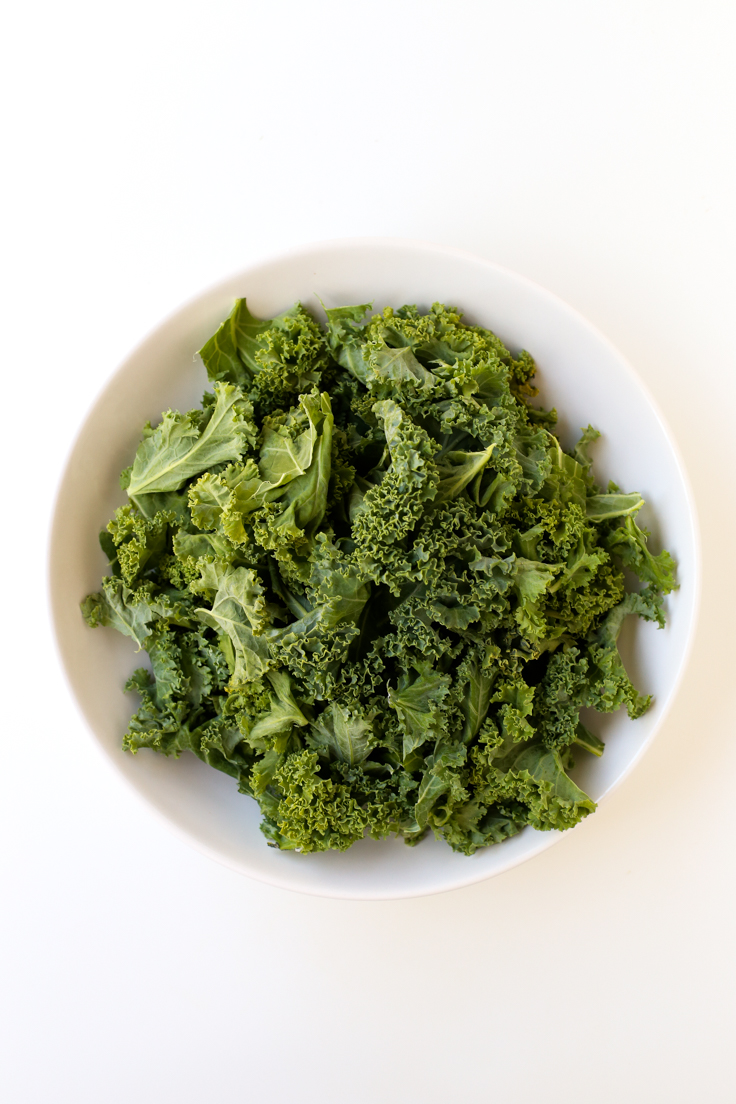 I tried to make raw vegan salads a few months ago, but I didn't like them until I learnt how to make delicious raw vegan dressings, it's really easy! To make this dressing I used water, tamari, avocado and lemon juice, it tastes like heaven!
There's one thing about kale salads, they're perfect to eat on the go because unlike other salads, the longer you leave it, the better it tastes and it won't go soggy.
Now it's time to massage the kale for at least 2 or 3 minutes. It can sound weird, but you need to do this if you want the kale to be soft. It's so therapeutic and relaxing! Then you just need to add your favorite ingredients and enjoy your salad.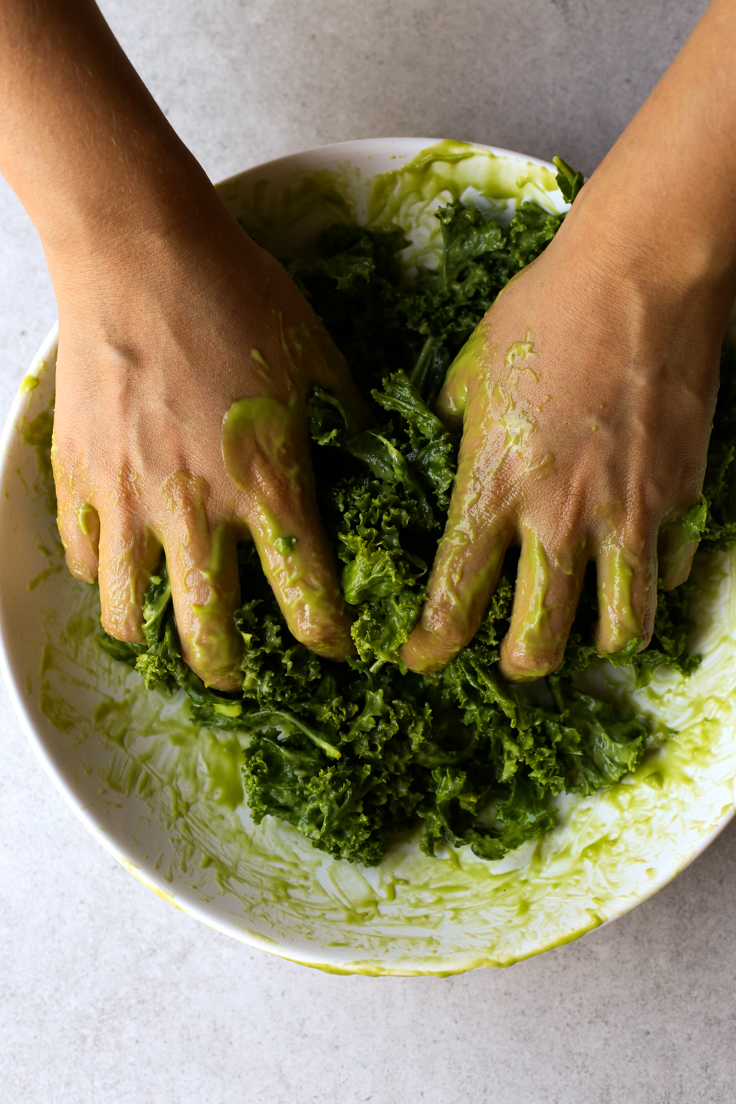 Tips:
If you can't find kale or is expensive in your area, feel free to use other leafy greens.
I love this raw vegan avocado dressing, but other dressings will work too, I also love my tahini dressing or a simple vinaigrette.
Use your favorite ingredients, it's impossible to go wrong with this salad!
Print
Oil Free Rainbow Kale Salad
Servings 1-2 1x
Scale Tap or hover over number to scale servings
This delicious oil-free rainbow kale salad is perfect to eat on the go because the longer you leave it, the better it tastes and it won't go soggy.
Ingredients
4 stalks of kale (about 4 handfuls)
1/4 cup diced red bell pepper (40 g)
1/4 cup diced carrot (30 g)
1/4 cup diced mango (40 g)
1/4 cup chopped red cabbage (20 g)
1/4 cup blueberries (40 g)
Sesame seeds for garnish
For the dressing:
1 avocado
2 tbsp water
1 tbsp tamari or soy sauce
The juice of half a lemon
Instructions
Remove the stems from the kale and place the leaves into a bowl.
To make the dressing just blend all the ingredients in a blender until smooth. You can also mash the avocado with a fork, add the rest of the ingredients and mix well, although the dressing will be less creamy.
Pour the dressing over the kale leaves and massage for at least 2 or 3 minutes until it's soft.
Stir in the rest of the salad ingredients.
Add the sesame seed for garnish and the salad is ready to serve.
DID YOU MAKE THIS RECIPE?
Please leave a comment below or tag a picture #simpleveganblog on Instagram (or any other social network). Thanks a lot!