I use to make oil-free dressings and my favorite ones are guacamole and this tahini dressing. They're super healthy and I could eat them every single day, I love them!!!
You can also eat this guacamole rice salad as a dip with tortilla chips or some crudités (I'm in love with carrots). It's also a great sandwich filling.
I've never tried purple corn tortilla chips before, but I saw them in a store and they caught my eye. They taste really amazing and have a beautiful color. They're hard to find here in Spain, so I'm really happy I could try them!
Rice salads are perfect to eat on the go, although I recommend you to add the leafy greens just before serving.
Tips:
If you don't like spicy food, remove the jalapeños. I used canned jalapeños, but if you can get the fresh ones, go for them!
Add your favorite ingredients (veggies, other types of rice, etc.).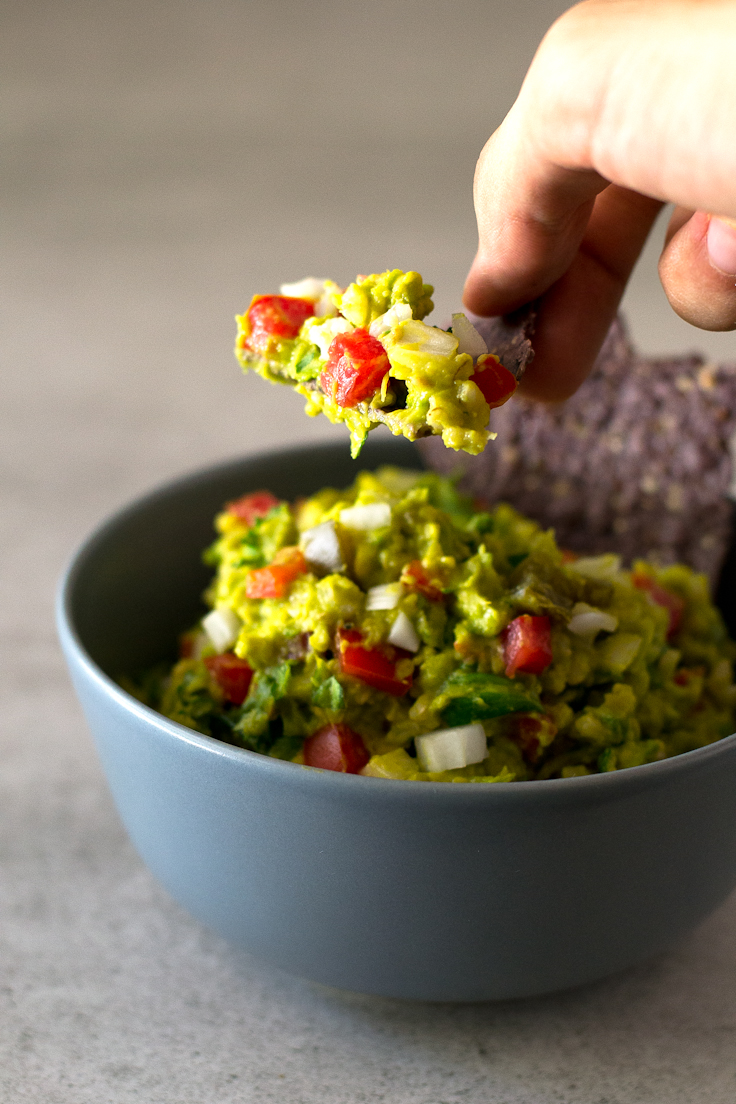 Print
Guacamole Rice Salad
Author: Simple Vegan Blog
Prep: 15 mins
Total: 15 mins
2 1x
Salad, Side dish
Vegan, Mexican
Servings 2 1x
Scale Tap or hover over number to scale servings
This guacamole rice salad is perfect to eat on the go. Guacamole is one of my favorite oil-free salad dressings, it's so healthy and tastes amazing!
Ingredients
1 avocado
½ cup cooked brown rice (65 g)
¼ cup diced tomatoes (50 g)
¼ cup diced red bell peppers (40 g)
¼ cup diced green bell peppers (35 g)
1 handful of leafy greens
1 tbsp finely chopped jalapeños
The juice of two limes
Fresh cilantro, chopped
Sea salt (optional)
Instructions
Cut the avocado in half and remove the seed. Scoop out the avocado from the peel and put in a mixing bowl. Roughly mash the avocado using a fork.
Add the rest of the ingredients and mix.
Nutrition
Serving Size: 1/2 of the recipe
Calories: 405
Sugar: 3.2g
Sodium: 23mg
Fat: 21.1g
Saturated Fat: 4.4g
Carbohydrates: 52.1g
Fiber: 9.7g
Protein: 6.6g
DID YOU MAKE THIS RECIPE?
Please leave a comment below or tag a picture #simpleveganblog on Instagram (or any other social network)!