My uncle gave me some huge zucchinis from his garden. I only used zucchini to make savory recipes like pisto, zucchini noodles with vegetables or zucchini noodles with avocado sauce, but I wanted to make something sweet, so I tried to make zucchini muffins and I succeed!
I shared these simple vegan chocolate chip muffins a few months ago, they're amazing, but I changed the recipe and I made a healthier gluten-free version with zucchini. As this was my first time making desserts with zucchini, I didn't add much, but you can add more if you want.
I greased the muffin pan with some coconut oil, but you can use another oil or muffin liners. I think muffins look better without the liners, but it's up to you.
Tips:
If you use a non stick muffin pan, maybe you don't need to grease it.
This recipe is gluten-free, but you can use other flours with gluten if you want, although you probably need to add more or less flour. If you prefer to use another gluten-free flour, take a look at my guide to gluten-free flours.
Use the sweetener and the plant milk you prefer.
PRODUCTS I USED TO MAKE THIS RECIPE (AFFILIATE LINKS):
Wilton 12-Cup Regular Muffin Pan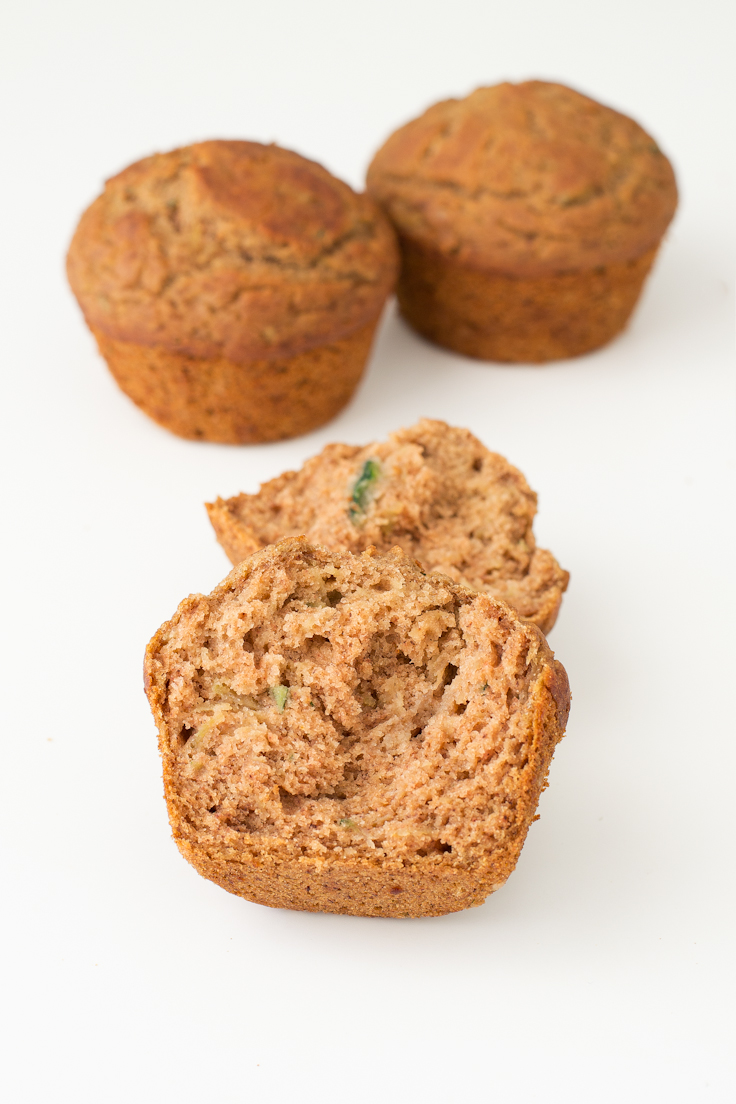 Print
Gluten Free Vegan Zucchini Muffins
Author: Simple Vegan Blog
Prep: 10 mins
Cook: 20 mins
Total: 30 mins
8 1x
Breakfast
Vegan, American
Servings 8 1x
Scale Tap or hover over number to scale servings
Gluten Free Vegan Zucchini Muffins. They're super delicious, soft and moist and the best gluten-free vegan muffins I've ever tried!
Ingredients
1½ cup grated zucchini (260 g)
1 cup brown rice flour (140 g)
2 cups buckwheat flour (280 g)
2¼ tsp baking powder
2 tsp baking soda
¾ cup coconut sugar (140 g)
3 bananas
1 cup unsweetened almond milk (250 ml)
¼ cup extra virgin olive oil (65 ml)
Instructions
Preheat the oven to 180ºC or 355ºF and lightly grease a 12 cup muffin pan with some coconut oil.
Grate the zucchini using a food processor or a grater. Set aside.
Combine the dry ingredients in a bowl (the flours, baking powder and baking soda).
Blend the rest of the ingredients in a blender until smooth.
Combine dry and wet ingredients in the bowl and whisk. Add the grated zucchini and stir.
Scoop the batter into the muffin pan (I use an ice cream scooper to scoop the batter in perfectly, but it's not necessary).
Bake for about 20 minutes or until a toothpick inserted into the center comes out clean. Remove from the oven and allow the muffins to cool for at least 5 minutes before removing them from the muffin pan. Then place on a wire rack to cool completely.
DID YOU MAKE THIS RECIPE?
Please leave a comment below or tag a picture #simpleveganblog on Instagram (or any other social network).