I'm a banana ice cream addict! Since I made it for the first time I fell in love with it, I can't believe you can make the healthiest ice cream using only frozen bananas. The best part is you can eat as much ice cream as you want because is so nutritious!
To make chocolate ice cream, you only need raw cacao powder besides the bananas, although unsweetened cocoa powder also works. I also added a homemade chocolate sauce, cacao nibs and chopped almonds on top, yum!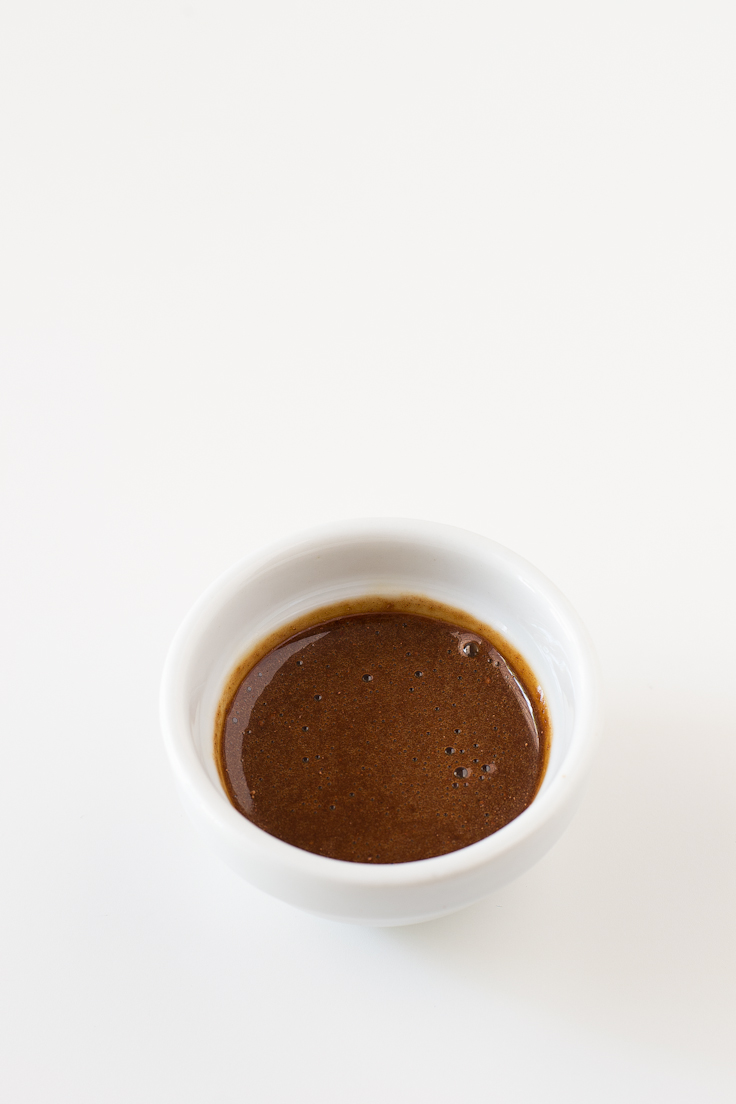 I'm not a chocolate ice cream person, but I love this one! It's not as bitter as others, so you should try it and add more or less cacao.
This ice cream is quite soft and melts so fast. You can eat it immediately or freeze until solid. If it's too hard, let stand at room temperature for at least 10 minutes or until it has the perfect consistency.
Tips:
Try the ice cream when is done. If it's too bitter, add some natural sweetener (I would add maple syrup) and blend again. If you like bitter chocolate ice cream, add more cacao.
I used raw cacao powder, but unsweetened cocoa powder and carob powder are okay, although probably you should add more because raw cacao has a stronger flavor.
If you use very ripe bananas the ice cream will be sweeter.
To make the chocolate sauce you can use other syrup or molasses instead the maple syrup.
Cacao nibs are not always easy to find, but you can chop a chocolate bar instead.
PRODUCT I USED TO MAKE THIS RECIPE (AFFILIATE LINK):
Print
2-Ingredient Banana Chocolate Ice Cream
Servings 2-4 1x
Scale Tap or hover over number to scale servings
This is the healthiest chocolate ice cream you can make, and it tastes like heaven! Only 2 ingredients needed!
Ingredients
4 very ripe frozen bananas
4 tbsp raw cacao powder
For the chocolate sauce:
1 tbsp maple syrup
1/2 tsp raw cacao powder
Toppings:
Chopped raw almonds
Cacao nibs
Instructions
Cut the bananas into 3 or 4 pieces (or cut them into coins if your blender or food processor is not very powerful), put them in an airtight container and freeze overnight. If your blender/food processor can't blend the frozen bananas, add some plant milk (coconut milk and nut milks are awesome to make ice cream) or some non frozen bananas (I'd use 3 frozen and 3 non frozen bananas).
Blend the bananas until you have a super creamy banana ice cream. Be patient, keep blending!
Add the cacao powder and blend again.
When it's ready, you can eat the ice cream immediately, but it will be quite soft. You can also transfer it to an airtight container and freeze for at least 1 hour or until solid. If it's too hard, let stand at room temperature for at least 10 minutes or until it has the perfect consistency.
To make the chocolate sauce just mix the two ingredients.
Serve with your favorite toppings.
Notes
Nutritional information: toppings and sauce are not included.
Nutrition
Serving Size: 1/4 of the recipe
Calories: 255
Sugar: 15.4g
Sodium: 11mg
Fat: 9.4g
Saturated Fat: 5.1g
Carbohydrates: 38g
Fiber: 9.1g
Protein: 6.3g
DID YOU MAKE THIS RECIPE?
Please leave a comment below or tag a picture #simpleveganblog on Instagram (or any other social network).